Published on
March 21, 2016
Category
News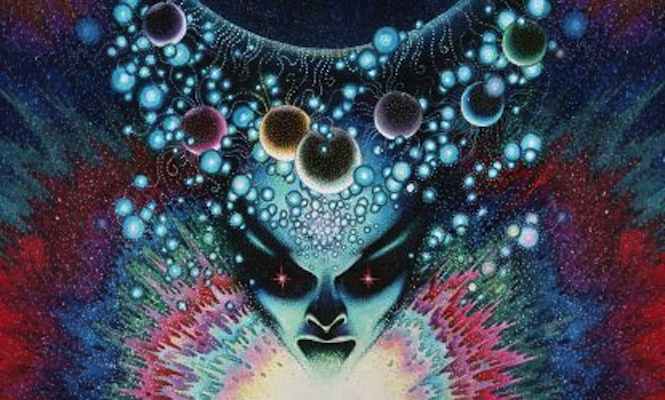 Originally published on FACT.
Cosmic Machine, The Sequel shines a light on France's under-appreciated psychedelic electronics from the '70s & '80s.
Because Music is releasing a second compilation of cosmic French music, collecting rare avant-garde productions from a wide range of obscure artists.
As RA reports, Cosmic Machine, The Sequel is the follow up to 2013's Cosmic Machine: A Voyage Through French Cosmic & Electronic Avantgarde, a compilation that delved into the country's hidden world of psychedelic electronics from the 1970s.
The 22-track collection has been selected by French vinyl enthusiast Olivier Carrié, and includes tracks from early Moog composer Roger Roger, Anarchic System, Georges Rodi, Richard Pinhas and more.
Cosmic Machine, The Sequel is released on May 20 as a limited deluxe vinyl edition with two coloured LPs. Pre-order here and listen to 'Monkey Star' from cult French disco act Arpadys below.
Tracklist:
01. Pascal Comelade – Mouvement Décomposé D'un Coup De Marteau
02. Stereo – Moonshine
03. Francis Lai – Young Freedom
04. Rosebud – Main Theme From More
05. Queen Samantha – Take A Chance
06. Nicolas Peyrac – Rite
07. Heldon – Les Soucoupes Volantes Vertes
08. Roger Roger – Vadrouillard
09. Arpadys – Monkey Star
10. Video Liszt – Fade In Hong Kong
11. Pierre Porte – Love Is all
12. Richard Pinhas – Ruitor
13. Christophe – Harp Odyssey
14. Grand Prix – Grand Prix
15. The Peppers – Pepper Box
16. Joel Fajerman et Jan Yrssen – Asteroide
17. Moon Birds – Cristal N°3
18. Araxis – Thème D'Araxis
19. Anarchic System – Pop Corn
20. Georges Rodi – Indian Love Melody
21. Michel Magne – Signaux Codes Non Identifiés
22. Pierre Scharfer – Moins Banal (Interlude, Ou Impromptu)
Read Next: French disco legend Bernard Fevre picks his 10 essential French cosmic disco records.