Published on
July 6, 2015
Category
News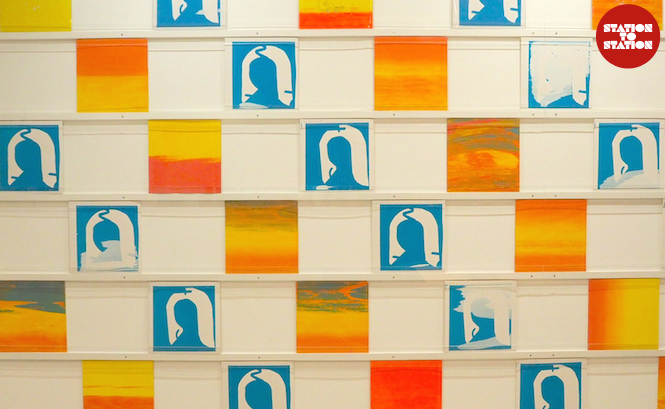 Music from Cold Cave, White Mystery, Lucky Dragons and The Conquerors is available now on limited edition deluxe vinyl.
Building on his 2013 project Station to Station, Doug Aitken's month-long, building-wide, art intervention at the Barbican is now underway. For the duration of the show, you can witness our on-site mobile pressing unit, the VF Press, pumping away as the music created for the project is pressed onto limited vinyl.
Hot off the VF Press this week are four records recorded live on a moving train as part of the original Station to Station, which crossed North America by train from Atlantic to Pacific over 24 days in 2013.
Each record is pressed in a limited run of 300 and features screen printed and handcrafted ink artwork by Fraser Muggeridge Studio. Order copies from VF Editions and scroll down to listen to the records.
---
Cold Cave – "Doom Doom Doom"
Price: £20 / Buy
Cold Cave is the much loved electronic solo project of American musician Wesley Eisold, former vocalist of hardcore groups Give Up the Ghost and Some Girls. Producing a collage of darkwave noise and synthpop, Cold Cave have released two acclaimed albums on US label Matador.
---
White Mystery – "Fun Times / Jungle Cat"
Price: £20 / Buy
White Mystery is a brother-sister rock'n'roll duo, Miss Alex White and Francis Scott Key White, from Chicago. The band are known for their relentless tour schedule (300 shows in three years) and have played with national acts such as Garbage, Shonen Knife, The Stooges and Weezer.
---
The Conquerors – "Get Real"
Price: £20 / Buy
The Conquerors have established themselves in their home fortress of Kansas City and are now storming across the states. The band are labelled as 'psychedelic kings' who give their audiences a 'psychedelic garage freak out that leave you wanting more'.
---
Lucky Dragons – "Sun On Wire"
Price: £20 / Buy
Lucky Dragons, Luke Fischbeck and Sarah Rara, are an experimental music duo based in L.A. They are noted for their unusual sound, described as having the ability to make "'everyday sounds' become alluringly other".