Published on
March 16, 2017
Category
News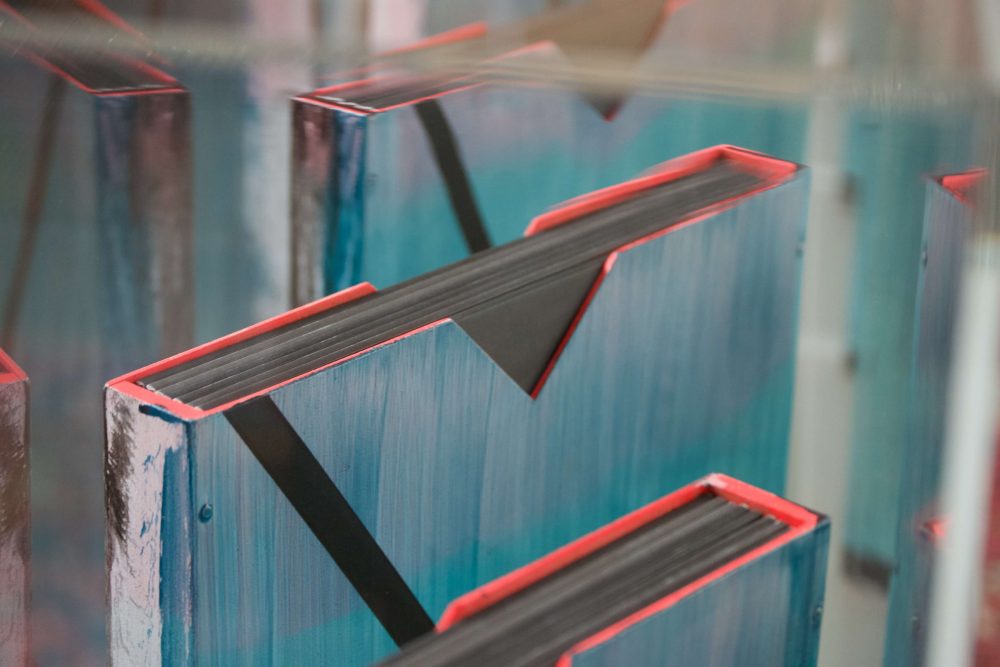 Limited to just 7 pieces.
The catalogue of influential techno producer Christian Morgenstern has been collected and remixed by an intimidating crew of artists for a limited 12″ series and a special art edition.
"Morgenstern's music inspired a young generation of musicians who have grown up to become pioneers of contemporary techno and other forms of electronic music," reads the press release.
The remixes – by Distant Echoes, Jeroen Search, Staffan Linzatti, Stanislav Tolkachev, Efdemin and more – are spread across eight 12″ records that each contain one original Morgenstern track and two remixes. Browse the tracklist below.
The cover artwork for each record is 1/8th of a larger artwork by American artist Nathan Baker that when put together form a 128cm x 64cm image.
In addition, there is a very exclusive box set limited to seven pieces that are "sculptures" by Berlin-based artist Thomas Scheibitz, containing all eight records. Each piece is slightly different to the next.
We visited Image Movement in Berlin, where the pieces are currently on display, for a closer look – see the gallery above.
This Saturday (18 March), Image Movement is hosting a launch for the edition and then there is an after-party at ://about blank.
---
Tracklist:
01. All Night Dancing (Remixes 1/8)
02. Miscellaneous 10 (Distant Echoes Remix) (Remixes 1/8)
03. Miscellaneous pt 6 (CTRLS Remix) (Remixes 1/8)
04. Steigreider (Mistake Made Remix) (Remixes 1/8)
05. Miscellaneous pt 9 (Ben Kaczor Remix) (Remixes 2/8)
06. Miscellaneous Pt.7 (Psyk Remix) (Remixes 2/8)
07. Return To The Living Deaf (Remixes 2/8)
08. Spiegelkerker (Efdemin Remix) (Remixes 2/8)
09. Saves The World (Henning Baer Remix) (Remixes 3/8)
10. Be Good To Me (Fanon Flowers Remix) (Remixes 3/8)
11. Herz Aus Stahl (Remixes 3/8)
12. Lydia To The Edge Of Panic (Remixes 4/8)
13. Steigreider (d_func. Remix) (Remixes 4/8)
14. Aces High (Jeroen Search Remix) (Remixes 4/8)
15. Spiegelkerker (Maral Salmassi Remix) (Remixes 5/8)
16. Ex Machina (TWR72 Remix) (Remixes 5/8)
17. Girls Got Rhythm (Remixes 5/8)
18. Lydia To The Edge Of Panic (Alexander Kowalski Remix) (Remixes 6/8)
19. Miscellanious Pt. 7 (Trollyroute Remix) (Remixes 6/8)
20. Little Green Apples (Jeff Rushin Remix) (Remixes 6/8)
21. Confort Corpse (Remixes 6/8)
22. Malaria (Dr. Shingo Remix) (Remixes 7/8)
23. Spiegelkerker (Staffan Linzatti Remix) (Remixes 7/8)
24. The Future Is On Fire Pt. 1 (Stanislav Tolkachev Remix) (Remixes 7/8)
25. The Future Is On Fire Pt. 1 (Remixes 7/8)
26. Ex Machina (Christian Wunsch Remix) (Remixes 8/8)
27. Ghost Town (Moerbeck Remix) (Remixes 8/8)
28. Miscellaneous pt. 1 (Jonas Kopp Remix) (Remixes 8/8)
29. 1969 (Remixes 8/8)