Published on
November 22, 2016
Category
News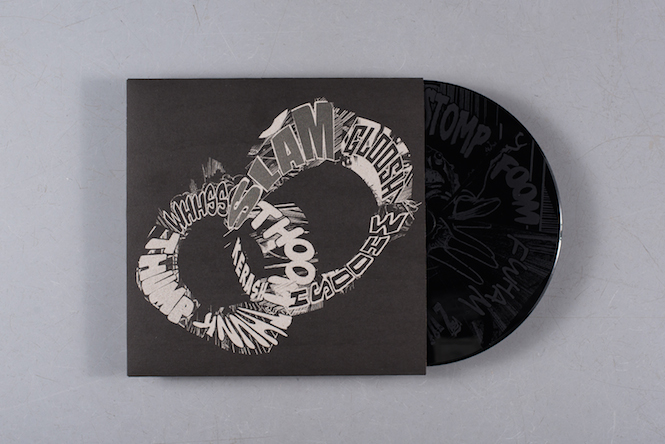 500 copies only.
In Hindsight, the live recording of a collaboration between multimedia artist Christian Marclay and free jazz saxophonist Mats Gustafsson, will be released on vinyl by The Vinyl Factory.
The joint performance, which featured Marclay on turntables and Gustafsson on saxophones, took place at Café Oto in London on 13 March 2013.
The limited edition release of 500 copies includes the duo's performance on the A-side and an etching by Marclay on the flip side. Marclay's onomatopoetic artwork has also been screen printed on the thick card cover.
Have a closer look in the gallery below and place orders for In Hindsight here.
Christian Marclay was recently awarded SFMOMA's 2016 Contemporary Vision Award and a handful of his works are currently on display at Berlin's Hamburger Bahnhof and the Kunstraum Innsbruck.
Last year, Marclay collaborated with The Vinyl Factory to create The VF Press – the world's first mobile vinyl factory – which was used to press live performances from his major solo exhibition at White Cube.
Mats Gustafsson will perform a solo concert at the Leopold Museum, Vienna on 16 December, followed by a show with Dieb13 in Marseille on 16 December. Then on New Year's Day, he will play Symphonie Nr. 1 Minnet für Saxophon, Turntables und Orchesterin at Tafelhalle, Nürnberg. Find his upcoming tour dates here.