Published on
June 14, 2016
Category
News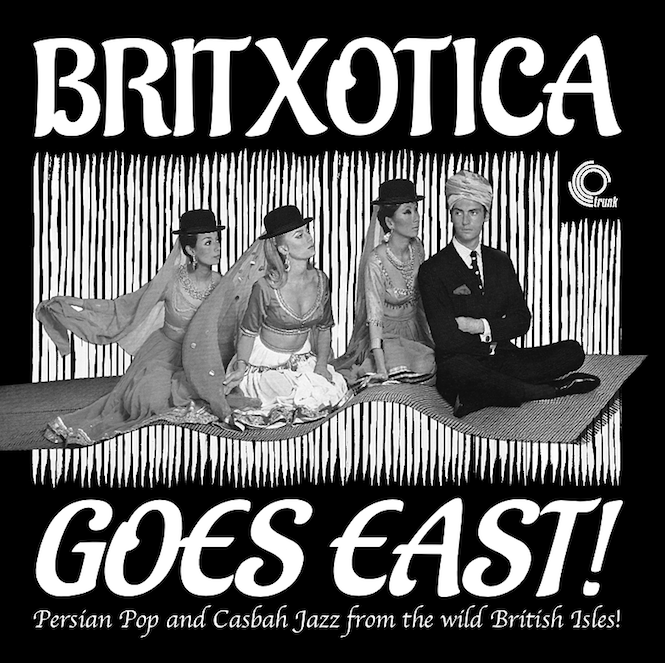 The most exotic British LP ever?
Towards the end of last year, Trunk Records slipped out a collection of amazing far-flung sounds from the UK under the banner Britxotica!. The term – pronounced Britzotica and coined by tastemaker Martin Green – describes an odd and largely undocumented pre-Beatles scene where musicians conjured up an exotic escape from the grey trudge of post-War London.
Now the London-label follows up with a second Britxotica! release, this time collecting Persian pop and killer Casbah jazz tracks made by Eastenders. "British music as rare and as beautiful as Tutankhamun's treasure," reads the press notes. "You may never come across a more exotic British LP ever again… you'll be cursed if you miss it."
Packaged in Trunk's signature comic style, the sixteen-track collection offers a magic carpet ride to the mystic East for tales of outrageous Sutlans, songs about pyramids and Turkish coffee, fierce instrumental numbers, and bizarre belly dances. If the first volume if anything to go by, get ready a proper trip!
Find the tracklist – starring Beverley Sisters, Stanley Black, Tony Osbourne – below.
Due on 1 July, pre-order Britxotica Goes East!: Persian Pop and Casbah Jazz From The Wild British Isles! here.
Tracklist
01. Sphinx Won't Tell – Beverley Sisters
02. Yashmak – Chico Arnez
03. Caravan – Stanley Black
04. Four Beats To The Casbah – Johnny Keating And The Z Men
05. Persian Twist – Charles Blackwell
06. Baghdad Bazaar – Philip Green And His Mayfair Orchestra
07. Sheik Or Morocco – Kenny Day
08. Marrakesh – Tony Osbourne
09. Climb Up The Wall – Yana
10. Miserlou – Stanley Black
11. Delilah's Theme – Johnny Keating Kombo
12. Call Of The Casbah – Laurie Johnson
13. Lonely One – Roy Tierney
14. Turkish Coffee – Tony Osborne
15. Kazoo – Reg Owen
16. The Sultan Of Bezaaz – Ray Ellington All Cues Mastered And Sequenced By Jon Brooks, AKA The Advisory Circle