Published on
May 23, 2016
Category
News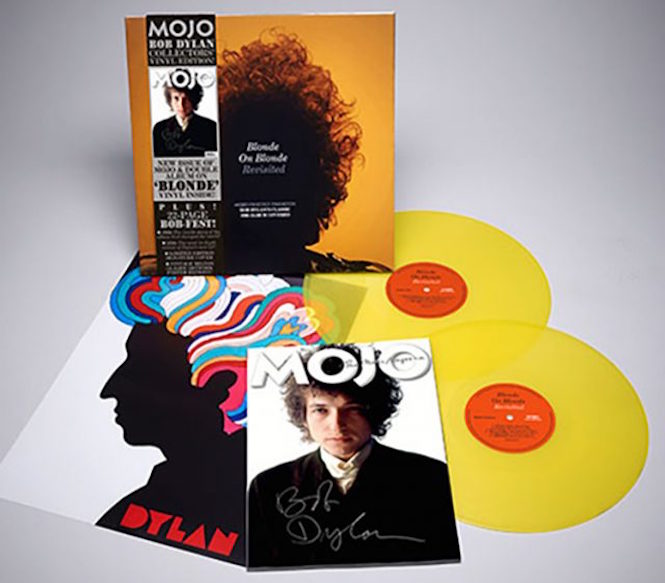 Artists salute Dylan's landmark album Blonde On Blonde.
To celebrate 50 years of Bob Dylan's essential Blonde On Blonde, MOJO has enlisted an impressive crew of musicians to appear on a cover album, which will accompany a special magazine featuring over 22 pages of dedicated Dylan coverage.
Blonde On Blonde Revisited features contributions from Marissa Nadler, Phosphorescent, Steve Gunn and finally Jim O'Rourke, who anchors the release with a cover of Dylan's epic side-long closer 'Sad Eyed Lady of the Lowlands'.
The limited edition package includes the album on double "blonde" vinyl, a Dylan art poster, and the magazine. The album will also be available digitally. See the full tracklist along with contributing artists below.
Order the release here and find the tracklist with contributing artists below.
Tracklist:
01 'Rainy Day Women #12 & 35' – Malcolm Middleton
02 'Pledging My Time' – My Darling Clementine
03 'Visions Of Johanna' – Steve Gunn
04 'One Of Us Must Know (Sooner Or Later)' – Chip Taylor
05 'I Want You' – Phosphorescent
06 'Stuck Inside Of Mobile With The Memphis Blues Again' – Promised Land Sound
07 'Leopard-Skin Pill-Box Hat' – Michael Chapman
08 'Just Like A Woman' – Peter Bruntnell
09 'Most Likely You Go Your Way And I'll Go Mine' – Thomas Cohen
10 'Temporary Like Achilles' – Kevin Morby
11 'Absolutely Sweet Marie' – Marissa Nadler
12 '4th Time Around' – Ryley Walker
13 'Obviously Five Believers' – Night Beats
14 'Sad Eyed Lady Of The Lowlands' – Jim O'Rourke
[via FACT]