Published on
December 18, 2019
Category
News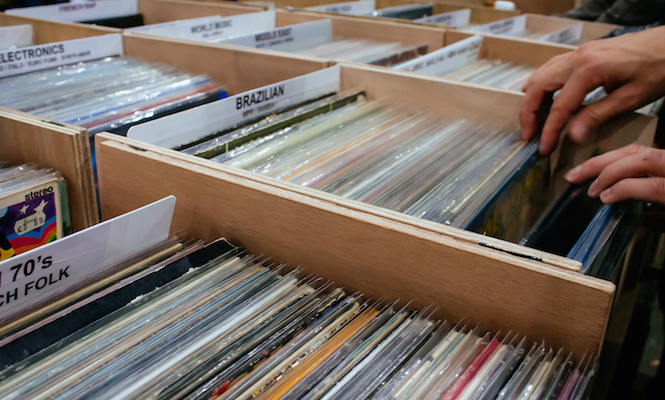 A record ten years. 
The UK's top 100 selling vinyl albums of the decade have been announced by Official Charts.
Read more: Our 50 favourite albums of 2019
Fleetwood Mac's Rumours came in at at number one, fuelled by new reissues on various coloured vinyl options, followed by Amy Winehouse's Back To Black at two, and Pink Floyd's Dark Side Of The Moon at 3.
As to be expected, David Bowie, Prince, Beatles, and Ed Sheeran made multiple appearances on this list as well. Only four of the top 20 best selling vinyl albums were new releases from the past decade, with reissues comprising the additional 16.
The list comes as vinyl sales continue to grow year on year internationally, with Record Store Day Black Friday 2019's offerings driving the third biggest sales week for vinyl since Nielsen reporting began in 1991. In the US, 855,000 vinyl albums were sold during the week ending on the 5th of December.
Check out The Vinyl Factory's favourite albums of 2019 here, and the full list of the UK's top selling vinyl albums from 2010-2019 below.
| | | |
| --- | --- | --- |
| 1 | Fleetwood Mac | Rumours |
| 2 | Amy Winehouse | Back To Black |
| 3 | Pink Floyd | The Dark Side Of The Moon |
| 4 | Original Soundtrack | Guardians Of The Galaxy – Awesome Mix 1 |
| 5 | Stone Roses | The Stone Roses |
| 6 | Arctic Monkeys | Am |
| 7 | Oasis | What's The Story Morning Glory |
| 8 | Beatles | Sgt Pepper's Lonely Hearts Club Band |
| 9 | Nirvana | Nevermind |
| 10 | Bob Marley & The Wailers | Legend |
| 11 | Queen | Greatest Hits |
| 12 | Beatles | Abbey Road |
| 13 | Oasis | Definitely Maybe |
| 14 | Ed Sheeran | Divide |
| 15 | David Bowie | Blackstar |
| 16 | Nirvana | Unplugged In New York |
| 17 | David Bowie | Legacy |
| 18 | Arctic Monkeys | Whatever People Say I Am That's What I'm |
| 19 | Led Zeppelin | Four Symbols |
| 20 | Prince & The Revolution | Purple Rain – Ost |
| 21 | Original Soundtrack | Pulp Fiction |
| 22 | Liam Gallagher | As You Were |
| 23 | Smiths | The Queen Is Dead |
| 24 | Adele | 25 |
| 25 | Smiths | Hatful Of Hollow |
| 26 | David Bowie | The Rise And Fall Of Ziggy Stardust |
| 27 | Pink Floyd | Wish You Were Here |
| 28 | Motion Picture Cast Recording | The Greatest Showman |
| 29 | Guns N' Roses | Appetite For Destruction |
| 30 | Joy Division | Unknown Pleasures |
| 31 | Arctic Monkeys | Tranquility Base Hotel & Casino |
| 32 | Fleetwood Mac | Greatest Hits |
| 33 | Royal Blood | Royal Blood |
| 34 | Eagles | Hotel California |
| 35 | Rag'n'bone Man | Human |
| 36 | Pink Floyd | The Wall |
| 37 | Foo Fighters | Greatest Hits |
| 38 | Ed Sheeran | X |
| 39 | Radiohead | Ok Computer |
| 40 | Radiohead | A Moon Shaped Pool |
| 41 | Elo | All Over The World – The Very Best Of |
| 42 | Led Zeppelin | Led Zeppelin |
| 43 | David Bowie | Hunky Dory |
| 44 | Beatles | The Beatles |
| 45 | Original Soundtrack | Guardians Of The Galaxy – Awesome Mix 2 |
| 46 | Led Zeppelin | Led Zeppelin 2 |
| 47 | Noel Gallagher's High Flying | Who Built The Moon |
| 48 | Clash | London Calling |
| 49 | Killers | Hot Fuss |
| 50 | Ac/Dc | Back In Black |
| 51 | George Ezra | Staying At Tamara's |
| 52 | 1975 | I Like It When You Sleep For You Are So |
| 53 | Doors | The Doors |
| 54 | Beatles | Revolver |
| 55 | Catfish & The Bottlemen | The Balcony |
| 56 | Abba | Gold – Greatest Hits |
| 57 | Green Day | American Idiot |
| 58 | Nwa | Straight Outta Compton |
| 59 | Queen | Greatest Hits Ii |
| 60 | 1975 | The 1975 |
| 61 | Jeff Wayne | The War Of The Worlds |
| 62 | Daft Punk | Random Access Memories |
| 63 | Sex Pistols | Never Mind The Bollocks |
| 64 | Lana Del Rey | Born To Die |
| 65 | Coldplay | A Head Full Of Dreams |
| 66 | Arctic Monkeys | Favourite Worst Nightmare |
| 67 | Adele | 21 |
| 68 | Tame Impala | Currents |
| 69 | Catfish & The Bottlemen | The Ride |
| 70 | Liam Gallagher | Why Me Why Not |
| 71 | Red Hot Chili Peppers | Californication |
| 72 | Radiohead | The King Of Limbs |
| 73 | Beach Boys | Pet Sounds |
| 74 | Michael Jackson | Thriller |
| 75 | Billie Eilish | When We All Fall Asleep Where Do We Go |
| 76 | Rolling Stones | Let It Bleed |
| 77 | Nirvana | In Utero |
| 78 | Blondie | Parallel Lines |
| 79 | Jeff Buckley | Grace |
| 80 | Rolling Stones | Exile On Main St |
| 81 | Ed Sheeran | + |
| 82 | David Bowie | Changesonebowie |
| 83 | Stone Roses | The Very Best Of |
| 84 | Verve | Urban Hymns |
| 85 | Sam Smith | The Thrill Of It All |
| 86 | Florence & The Machine | Lungs |
| 87 | U2 | U218 Singles |
| 88 | Various Artists | Now That's What I Call Christmas |
| 89 | Original Soundtrack | Baby Driver |
| 90 | David Bowie | Aladdin Sane |
| 91 | Velvet Underground & Nico | The Velvet Underground & Nico |
| 92 | Radiohead | In Rainbows |
| 93 | David Bowie | Nothing Has Changed – The Very Best Of |
| 94 | Led Zeppelin | Led Zeppelin 3 |
| 95 | Meat Loaf | Bat Out Of Hell |
| 96 | Lewis Capaldi | Divinely Uninspired To A Hellish Extent |
| 97 | Wu-tang Clan | Enter The Wu-tang (36 Chambers) |
| 98 | Elo | Out Of The Blue |
| 99 | Mumford & Sons | Sigh No More |
| 100 | Linkin Park | Hybrid Theory |