Published on
January 2, 2014
Category
News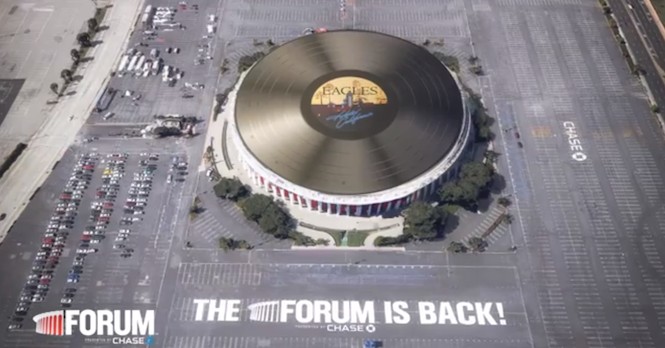 400+ foot replica of The Eagles' 'Hotel California' to spin at 17 miles an hour.
Ahead of The Eagles' inaugural performance at the re-opening of The Forum in Los Angeles, promotion company Pop2Life has created a 407-foot replica of the band's omnipotent 16x platinum album Hotel California and pinned it to the roof of the circular venue.
Made of 250,000 square foot of printed 'vinyl', the monolithic tarp is, somewhat dubiously, being called the "world's largest vinyl record". While the printed polymer is indeed made of vinyl and will spin at 17 miles an hour (roughly 70BPM – thanks Rolling Stone), the record is, sadly but not surprisingly, unplayable.
Certainly not one for the vinyl purists, the giant circular billboard will be visible (rather than audible) to passengers flying into LAX, the city's major airport. As one eagled-eyed comment on the Youtube video below points out: "If there is no song on its its [sic] basically just a huge piece of painted plastic".
Nevertheless, this mammoth piece of engineering will usher in a new era for the Inglewood venue and former home of the LA Lakers when it welcomes first The Eagles and then Justin Timberlake later this month. More specs for the giant record (including the number of poor sods who gave up their Christmas holidays to erect it) are included in the video above. [via CBS Los Angeles]