Published on
December 7, 2018
Category
News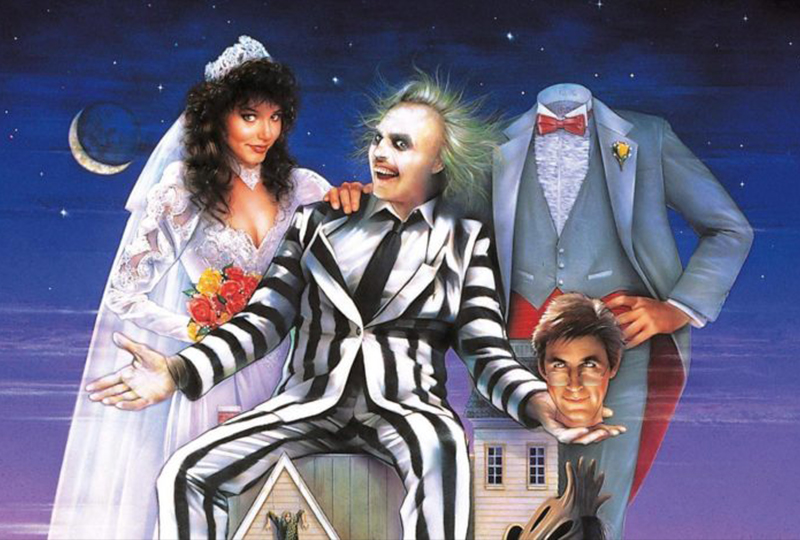 "It's showtime!"
Composer Danny Elfman's complete soundtrack for Tim Burton's 1989 comedy Beetlejuice has been reissued on double vinyl, in a new 30th anniversary edition via Waxworks.
It features 18 of Elfman's original compositions alongside two Harry Belafonte songs – 'Jump In Line (Shake, Shake Señora)' and 'Day-O'.
The soundtrack has been remastered for this new reissue, on "Beetlejuice Swirl" coloured 2xLP, with artwork by Justin Erickson, and a print of the cover.
Order a copy here, watch the original trailer and check out the track list below.
Tracklist
1. Danny Elfman – Main Titles
2. Danny Elfman – Travel Music
3. Danny Elfman – The Book! / Obituaries
4. Danny Elfman – Enter…"The Family" / Sand Worm Planet
5. Danny Elfman – The Fly
6. Danny Elfman – Lydia Discovers?
7. Danny Elfman – In The Model
8. Danny Elfman – Juno's Theme
9. Danny Elfman – Beetle-Snake
10. Danny Elfman – "Sold"
11. Danny Elfman – The Flier / Lydia's Pep Talk
12. Harry Belafonte – Day-O
13. Danny Elfman – The Incantation
14. Danny Elfman – Lydia Strikes A Bargain…
15. Danny Elfman – Showtime!
16. Danny Elfman – "Laughs"
17. Danny Elfman – The Wedding
18. Danny Elfman – The Aftermath
19. Danny Elfman – End Credits
20. Harry Belafonte – Jump In Line (Shake, Shake Señora)