Published on
March 23, 2016
Category
News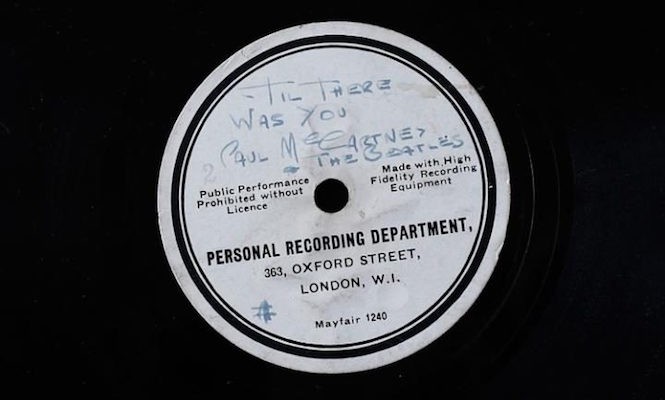 Discovered in an attic, that 'holy grail' Beatles 10″ goes for seven times its price tag.
An ultra rare Beatles acetate has been sold at auction for a staggering £77,500 or $110,000, fetching over seven times its £10,000 price tag.
Recorded in Liverpool in 1962, and discovered in the attic of Les Maguire, the keyboardist in fellow Liverpool act Gerry and the Pacemakers, it features the first song John Lennon ever wrote 'Hello Little Girl' and was cut just a few months before 'Love Me Do' announced the Fab Four on the scene.
The first recording to carry The Beatles' name, scribbled onto the label by managed Brian Epstein, it is among the most significant recordings in the band's history, a document of the moment it all began. Recorded to tape, Lennon's 'Hello Little Girl' and 'Til there Was You' written by Paul McCartney, were transferred to acetate at HMV in Oxford Circus from where the 10″ caught the attention of EMI's Syd Coleman, before finding its way into the hands of producer George Martin, who ultimately signed them to the label.
Speaking of the sale, Les Maguire said: "It's no good to me so I've given it to my granddaughter, who is hoping to buy a house after passing her accountancy exams. I hope it goes for a good price."
Auctioned at Omega in Liverpool, seven telephone bidders from as far as the United States and China pushed the price way beyond the £10,000 starting figure. It was ultimately sold to an anonymous British collector. [via CNN]