Published on
October 16, 2013
Category
News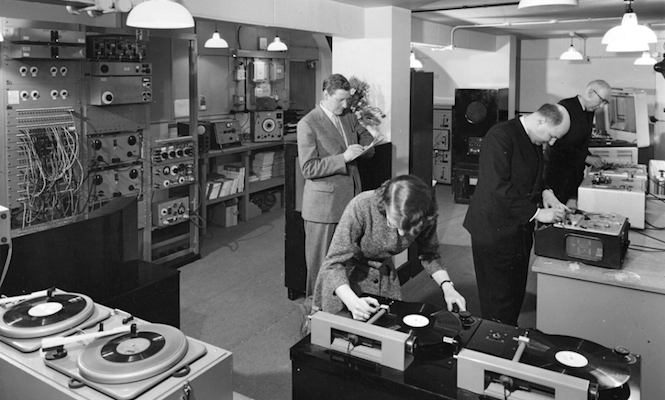 Two landmark releases from the BBC's cult sound effects studio reissued on vinyl for the first time in almost 40 years.
Reissued on heavyweight vinyl for the first time since their initial releases in 1968 and 1975 respectively, BBC Radiophonic Music and BBC Radiophonic Workshop were the first commercially available recordings from the clandestine sound factory, showcasing their strident experimentation at the peak of its powers.
Charged with recreating the sounds of real and imagined life as the official sound effects unit for the BBC, the Radiophonic Workshop played a decisive and pioneering role in the development of pop and electronic music. Crammed into the basement of the BBC's Maida Vale studios where it began life in 1958, the workshop developed a fascination for tape manipulation, musique concrete and primitive oscillators which helped pave the way for synthesizers and digital sampling. Not wanting to labour the point, the BBC Radiophonic Workshop's contribution to sound design and modern music a like was unparalleled.
Credited for Delia Derbyshire's seminal 1963 Dr Who Theme, as well as classics Blake 7 and Hitchhiker's Guide To The Galaxy, the workshop has rightly been lauded by rock sound engineer Roger Mayer as "the great unsung heroes of British electronica."
BBC Radiophonic Music and BBC Radiophonic Workshop will be released by Music On Vinyl on 25th November.
Revived in 2012, renewed interest in BBC Radiophonic Workshop will see original founder Dick Mills perform alongside longtime members Paddy Kingsland, Peter Howell, Roger Limb and Mark Ayres at London's new electronic music festival LEAF on 9th November. Click here for more info.