Published on
October 19, 2015
Category
News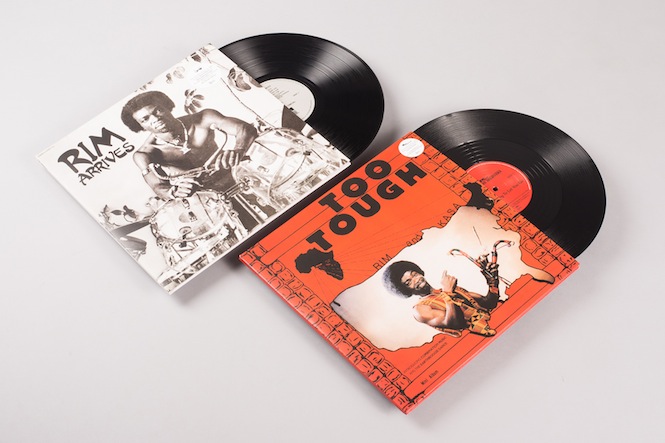 From the streets of London to the studios of LA, the incredible story of Rim Kwaku Obeng continues as two of his super rare afro disco LPs are rescued from obscurity.
1973 was a tough year for Rim Kwaku Obeng. Having been forced to pass up an opportunity to record with Quincy Jones in LA and been shafted by a former bandmate who he'd followed to London, Obeng found himself homeless on the streets of the capital. As a member of one of Ghana's most popular bands the Uhuru Dance Band, the fall into destitution was shock for the young drummer who had set his eyes on recording a solo album.
The story goes that Obeng had come to London with friend and former Uhuru Dance band mate Duke Oketa to record with Traffic and young singer-songwriter Joan Armatrading. One day after checking into the hotel, Oketa scarpered, with Obeng's bags and passport in tow. Left to fend for himself (the original liner notes tell of surviving off 'peanuts and tea'), Obeng spent six months sleeping in phone booths and hallways, before a chance meeting with Armatrading at London's Ronnie Scott's jazz club put his life back on track.
Taking Obeng under her wing, Armatrading saw to his rehabilitation, setting him up to rehearse with her band. By 1977 he had found his way back to Los Angeles to lay down Rim Arrives, a heavy afro funk record that caught some of the disco collateral that was exploding across the West Coast. The liner notes proclaimed a 'forth generation of African music', High-Life meets James Brown, played by self-taught (or Rim-taught) musicians, who responded to Obeng's sparse, rhythmically complex grooves with hypnotic funk vocals and in-the-pocket solos.
With track titles like 'Nothing is Free', 'Spend Your Money' and 'Believe In Yourself', Obeng's story is written across the album, now reissued for the first time on BBE Records, who have thrown in a 12″ version of his motivational electro-boogie 12″ 'International Funk' (featuring utterly unique lyrical turns like: "Boys and girls, if somebody touch your private place, you say NO, and run!")
With the originals going for silly money on Discogs, the London label have also reissued Obeng's LP Too Tough, which is credited to Rim and Kasa, and includes the cult dancefloor hit 'Love Me For Real'.
Rim Arrives is out now on BBE Records, with Too Tough due on 30th October. Click each title to order your copies on double gatefold vinyl.
To mark the release, we've grabbed both and photographed them from all angles. Check them out below.