Published on
July 5, 2016
Category
News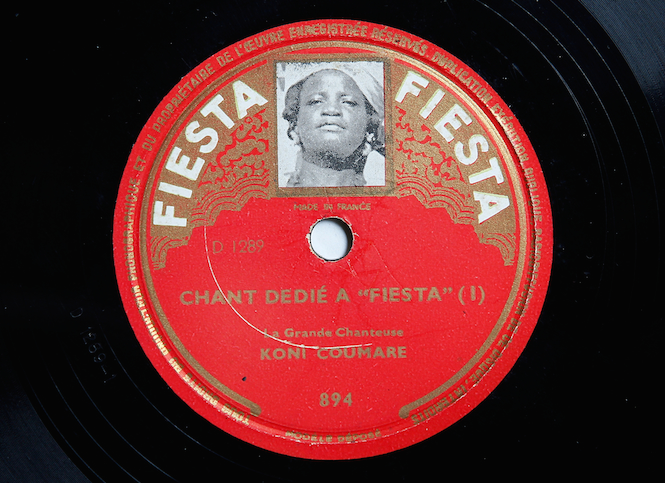 From Algerian Bedouin music to Malagasy choirs.
Parisian vinyl enthusiast Ceints De Bakelite has put together an incredible mix of 78rpms records from Africa. Created for the Paris Music Library, he describes the selection as a "subjective and modest journey through Africa's sound heritage."
The 26-track selection, composed exclusively of recordings made between 1930 and 1960, opens with the Bedouin music of southern Algeria and ends with Malagasy choirs. De Bakelite explains that both tradition and more modern sounds can be heard here, reminding the listening that different styles coexisted and influenced each other during several decades. What's more, most of the records featured have never been reissued on another format.
Find the tracklist below and click here for more info.
Tracklist
01. Khaira Bousaada -Mensabni Houita (Algeria, Pathé)
02. Zineb Bent Sigya – Rahe Khsm Rah (Algeria, Polydor)
03. Zahia miss – Madabia (Algeria, Gramophone Disc)
04. Sheikh Omar Chakleb – Guelbi Bel-Houb (Algeria, Gramophone disc)
05. Sheikh Suleiman Magari – Istikbar with Ghaita (Tunisia, B. Rsaissi)
06. Issirène Elaâfrite – Ya Menna (Tunisia, Odeon)
07. Hocine Slaoui – Enzaha Mahla (Morocco, Pathé)
08. Mohammed Abdel Wahab – Achek El Roh (Egypt, Cairophon)
09. Somalis and Dankelès – Maolid (French Somali Coast / Djibouti, Pathé)
10. Assalafatch Moulat – Antchi Lidj (Ethiopia, His Master's Voice)
11. Koni Coumaré – Song dedicated to Fiesta (Mali, Fiesta)
12. Tchio Togoba – Djongoloni (Mali, Tam Tam)
13. Anonymous – Dance of the Devils (French Sudan / Mali, Africavox)
14. Ladji Kone's Band, Dianaba Sidibé, Affo & Koloutimi Koné Traoré – Zazou Wara (Mali, Philips)
15. Fesine Shiwli and his Band – Yimi (Ghana, His Master's Voice)
16. Sampson's Band – Huhɛn Mɔbɔr (Ghana, Parlophone)
17. Rameau and Jacquy Lobbe Lobbe – Ambas Bel (Cameroon, Opika)
18. Timothy Tibo Essombe – Moni My Man (Cameroon, Opika)
19. OK Jazz – Ata Yo Ozwi (Congo, Loningisa)
20. OK Jazz – Bato Ya Mabe Batondi Mboka (Congo, ASL)
21. Ambia Pascal – Na Na Lobaki Mpe Lembi (Congo, CEFA)
22. Brown Darkies – Ngishiya Bazali Behlupeka (South Africa, Trek)
23. Senga Mixed Choir – Baba Angila (South Africa, Columbia)
24. Dark City Sisters – Sekusile (South Africa, South Africa)
25. Mpilalao Fenoarivo – Ry Havana Izay Vory Eto (Madagascar, Polydor)
26. Hira Betsileo – Amoron'i Mania (Madagascar, Columbia)