Published on
October 29, 2014
Category
News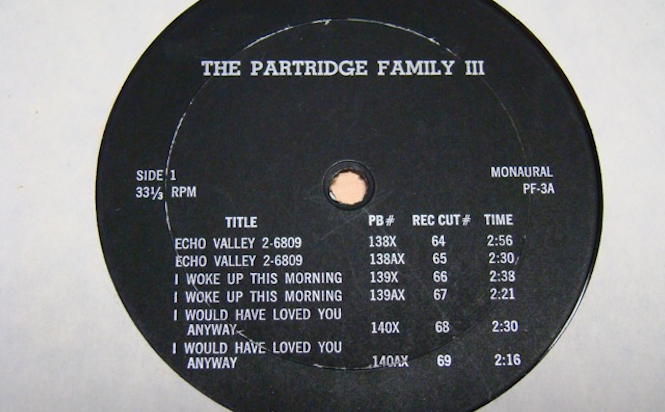 The most outlandish vinyl listing of all time? Almost certainly.
With $1,000,000 you could have bought the 10 most expensive items sold on Discogs in the first half of 2014 and walked away with over $980,000 change. It's true that Ebay houses more of the bank-busting sales, but even there hundreds of thousands of dollars rarely enter the equation. For example this time last year a rare Tommy Jonhson Blues 'Holy Grail' record went for $37,100, making it the most expensive 78rpm ever sold. And as one Ebay guide reports, the most expensive vinyl Ebay sale is allegedly an autographed copy of John Lennon and Yoko Ono's Double Fantasy album (1980) which sold for around half a million dollars in 1999.
So when we got wind of a $1,000,000 listing on Ebay we immediately thought it must be some kind of joke. But on closer investigation it appears that this is a genuine listing by some gutsy and quite possibly deluded folk.
They're offering millionaire Partridge Family vinyl fans the 'holy grail' of the band's music – five unreleased The Partridge Family 'Screen Gems Records'. Described as 'impossibly rare', the records were produced by and for Screen Gems and used in the actual production of The Partridge Family (TV show).  Never released commercially or given away as Bell Record promos, they were used by the cast and crew for rehearsals and contain all Partridge Family music used on the show. According to The Partridge Family star David Cassidy "Collectors lust after them and Partridge Family historians ponder over how many there were and what they contained. They remain shrouded in mystery."
The Ebay listing is just as strange. The sellers identify themselves as The Forever Family, a rock band with two reality TV shows starring Shirley Jones that "need to raise $1,000,000 to purchase a very special very destroyed and very infamous house to renovate and shoot another pilot".  For this cause they're offering up what they claim to be the most complete set of these Screen Gems records in existence and maintain they are 100% authentic. Here's a look at the records and if you're tempted have a look at the listing page here.