Published on
September 13, 2016
Category
News
Hero and martyr.
Well, maybe "ruining his life" is a little strong. But having undoubtedly dreamt of happening on a vast haul of free records, have you ever considered what you'd actually do with them? Because Taylor Wallace has had to, and continues to do so every day.
Practically overnight, the furniture maker from Chicago grew his modest collection of 500 records to a monster of over 50,000, weighing about 19 metric tonnes.
As told by Layton Ehmke on Mel, the story begins when Wallace rented a studio space in a vast warehouse (and former tank factory) on the South Side of Chicago, and subsequently found himself in the basement face to face to workers from US junk removal service Junk King, tasked with clearing out the 7,000 sq ft cavern.
He describes the scene: "170 pallets of vinyl, six 25-foot long industrial racks packed to the top of the 15-foot ceilings — as well as several other 50-foot racks similarly kissing the ceiling with vinyl." A diggers dream comparable only to the mythical abandoned record warehouse. Even then, by the time Wallace arrived, 640 cubic yards worth of records had already been dumped.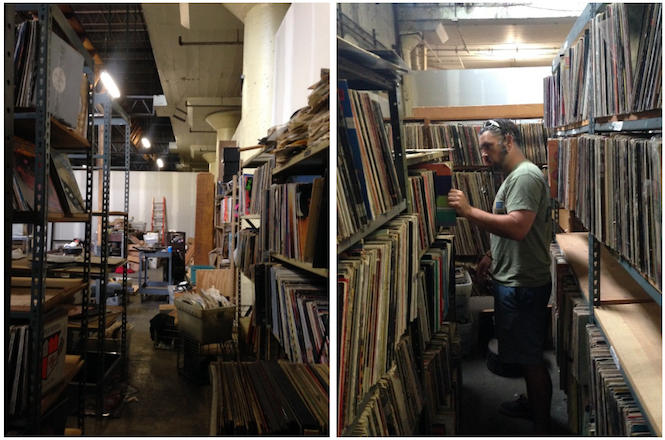 "I can't be sad about what I couldn't save," he explains. "That wore off after the first seven or eight pallets. I did what I could. Still, the rest of it is getting rolled over in a landfill somewhere right now. That sucks."
Accumulated over almost 40 years of closures by Record Exchange employee Gary Horwitz, who recently moved to Hawaii, the remaining records were lugged by Wallace up to his studio space, where the 50,000-record haul now sits.
However, paying for them to be painstakingly sorted and stacked is taking its toll. "I can't say if this was a good decision," he says. "You can't help but have a small level of apathy generated by a task like this. You get to that point of being overwhelmed, and what happens after that?"
"I mean, I guess I could open a record shop," he continues. "I do live above what could be a retail space. I could cherry pick the best out of the pile and put those up for sale in a coffee shop or sell them online. But it's like, do I want to be the guy from High Fidelity for the rest of my life?"
Either way Taylor Wallace, you deserve some kind of medal. And if things get too tough, we know a Brazilian you can call…
Read the full, fascinating account here.