Published on
December 5, 2014
Category
News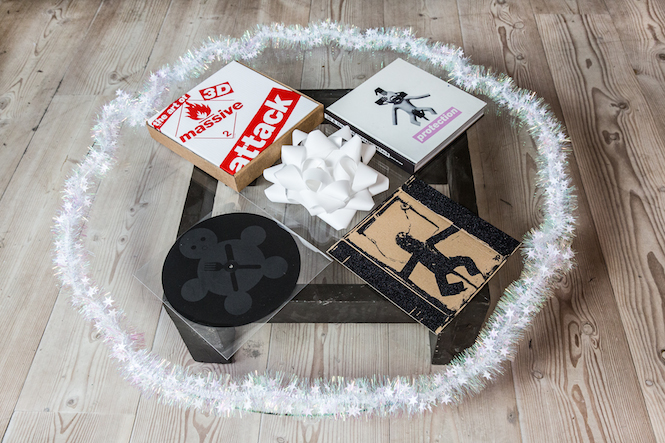 The perfect Christmas present is dropping straight down the chimney and on to your turntable.
We've nostalgically compiled the best of The Vinyl Factory's 2014 vinyl releases to create 12″ Days Of Vinyl Christmas, because is there a better gift than the gift that keeps on spinning?
Play with our interactive guide below for twelve of the best 12″s to find under the tree this Christmas.
You've got until 16th December to make your orders in time for Christmas, so don't leave it too late! Plus if you spend more than £100, you'll receive a free tote bag.
Here's full details of our top twelve 12″s, one for each day of Christmas:
1. Roisin Murphy – Mi Senti
A collection of six Italian songs – including five covers of classic pop hits from Italian singers and songwriters, and one original song by Murphy. Limited to 1000 copies. Buy
2. 3D And The Art Of Massive Attack
Calling this a 12″ is something of an understatement – this is the ultimate collector's item and a perfect Christmas vinyl gift. Boxed up is a 400-page 12″ x 12″ hardback book with black glitter and pink screen printed cover artwork unique to this edition, and an exclusive art print, signed by 3D, screen printed by Lazarides. And of course, there's a cracking 12″ with an unreleased track on the A-side and an etching on the B.
Limited to 350 copies, we're very proud of this super special box set which comes hand signed by 3D and individually numbered. Buy
3. Eddie Peake – Screen Printed Limited Edition 
This is the first release on HYMN, a new record label founded by Eddie Peake in collaboration with The Vinyl Factory. The record features the beautiful single 'Muscle' from Gwilym Gold plus a  compelling remix by Beam. A limited run of 100 unique artworks, individually screen printed, hand signed and numbered by Eddie Peake. Buy
4. Capital Children's Choir & Dinos Chapman – Untrust
Capital Children's Choir's stunning EP features their incredible interpretations of songs by Crystal Castles, Spiritualized and Florence + The Machine – with artwork, remix and video from the visual artist Dinos Chapman. Limited to 100 copies. Buy 

5. Marina Abramovic –  512 Hours
512 Hours was a major performance piece by Abramović in which visitors were invited to sit in silence opposite the artist and gaze into her eyes for an unspecified amount of time. Abramović performed this work every day for three months. This beautiful vinyl edition is a unique recording of the piece and captures the artist reading her 'An Artist Life Manifesto', recorded live at The Serpentine Gallery. A one-of-a-kind record from a pioneer in performance art, limited to 100 copies only. Buy

6. Duran Duran – A Diamond In The Mind (Diamond Dust Limited Edition)
Responding to public demand, this stunning hand crafted limited edition is home to Duran Duran's first live album on vinyl in more than a decade. Buy
7. These New Puritians – Expanded (Live At The Barbican)
This beautiful double gatefold vinyl sees the critically acclaimed 2013 album Field of Reeds recorded in its entirety, alongside old and brand new works at the band's celebrated Barbican show. Limited edition of 2000 copies worldwide. Buy
8. Martin Creed – Work No. 1674
50 unique artworks by the Turner Prize winner Martin Creed, individually hand painted on the record sleeves of his new album, Mind Trap. Each album sleeve is a unique interpretation of one of Martin's own paintings, Work No. 1674 Anouschka. Buy
9. Various – Cybernetic Serendipity
A reissue of the ICA's ground-breaking computer music compilation. originally released in 1968 to coincide with their exhibition 'Cybernetic Serendipity', which proved to be a landmark in the history of audio / visual art, and the first exhibition of its kind in the UK devoted to the relationship between music and early computers. Buy

10. Richard Mosse & Ben Frost – The Enclave
Consisting of two mesmerizing 15-minute compositions created by Frost especially for vinyl, based on his original multi-channel score and sound design for Richard Mosse's audio visual installation 'The Enclave' (winner of the 2014 Deutsche Börse Prize). Outer and inner sleeve photography is taken from Richard Mosse's 'The Enclave', printed by Trifolio Fine Art in Verona, Italy. Limited to 100 copies. Buy
11. Warren du Preez & Nick Thornton Jones, and James Lavelle – Erebus
The release follows the acclaimed project of the same name, where Du Preez & Thornton Jones created a 13‐minute film in response to renowned choreographer Russell Maliphant's full-length contemporary dance work 'The Rodin Project'. The edition includes a limited edition off-set litho sleeve of a key artwork taken from the 'Erebus' photographic series, as well as a white vinyl featuring the soundtrack to the central film, composed by James Lavelle. Buy
12. Kim Ann Foxman – Firehouse 001
The first release on Kim Ann's new New York-inspired record label Firehouse in association with The Vinyl Factory. The ex-Hercules & Love Affair vocalist delivers two deep cuts –  'It's All About You' and 'Steal My Secrets'. A killer house EP! Buy