Published on
October 10, 2014
Category
Vinyl Factory Films
Conrad Shawcross has collaborated with Holly Herndon, Mira Calix, Beatrice Dillon & Rupert Clervaux and Tamara Barnett Herrin & Mylo to bring his robotic installation The ADA Project to The Vinyl Factory's Brewer Street Car Park space this autumn.
Bringing the project to London for the first time, Conrad Shawcross has invited the four female musicians to respond to the movements of an industrial robot, hacked and programmed by the artist to create four unique choreographies. Turning the commissioning process on its head, Shawcross has created the parameters for the robot's movements to inspire, rather then be determined by, the pieces of music.
Drawing inspiration from mathematician Ada Lovelace, whose work with inventor Charles Babbage is heralded as among the very first in proto-computer programming, Shawcross worked closely with his four sets of collaborators, whose compositions will be pressed by The Vinyl Factory as one of four limited edition laser etched 12" vinyl records, each accompanied by one of four artist's prints, hand signed and numbered by Conrad Shawcross, with the singles also available alone as a larger edition.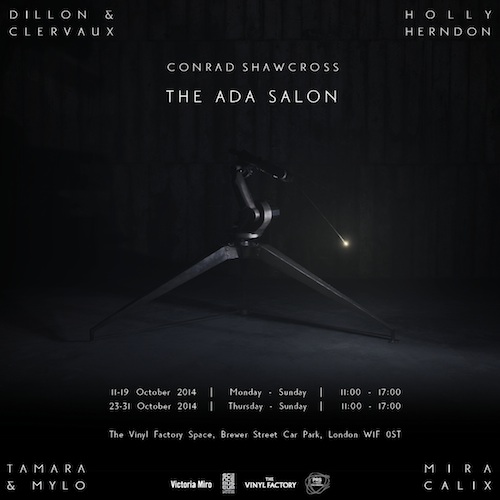 Mira Calix gratefully acknowledges financial support from PRS for Music Foundation.
Address: The Vinyl Factory Space at Brewer Street Car Park (top floor)
Brewer Street, London, W1F 0LA
Dates: 11-19 October 2014 11am – 5pm
23-31 October 2014 11am – 5pm
Opening Hours: Thursday – Sunday 11am – 5pm
Admission: Free
Travel: Nearest stations are Piccadilly Circus and Oxford Circus
The ADA Project was originally conceived for Palais de Tokyo, Paris with curator Ken Farmer.