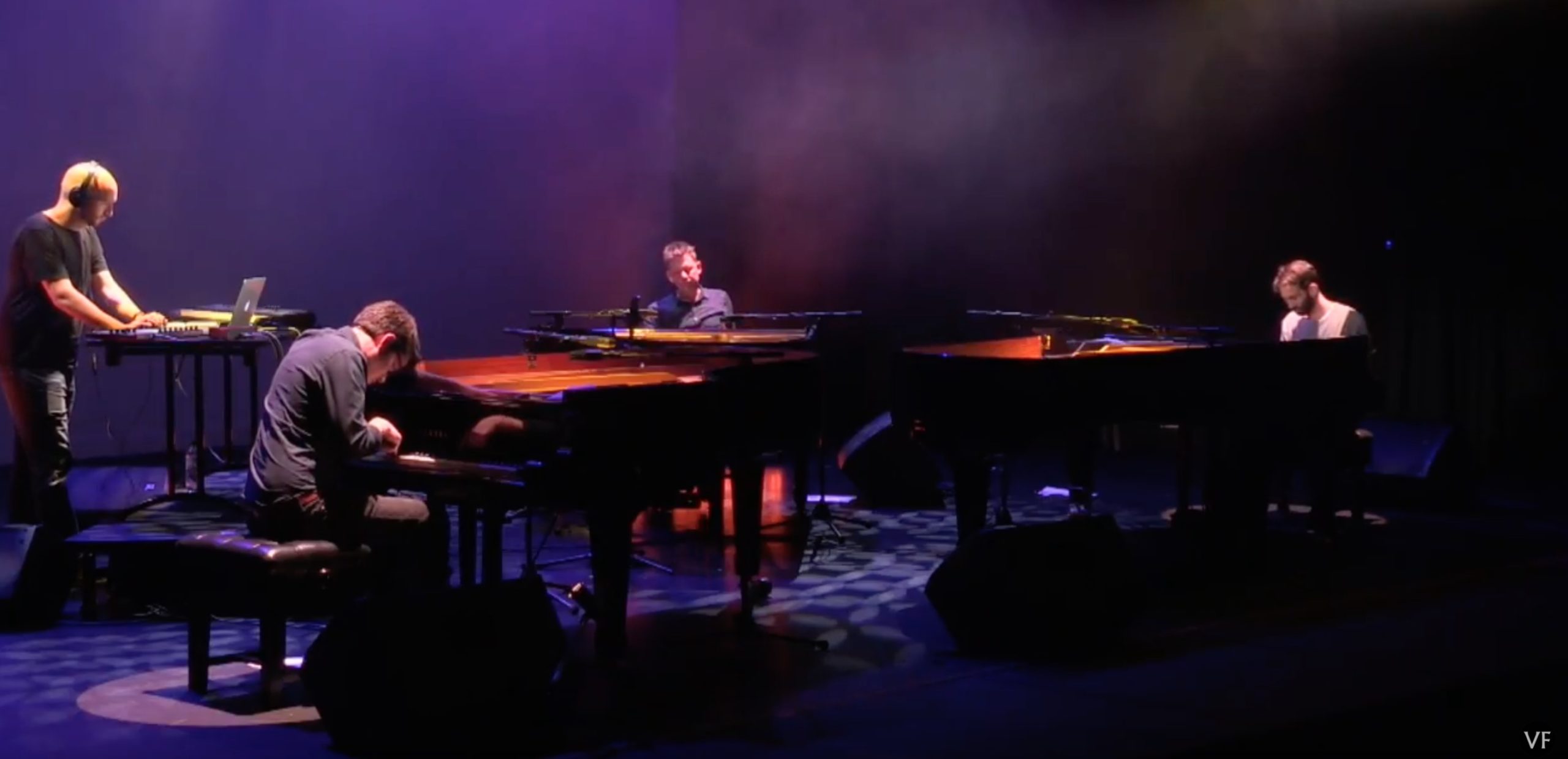 Published on
March 2, 2018
Category
Vinyl Factory Films
Taken from their new album with minimalist composer Matthew Bourne.
"Nightports is based on a simple but unbreakable rule of restriction: only sounds produced by the featured musician can be used. Nothing else. These sounds can be transformed, distorted, translated, processed and reprocessed, stretched, cut, ordered and reordered without limitation."
Few act manage to sum up their mission statements quite as succinctly as Nightports, comprised of Yorkshire duo Adam Martin and Mark Slater. The duo operate on the fringes of acoustic and electronic music, manipulating and synthesizing both to devastating effect.
Teaming up with minimalist pianist and composer Matthew Bourne for the first in a series of collaborative albums, the trio took to the stage at University of Hull as part of the UK City of Culture 2017 celebrations, to take apart three grand pianos in the energetic performance you can watch above.
Nightports w/Matthew Bourne is out now via The Leaf Label. Order a copy here and read a short interview below.
How did the Nightports project come about?
Nightports came about by chance (as is so often the case) from an initial idea in about 2010. Around this time, Adam and I had been working on some other projects when we had the chance to work on some original material with a singer. And we realised that we had a shared interest in some glitchy, filthy electronica and wanted to work out how to make some of this stuff.
These two opportunities came together for the first version of Nightports (which eventually led to the Depart album we put out in 2015), unified by the central proposition: only sounds made by the featured musician can be used. That restriction was there right from the start; in many ways, the manifesto was the start.
In your 'Manifesto' you talk about wanting to create sounds that no-one else can make. What is it about this that interests you? How important is it for you that every sound is unique?
Music technology's everywhere. Someone with a phone can put something together now if they're so inclined (not to mention the music production software that gets bundled with laptops or can be downloaded for free – complete with gig after gig of samples). Making music is probably easier than it's ever been. That, plus the fact we're really into the thinking and conceptual stuff that underpins music, is what set us on the path towards trying to make new sounds that no-one else can make.
The types of sounds we make might be familiar (kicks, snares, synths and pads), but they're inherently unique because of the way we make them. We want to chase after a unique sound because that's rewarding in itself, but really the uniqueness is all about the musician we're working with at the time. It's not just the fact that someone plays the piano, but the very specific way they play it. In this world of ubiquity, focussing on something singular in minute detail is really quite a different scale of view. And that refreshes us.
As a result it feels like there's often an element of risk or chance to your work – is that important to you?
Risk and chance is everything to us. When you reject all the samples and synths that already exist, there's always a sense that what you're doing might not work. You can spend hours or even days capturing and manipulating sounds only to find that what you've ended up with isn't quite right. But this risk keeps you on point; it keeps you listening for every opportunity and detail in what you're doing. The chance part is the best bit: when we go into recording session (particularly for the first time with a new collaborator), we have no clue how we'll work together or what we'll make.
But this is liberating. Without any of that baggage worrying about comparing yourself to this and that artist, without any real point of reference, we can really make anything. Or, at least, we can accept and value what we are making in all its creaky, risky glory. We've been blessed with the people we've worked with, though – musicians who are in their element in the moment so much so that it didn't really feel like a make-or-break risk. It felt more like a genuine risk for each of us individually as we tried something new musically and technically. New ground, for us at least.
Talk us through your live set-up here – in what ways are you manipulating the grand piano?
During the recording sessions for the Nightports w/ Matthew Bourne album, we gathered a whole range of sounds in various ways. Sometimes, we'd prepare a piano in a fairly 'traditional' (as it probably is now!) way with screws, bolts, washers, Blu-Tac, gaffer tape and cloths shoved between the strings or wedged between the internal struts. But, sometimes, particularly with the recording sessions at Besbrode Pianos in Leeds, the pianos were already prepared for us. These beautiful instruments had simply aged and, with that, had acquired some really colourful idiosyncrasies. Perfect for an improvising, responsive and effusive musician like Matthew Bourne who listened to the story each instrument had to tell.
In the live performance, we're often using classy concert grands. So, we replicate the sounds of the album by recreating the preparations with screws and bolts and all that along with using beaters, stones and snooker balls on the strings, metalwork and wooden frame to get the wider range sounds. We also bring some of the album sounds to the live performance with live electronics by triggering samples and doing some live processing of sounds captured in the moment.
Treating the piano as a more overtly percussive instrument has its precedents. Whose work are you inspired by?
John Cage and George Crumb loom large in our shared influences for the way we prepare piano. But also, more recently, Hauschka has shown just how rich this world of modified and manipulated pianos can be. For the electronic side of things, we're influenced by the music and approaches of Matthew Herbert and Oval. The scope of our collective influences is pretty wide, taking in European and American experimental music from the mid-20th century onwards as well as contemporary electronic music (like the glassy, intricate worlds of Amon Tobin, for example). But, when it came to it, we played the pianos percussively because that's what they allowed us to do.