Published on
June 8, 2017
Category
Features
With her new LP of 'Psychedelic Arabic Jazz' La Saboteuse out now, British-Bahraini trumpet player Yazz Ahmed discusses the challenges facing women in the resurgent modern jazz scene.
As I gaze out of the window watching an early summer rain shower, I ponder on my feelings about the UK jazz scene and where this music is heading in the 21st Century.
2017 marks the both the 100th anniversary of the first jazz recording and the birthday of Ella Fitzgerald but jazz is not a music of the past.
Like the gnarly roots of an ancient tree, spreading out in many different directions, it has become a very diverse scene and is now a truly global art form. It's almost impossible to keep track of the mutations, evolutions and sub genres, there are so many threads to the story. This is an exciting time for jazz and I think the future is looking very interesting.
Artists such as Kamasi Washington, both in his collaborations with Kendrick Lamar and with the release of his debut album, The Epic, David Bowie's collaboration with the Donny McCaslin band on Blackstar and, here in the UK, Shabaka Hutchings work with The Comet Is Coming and The Sons of Kemet, and Mobo award winners Binker & Moses, who recently appeared on mainstream TV, gracing Later with Jools Holland, are all reshaping jazz and reaching out to a new audience.
Let me tell you a bit about myself. I'm a British-Bahraini trumpet player and composer and in the last few years I've been seeking a way to express myself by developing a musical language which resonates with my growing sense of identity.
My new release, La Saboteuse, is an exploration of the music of my Middle Eastern heritage seen through the light of my jazz background, but also reflects the influence of recent collaborations with creative musicians from the fields of rock, ambient music and sound design, such as Radiohead, These New Puritans and Jason Singh.
The underlying theme of this album is the relationship between the optimism of my conscious self and the seductive voice of my self-destructive inclinations, my inner saboteur, La Saboteuse. One of the reasons her voice can be so loud at times is my occasional lack of self-belief as a female jazz musician. It has been challenging making my way in what has been in the past largely a male preserve.
Things are changing but there is still a noticeable gender imbalance in jazz, which lags behind the classical world, where measures such as 'blind auditions' have been in place for many years. Reference the Jazz at The Lincoln Center Orchestra which only recently adopted this policy, having been criticised for not having employed a female musician in its near thirty year history.
I'm not counting singers here, because they are well established in the jazz tradition. Many is the time a female band member will be greeted with, "are you the singer?"
This is a question I'm fed up with hearing, in fact I'm thinking of adopting a new tactic of just saying yes and then surprising them when I get on stage!
Throughout the history of jazz there have been notable female instrumentalists and composers, such as Mary Lou Williams and Alice Coltrane, and since the 1980s their number has grown to include the likes of Eliane Elias, Carla Bley, Toshiko Akiyoshi, Regina Carter and Maria Schneider, and more recently Terri Lyne Carrington's Mosaic Project. But they are few and far between.
When I was in my late teens and becoming serious about my jazz studies, I would search in vain for female trumpet players online, looking for inspirational female role models.
It wasn't until I got into Myspace that I discovered Kiku Collins, who played with Beyoncé and the Canadian virtuoso, Ingrid Jensen, recognised as one of the most creative and influential players of our times, with whom I went on to study.
One of the reasons that there is a comparative lack of female jazz musicians on the scene is that their male counterparts often don't book female side musicians to play in their own bands. I'm not saying this is deliberate, there are many subconscious reasons for this, but one issue that has been identified is that at the time the boys are developing as musicians, in their mid to late teens, they can become more competitive than girls. There is a strong tradition in jazz of outdoing each other at jam sessions, seeing who can play faster, louder, higher or who can negotiate complex harmonic sequences in the most impressive way.
Speaking in general terms, girls may be more interested in expression and co-operation, working collectively to achieve an musical result greater than the sum of its parts. Culturally, they may have a greater fear of appearing stupid or of being judged for making mistakes than boys who are happy to be the centre of attention. I've experienced this kind of pressure myself in the past and it put me off. I've also seen this same reaction in my students when I've led jam sessions. The girls can be reluctant to take risks in a competitive environment, because they don't want to be ridiculed. They end up shrinking and taking a back seat. The thing is that in order to progress one needs the opportunity to learn by making mistakes but this really needs to be done in an environment that feels safe and supportive.
As a result of these factors, like many women before me, I was forced to start my own band in an attempt to get my voice heard. I am happy to say that most of my bands are very gender balanced, actually not by design, it's just the players I like working with, but the ten piece ensemble I created to play my suite, Alhaan Al Siduri in 2015, was actually 50/50 men and women.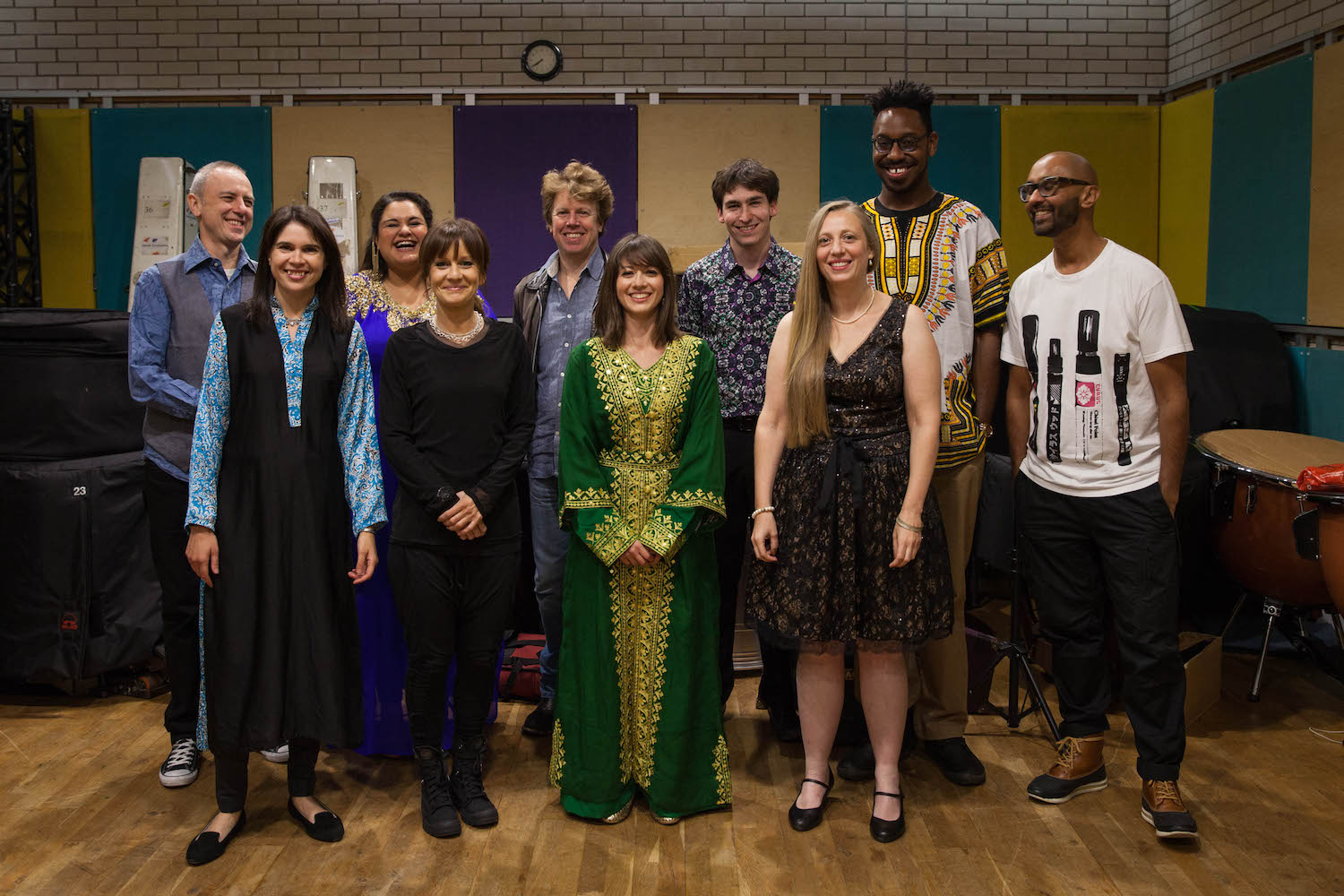 There is a subtly different feeling to working with a more equal line up. It's more co-operative, less competitive. The music is discussed, people have respect for each other and everybody feels free to speak up and contribute fully to the creative process during rehearsals, recordings and on gigs.
Things are definitely changing for the better with regard to gender equality in the UK jazz scene and I think it's important to recognise the work done by, amongst others, Blow The Fuse, who have been promoting female composers and performers for 30 years, Serious, with their artist development scheme, 'Take Five', PRSF Women Make Music, who commission and support female artists and Issie Barratt's National Youth Jazz Collective. All of these have played a major role in championing and nurturing female jazz musicians over the last several years but I would like to make particular mention of Tomorrow's Warriors. They have had diversity and gender balance at the heart of their inspiring educational and professional projects based at the Southbank Centre. This has recently produced the uplifting and inspiring young female band Nérija, featuring the exciting talents of saxophonist Nubya Garcia and guitarist, Shirley Tetteh.
All these organisations have played a part in the fact that when I look around today, I see lots of young talented female jazz trumpeters, such as Sheila Maurice-Grey, Laura Jurd and the precocious winner of the BBC Young Jazz Musician of the Year, Alex Ridout. This is in great contrast to when I was embarking on my career ten years ago, where I felt I was on my own.
Other notable and more established instrumentalists on the London scene include pianists, Nikki Yeoh, Nikki Illes and Alcyona Mick, and saxophonists Tori Freestone, Josephine Davies and Alison Neale.
The other aspect of the jazz scene that could do with a bit of a shake up regarding gender balance are the audiences. The typical jazz club audience in the UK is predominantly white, male and over fifty. Interestingly when I have performed with my bands overseas it's been a different story. In Lviv, Ukraine, I played outside to thousands of young men and women, in Berlin the enthusiastic crowd sat on beanbags. In Algeria my gig was a night out for the whole family and in Bahrain and Kuwait the audience was full of young hipsters.
I think that younger audiences don't see female musicians as a novelty and this is very encouraging.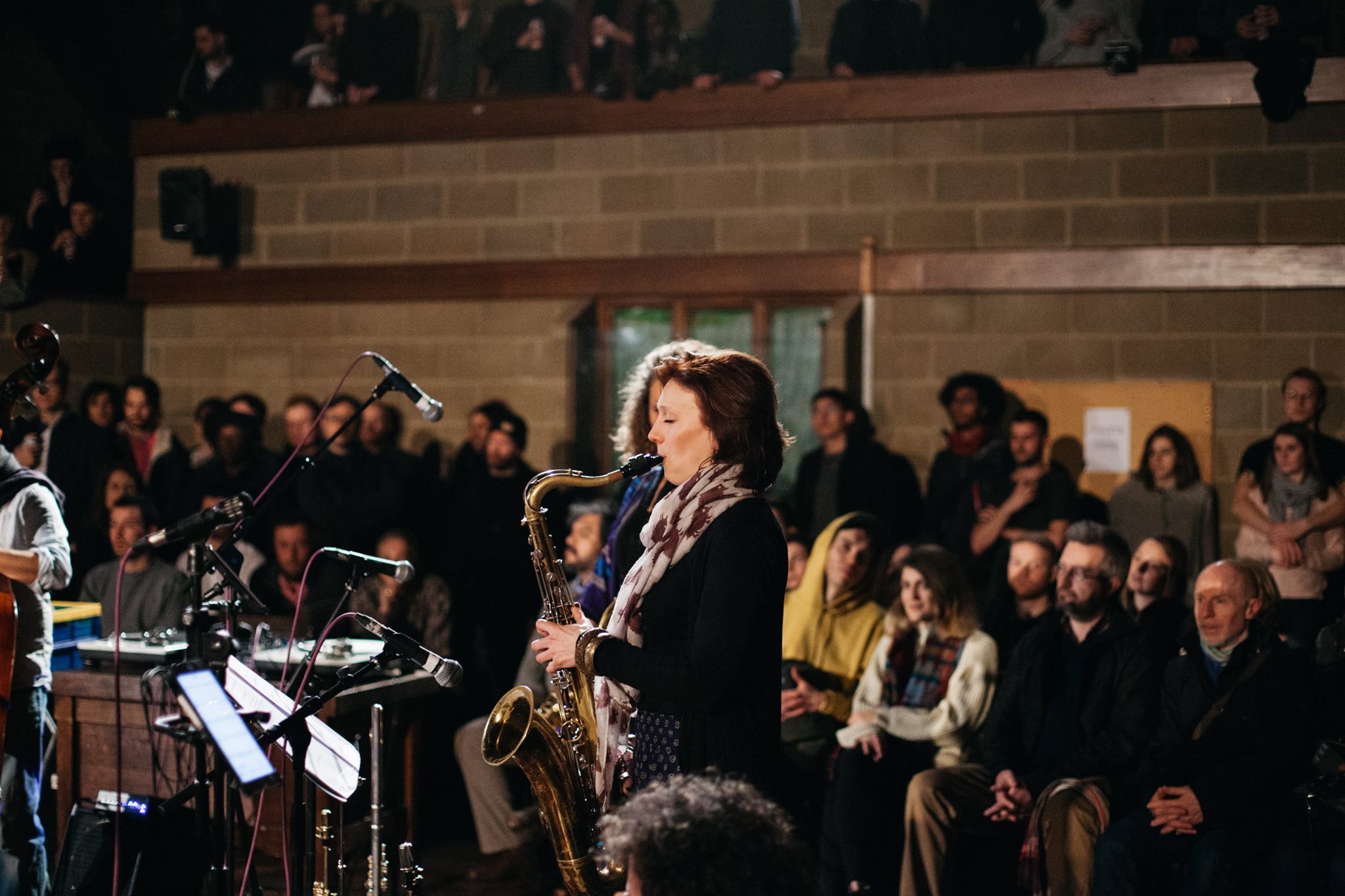 Collocutor at Church of Sound. Photo by James Clothier
Perhaps contacting new audiences has something to do with the atmosphere and choice of venue too. With many of the established jazz clubs in the UK the decor and general ambience already put off potential new listeners. I like the idea of bringing jazz out from the dark cellars and hidden nooks into the open, playing at the bigger more eclectic music venues and festivals, seeking that audience which would love the music if they got a chance to hear it.
If it is to survive, then jazz must continue to evolve and I think there is a responsibility on artists to be inclusive, to look for ways to invite new listeners by making music relevant to today.
I also feel that jazz, as a hybrid art form, should sound different if it comes from London, Helsinki, Vancouver, Addis Ababa or Beijing, reflecting and absorbing local sounds and traditions. This is something I've been seeking to do in my own music, which an Algerian reviewer recently described as 'Psychedelic Arabic Jazz' and to be honest, I'm pretty happy with that.
Illustration by Gaurab Thakali.