Published on
August 19, 2017
Category
Features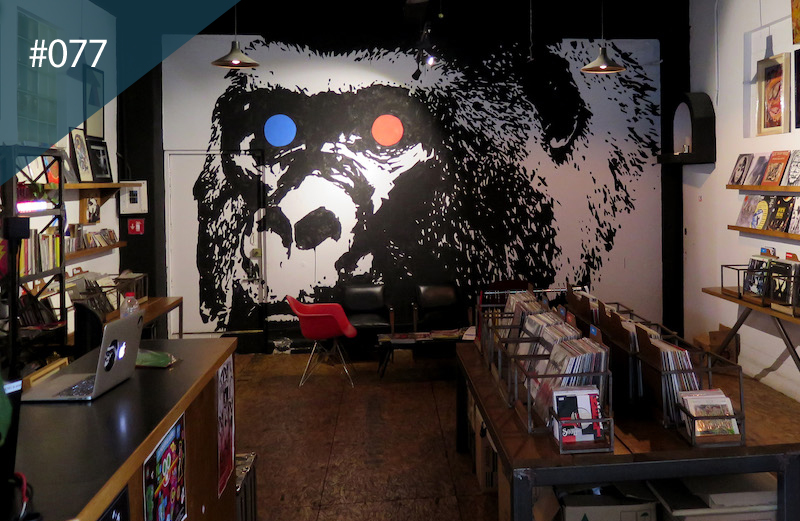 Monkey knows best.
Every week, we pick out one must-visit spot from a different city around the world with photos and a little bit of history. Think of it as a kind of 1000 places to see before you die for record shops.
Our first, but certainly not our last visit to Mexico is with a charmingly eclectic new-comer. After only three years in the business, Discos Mono is already a destination for the adventurous listener in a city of more traditional record shops.
---
Discos Mono
Location: Jalapa 129b, Roma Nte., 06700 Ciudad de México, CDMX, Mexico
Go for: Something you've never heard before
What's the story?
Started by three friends Igor Figueroa, Humberto Zamorate and Sergio Alcocer in 2014, Mono had the hair-brained idea to avoid pretty much everything that might make it any money. That means out with The Beatles and Zeppelin (no Bonobo or Gorillaz either…) and in with experimental music, contemporary composers, musique concrète, prog, and krautrock.
Not short on ambition, the shop was born out of frustration that, in their minds, "one of the largest cities in the world did not have a world class record store."
While there are other places to get your hands dirty digging for local sounds in Mexico City, Mono opts instead for curation, picking just a couple of copies of each record, "to create a place where people can come and discover artists and bands that they have never heard before." Anecdotally, customers tend to recognise just 25% of Mono's stock at any one time, and the focus is always on small catalogues and independent labels.
While they readily admit this is yet to be a profitable venture, the trio have taken the plunge to bring something different to the city's rich cultural landscape.