Published on
December 2, 2014
Category
Features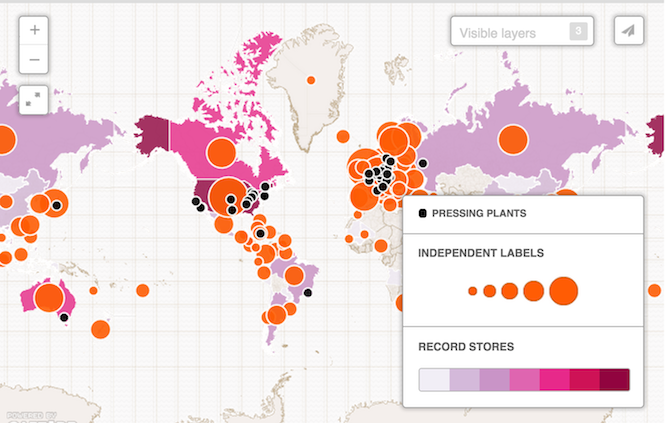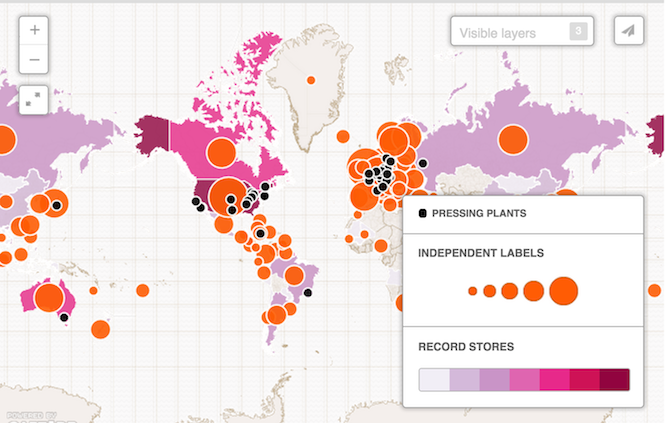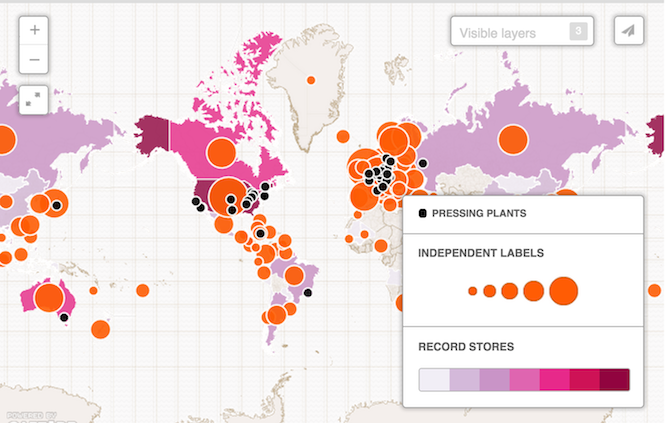 Explore the global landscape of vinyl's supply-side economy – vinyl pressing plants, independent labels and record stores – using our four interactive maps below. 
---
At the start of the supply chain is the elusive vinyl pressing plant. Now a rare breed, we've identified 40 vinyl record manufacturers globally.
When you compare the rather limited stock of factories to the huge number of labels worldwide (check out our second map for more on this), it's easy to see to spot the biggest challenge for vinyl supply-side today. Many of the vinyl factories, especially the smaller or more remote ones, do not have capacity in terms of machinery (baths, presses etc) and manpower to meet growing demand, especially in the run up to events like Record Store Day. In some cases, a single factory serves an entire content – take Asia or Australia. And even in USA and Europe, together home to over 80% of the plants, factories have been known to struggle with the market appetite (of course in these continents, demand is at its strongest).
Play with our map to check out the geographical distribution of factories and click on the factories to identify them.
If you think we've missed out a plant, let us know and we can update our map.
Source: Total Sonic
---
As mentioned, the number of labels out there that rely on these factories to keep their imprint going is enormous. With the help of All Record Labels, we've intensity mapped the total number of known record labels by country. We imagine that the data is not completely comprehensive, but it's the best available as far as we're aware.
Explore the distribution country by country to get a sense of the global record label picture.
Source: All Record Labels
---
The last supply step is distribution via record stores. Again, it's hard to find completely comprehensive data on this. The new Discogs venture Vinyl Hub is on a mission to document every record shop on the planet, but we've used data from recordshops.org, who appear to have a larger database (for the time being at least).
Explore the distribution country by country to get a sense of the global record store picture.
Source: recordshops.org

---
This final map brings everything together to provide a complete global picture of the supply-side to the vinyl economy – vinyl pressing plants, record labels and record stores. The map currently displays all three layers but using the tool you can deselect any of the layers. Click to explore!
Sources: Total Sonic, All Record Labels, recordshops.org
---