Published on
June 1, 2023
Category
Features
VF reports back from a sunny day in Brockwell Park with Shygirl, Caroline Polachek and more.
The sun shone down on Brockwell Park as the 2023 festival season kicked off in earnest at Wide Awake 2023. A day shorter than last year's edition, Wide Awake 2023 featured a packed lineup of experimental indie, electronic, and pop, all pushing the boundaries of sonic exploration.
With eight stages, an array of food options, and a record store courtesy of Rough Trade, the audience had the opportunity to enjoy in an eclectic assortment of genres whilst even taking some music home with them. As a vinyl lover, it was a tad anxiety-inducing to witness people carrying totes filled with records into the bustling crowds under the scorching sun. But to each their own!
By transforming into a one-day festival, Wide Awake made the event a constant exercise in checking the timetable and making tough decisions. However, this challenge was a testament to the abundance of artists to explore, especially in an over-saturated market of one-day festivals with relatively similar line-ups.
Despite the busy lineup, Wide Awake managed to create a comfortable festival experience. Even during performances by high-profile artists like indie wunderkind Alex G and headliner Caroline Polachek, the crowds were easy to navigate, and it felt like a safe environment, a relief in the post-COVID gigging world. Food and drink queues were manageable, and there was an overwhelming sense that everyone was delighted to kick off their summer among like-minded music enthusiasts.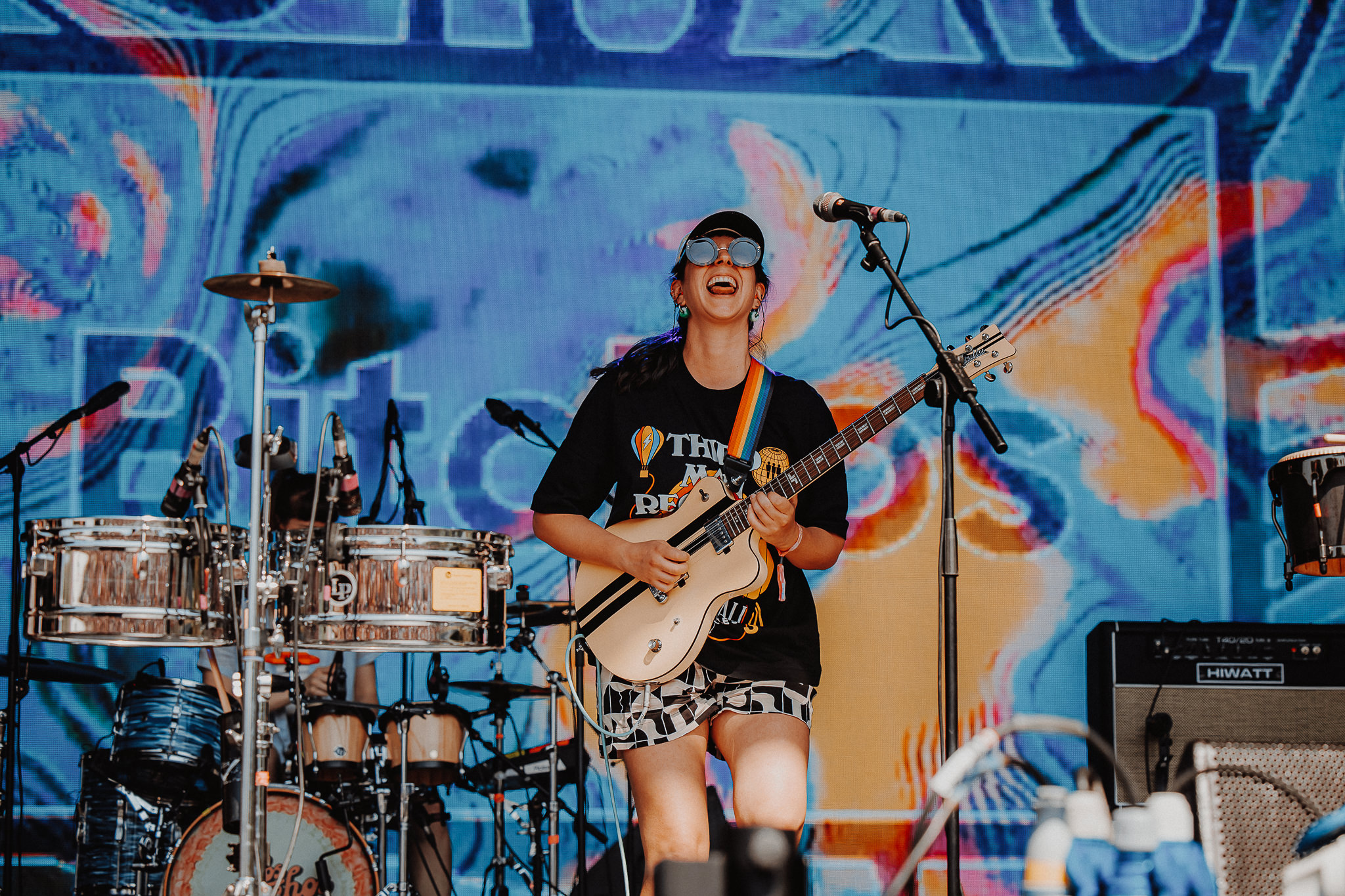 Los Bitchos
Despite playing the festival at the hardly afternoon time of 3:15pm, Los Bitchos proved to be an early crowd-pleaser with their fun blend of cumbia and surf-rock instrumentals, all complemented by an effortless charisma and stage presence. More festival sets like this and the London-based four-piece will continue to see their profile rocket.
Alex G
Capitalizing on his 4:50pmmain stage slot, cult favorite Alex G attracted one of the largest crowds of the day. Alex G's has a timeless feel, drawing inspiration from three decades of indie influences and crafting a sound that resonates with Gen Z audiences who may be unfamiliar with his predecessors. Although his style may be better suited for smaller, intimate venues, the anthemic tracks and a surprise guest appearance by headliner Caroline Polachek captivated the crowd and undoubtedly won over previous non-believers.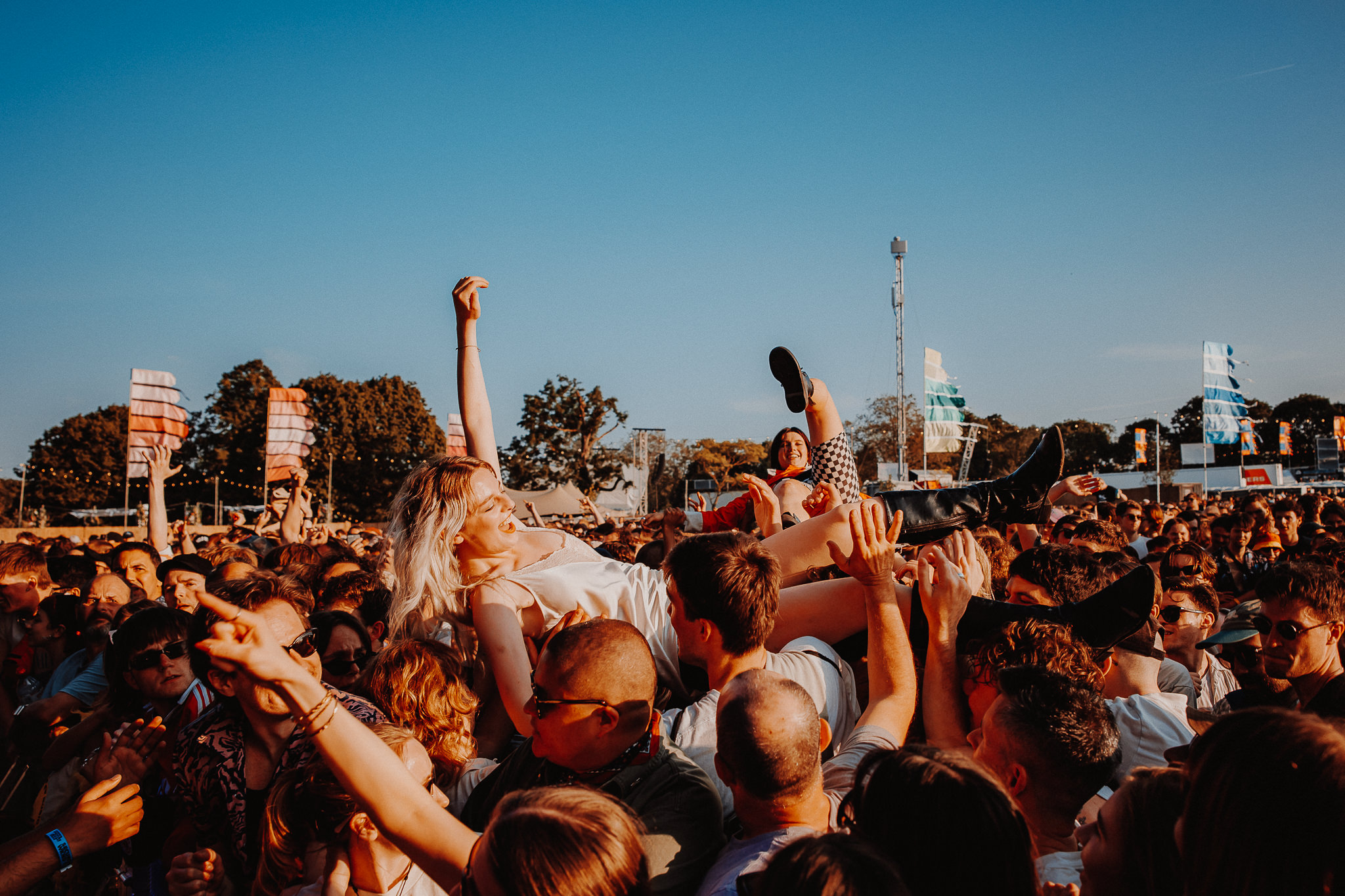 Oneohtrix Point Never
While a sunny day may not be the ideal setting for Oneohtrix Point Never's ambient explorations, the producer made the most of it by delivering a fully immersive performance at the SC&P X Village Underground tent. Through a cinematic and artfully crafted set, Oneohtrix Point Never momentarily transported the audience away from the bustling festival atmosphere, allowing us to disappear into the sheer beauty of his work. An ethereal and gratifying experience.
Gilla Band
Irish group Gilla Band took the stage at the MOTH Club X DMY tent, drawing a solid audience with their unique blend of experimental post-punk. Despite the speaker system not fully capturing the extremities of their music, Gilla Band maintained their high-energy intensity and wreaked havoc on stage to a crowd of faithfuls. An enjoyable, albeit muted, performance.
Shygirl
Transitioning into the night-time atmosphere, Shygirl took charge of the main stage, delivering a repertoire of potent club-pop anthems accompanied by an always fun shower of confetti. Shygirl's skyrocketing profile is well-deserved, and she effortlessly and seductively delivered one of the festival's standout performances.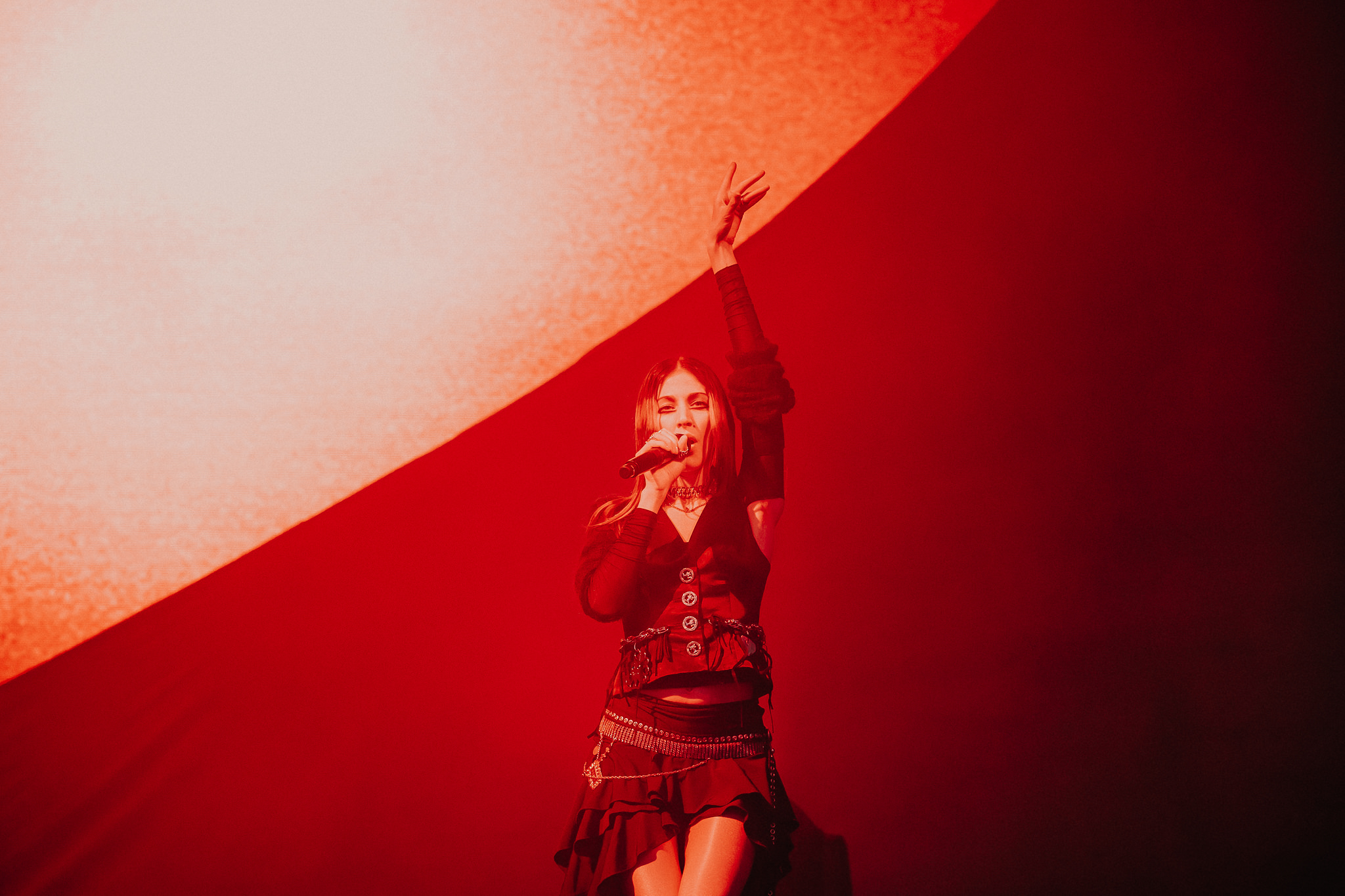 Caroline Polachek
In her inaugural festival headline performance, Caroline Polachek graced the Wide Awake audience with the presence of a pop superstar in the making. Showcasing tracks from her excellent second album, Desire, I Want To Turn Into You, Polachek's theatrical brand of art-pop added singalongs and glamour to the day's festivities. Serving as the perfect sonic glue to bridge the lineup that preceded her, Polachek's exceptional vocal talent and inspired pop experimentation captivated the crowd. Her performance served as the crowning touch on a well-organized and enjoyable day out for festival-goers of all kinds.