Published on
September 8, 2017
Category
Features
The good, the bad and the fugly. 
Uniquely shaped vinyl and picture discs have been in existence since the 1930s, but the form truly came into its own in the eighties, when music embraced tacky and weirdness ruled. You may notice that even the most adventurous of shaped vinyl are still relatively circular in their design, shying away from angular shapes, which as in any material, are far more difficult to cut.
Discovering these non-circular releases has lead down a rabbit hole – an exploration of kitsch photo records from the '80s alone would lead to hundreds of entries – so this is a highlight, arranged chronologically for the sake of simplicity. (Noteworthy omissions include Dilla, We've Got A Fuzzbox And We're Gonna Use It!, and Quasimoto, who all boast fine specimens of novelty shaped records to their names.)
Behold a smoke-filled world filled with electrified psychedelics, synth Pharaohs, and a helluva lot of dubious artwork that makes Microsoft clipart look like Picasso. Let us know if we've missed any of your favourites.
---
Barnes & Barnes
Greatest Hits 12"
1982
Comedy duo Barnes & Barnes (Bill Mumy and Robert Haimer) recorded the original version of this song in 1979. Their aquatic Chipmunk opus 'Fish Heads' took on cult fame when friend Bill Paxton helped its music video air on Saturday Night Live for two weeks in 1980. The lifelike fish Greatest Hits 12" from 1982 helped to renew and feed the frenzy.
---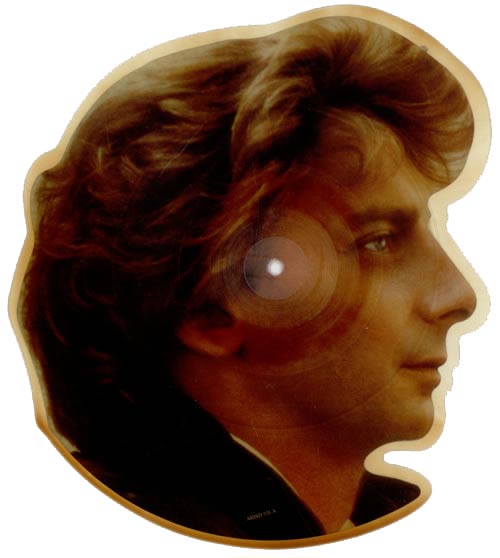 Barry Manilow
'Read 'Em And Weep' 7" single
1983
The original version of 'Read 'Em and Weep' was recorded by Meatloaf in 1981 to minimal success. Two years later, Barry Manilow brought his crooning magic to a rewritten version. Released on a picture disc of Manilow's profile, complete with some heavy drop-shadow, the single marked Manilow's last entry into the Billboard Top 40. We're weeping with you, Barry.
---
Thompson Twins
'You Take Me Up' jigsaw 3×7" single
1984
A 3-part, vinyl jigsaw that looks like a dayglo earth squashed atop a skateboard when pieced together, Thompson Twins set the bar high for interconnected picture discs to come. Each 7" has the same harmonica jamming 'You Take Me Up'/'Passion Planet' track list.
---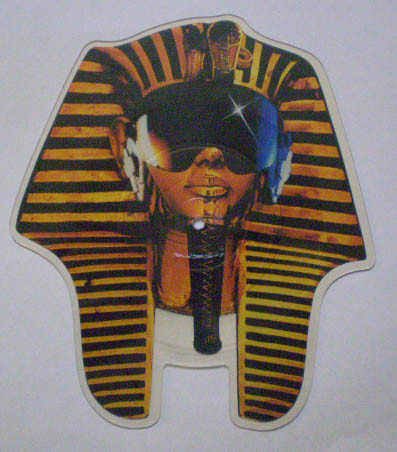 ZZ Top
'Sleeping Bag' 7" single
1985
Texan synth rawk cowboys ZZ Top released 'Sleeping Bag' as the first single off their 1985 album Afterburner. The track, with 7" picture disc that inexplicably features an Egyptian Pharaoh wearing jumbo-sized Tron-shades, went on to become the groups biggest hit. ZZ Top then released picture discs for singles 'Stages' and 'Rough Boy' from Afterburner, featuring its members in 'Sleeping Bags' with interlocking vinyl, to lesser success. Snooze you lose.
---
Talk Talk
'Living In Another World' 7" single
1986
'Living in Another World' is the second single from British group Talk Talk's album The Colour Of Spring. With a repetitive feel once described as "a musical version of that famous Escher staircase" the loopy 7" showcases a tiger with a bee for a nose. 'Living In Another World' indeed.
---
The B-52s
'Rock Lobster' 3×7" single with folder, magazine mailout
1986
Eight years after The B-52s debut single 'Rock Lobster' made them a worldwide name, the Georgia new wavesters dropped a 3-part series of picture discs via magazine mailout. For 3 weeks, readers received a 'Rock Lobster' 10" featuring different artwork with the same music: the title track on the A-side with 'Planet Claire' on the flip. (Week 1: Rock; Week 2: Lobster; Week 3: Planet Claire.) All three records also fit into a folder issued on week one, to make sure there was no motion in your vinyl ocean.
---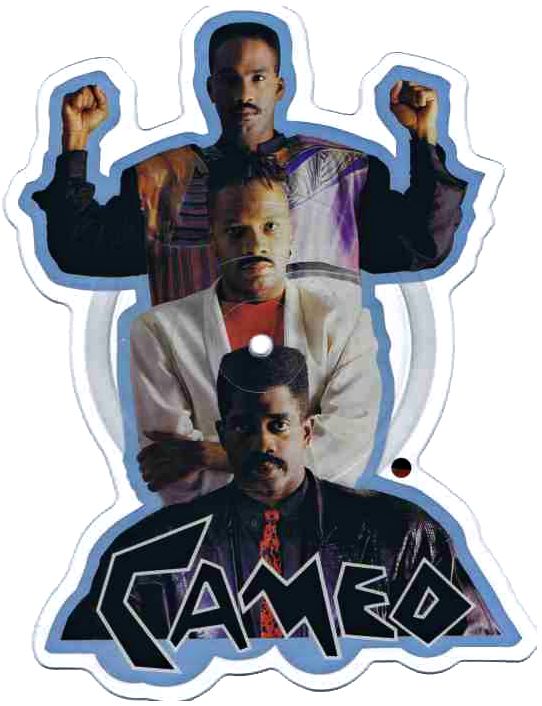 Cameo
'Word Up!' 7" single
1986
Sho nuff Cameo's 'Word Up!', a megahit 1986 head nod to NYC street slang, also came complete with a record to match: three of the group's 14 strong collective arranged in a styling totem pole of 'tude.
---
David Bowie
'Underground' 7" single
1986
A long-time lover of shaped vinyl that extends posthumously, this 7" was one of David Bowie's earliest dabblings in the art form. The 'Underground' single, which Bowie recorded for the Labryinth soundtrack, was released in various forms, including a 12" with 8 minute extended club mix and 5 minute dub edit, as well as this glorious picture number. Who knows why the Starman is wearing tambourines as earrings, who cares. (Complete with a jazzy, in-studio, behind-the-scenes shot plus one winged owl on the reverse.)
---
George Clinton & The Goombas
'Walk The Dinosaur' 7" single
1993
This 1993 release by The Goombas, aka the George Clinton-fronted psych funk group from The Super Mario Brothers Movie, is a cover of Was Not Was' 1987 hit single 'Walk The Dinosaur'. Proof that Clinton is an intergalactic funkmaster, whether in the mezosoic age or aboard an mothership on another dimension, the cover is better than the original in every sense. Its 11", shaped picture disc release features the single version as well as a club edit by Keith "KC" Cohen, who remixed Prince and the New Power Generation, Paula Abdul and Alexander O'Neal before taking on George Clinton's trippy dino funk.
---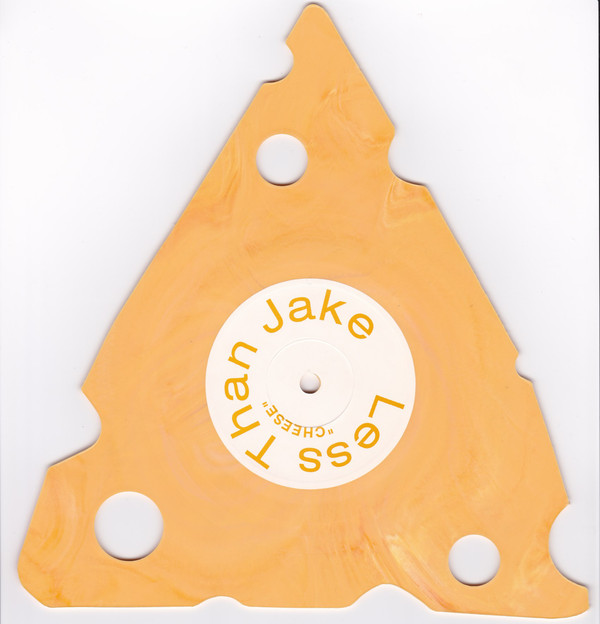 Less Than Jake
'Cheese' 7" single
1998
The fromage-shaped triangle from '90s ska brats Less Than Jake attempted  realism by including holes in the record, and a putrid yellow hue. Though the result doesn't look enticingly cheese-like in the slightest, what it did achieve was looking realistically tacky. Sweet vinyl dreams are not made of cheese.
---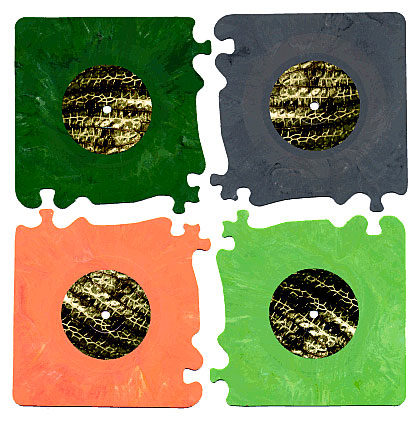 The Locust
'Flight of the Wounded' 4×7" single
2003
In 2003, The Locust released four puzzle-shaped 7"s which form an underwhelming, multi-coloured square when put together, especially when compared to the Thompson Twin's 1982 jigsaw. For a band with such, seemingly, out there names ('Gluing Carpet To Your Genitals Does Not Make You A Cantaloupe') this gimmicky release doesn't fit.
---
Anti-Flag
'Bacon' 7" single
2012
Anti-Flag released their hand-numbered, 500 copy, blob of sizzling vinyl pig 7" two days after Christmas in 2012. Both sides inexplicably feature the same two tracks: 'Bacon' and 'All Cops are… A-Z' and look equally vomit inducing when spinning into a flesh-coloured haze on the turntable.
---
UGK Featuring OutKast
'Int'l Players Anthem (I Choose You)' 7" single
2016
Every Record Store Day includes oddly shaped vinyl reissues and new releases designed to hype up the consuming masses, ala 2017's Toto 'Africa'/'Rosanna' picture disc. Texas has also featured on picture discs before UGK's RSD 'Black Friday' 2016 exclusive, but this perfectly executed version of geographic vinyl that pays homage to UGK's home is the finest of the bunch, with a six inch playing area resting atop the Lone Star State's 12-inches. Yeehaw.