Published on
March 19, 2014
Category
Features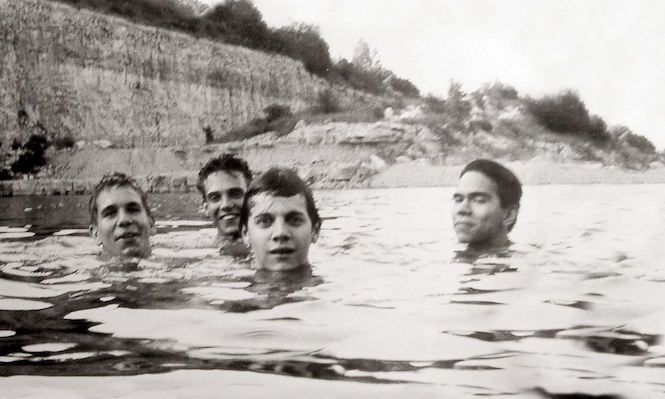 This week's reissue review follows the breadcrumb trail behind teenage post rock icons Slint and the culmination of their mysterious and short-lived careers in the genre-defining 1991 LP Spiderland. The Vinyl Factory's James Hammond picks his ways through the myths and beguiling realities packed into Touch And Go's definitive box set and accompanying documentary.
---
From its mysterious genesis in the minds and friendships of the four teenage members treading water on its iconic cover, and onwards to its role as an archetypal slow burner in terms of appreciation and record sales alike, Slint's Spiderland has taken up quite a place in rock mythology. An unwitting blueprint for post rock and many a record of youthful introspection that followed, much has been made of its influence considering that this was the last time the group ever recorded together, having disbanded before Spiderland's 1991 release. Given a series of reunion shows, a reissue package was also on the cards and with the chance to shed some light on the group's enigmatic existence, Touch and Go have come good with this expansive and beautifully presented box set.
Comprised of 3 LPs, 3 CDs, a coffee table book and a feature length documentary, all involved haven't held back in content that's sure to satiate the curious, striking a fine balance between putting the record itself at the forefront, and rounding this tome off with a wealth of photographic nostalgia, storytelling, and unheard material. The cover itself makes the position of the set clear, and is sure to strike a chord with anyone who grew with this record; gone are the four band members from Utica Quarry's darkened waters, with the setting alone remaining.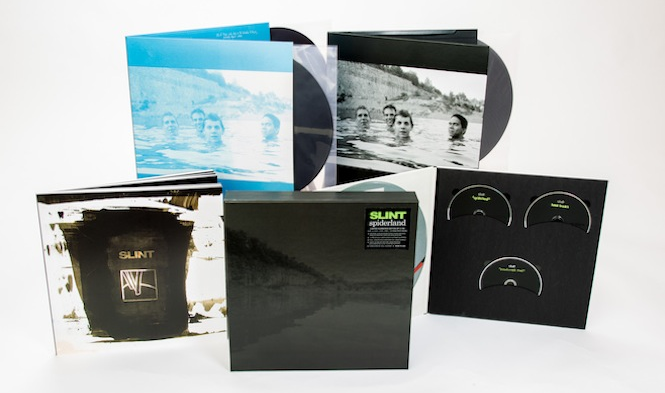 Lance Bangs' Breadcrumb Trail documentary picks up the pieces of this time shift with a host of retrospective interviews with the band and those close to them, conjuring recollections of their extensive rehearsals in the Walford family's basement. The Louisville music scene of the late 80s that nurtured them was one of rock and roll discontents, fanzines, word of mouth and bands free to form and break up away from press or label concerns; it was a musical terrain wholly different to that of the present and one in which the youthful abandon of Slint thrived. In terms of the personalities that made up the group, laughs abound throughout Breadcrumb Trail and that Slint were essentially a group of fun loving pranksters making music that turned them on, is something that can be easily overlooked. The photo-book's amusing collection of flyers and art that adorned their tour van is further testament to this.
As an album Spiderland still sounds sublime in how it navigates its fragmented narratives, time structures and dynamics, the hushed and the bombastic, the cathartic and matter of fact, all held back from the brink by how tight the group were musically. The remastered LP (and it should be noted that the band always insisted the record should be listened to in this format) sounds great and lyrically it's still a trip – a big sidestep from anything else that was going on at the tail end of 80s punk and hardcore, and not least from their debut Tweez. It's interesting to hear Steve Albini (one of the few that ever gave the record any initial press coverage) confessing his early disappointment with Brian McMahan's delivery on 'Washer' only to later be seduced by its vulnerability. But that's been one the head scratchers of this record – Slint's emotional and musical complexity always belied their years.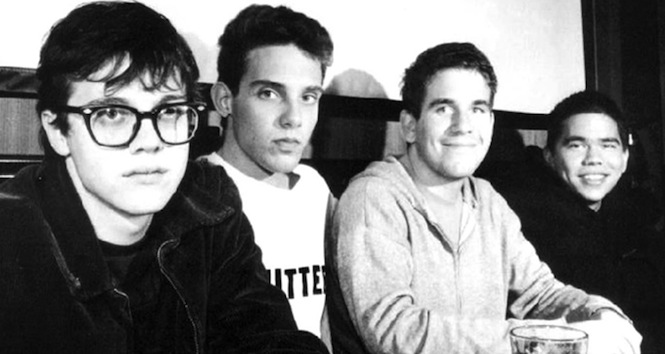 The 2LPs of unreleased material here range from basement recordings on their old tape recorder (which turns up amongst other relics of the scene in the extensive photo collection), to tantalizing glimpses into what form a follow up might have taken with 'Brian's Song', a post-Spiderland, drum-machine fronted demo. Yet as much of the content in the box set would have it Spiderland and Slint as a functioning and recording group were a product of a different time, with Will Oldham's foreword further alluding to a record whose inception remains veiled to "a world moved on", and the thought of further Slint material trying to recapture the spirit of Spiderland seems obsolete. Part of the joy of working your way through this box is acquainting yourself with these halcyon days while simply appreciating this game-changing record presented, fittingly, in a way which unravels some of the mystery, but leaves its quintessential nature in tact.
---
Slint's Spiderland will be released by Touch And Go on 15th April 2014. Find out more and pre-order here.