Published on
August 6, 2014
Category
Features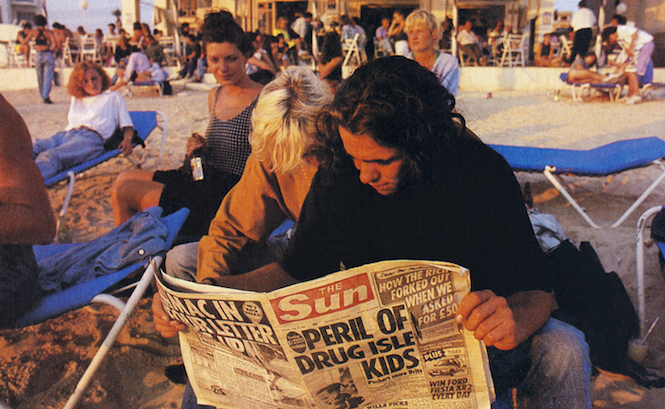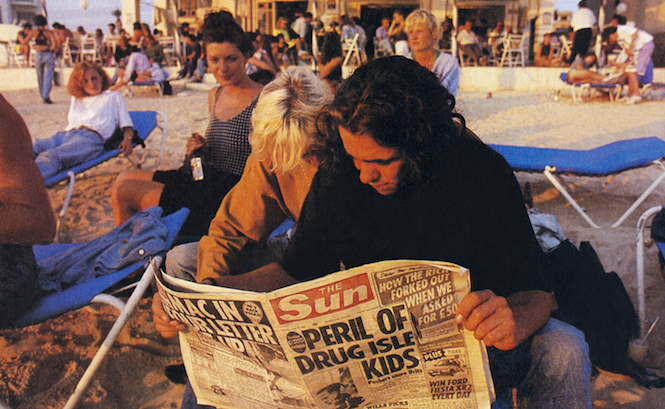 The Vinyl Factory's Patrick Ryder takes a step back to introduce 20 of the most foundational records from those heady sunrises on the Balearic isles.
---
In these heady days of long hair and floral shirts, the B-word has found itself hideously misappropriated by everyone from Radio One presenters to high street fashion retailers who seem to think a faded print of a growling Grace Jones is a true reflection of the spirit of the White Isle. Let's reserve another B-word for that. It seems that in the endless race to regurgitate, people have lost track of the off-beat pop magic, the irresistible naffness and the cocaine fuelled trashiness of sunsets at the Cafe Del Mar, sunrises at the Ku, and sunburn on the Playa Bella. So put a seashell to your ear and dive into the cool azure of these true Balearic greats.
You can listen to all twenty tracks in this specially made Youtube playlist or hear them individually as you go below.
---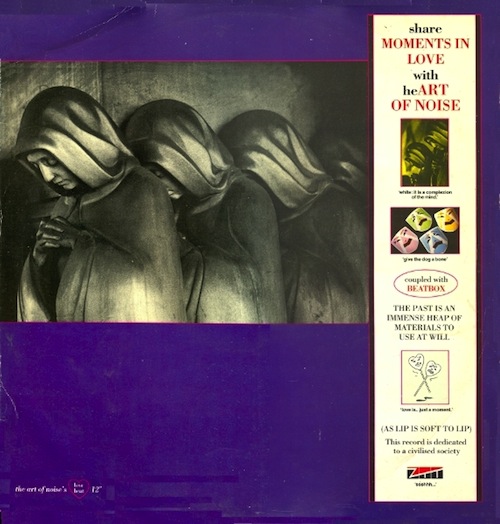 The Art Of Noise
'Moments In Love' from (Who's Afraid Of?) The Art Of Noise!
(ZTT, 1985)
What better place to start than this seductive, sampledelic ode to hours spent between the sheets? To my mind their finest hour, and possibly the greatest Fairlight record ever made, 'Moments In Love' is pure unadulterated bliss. And don't just take my word for it, Madge walked down the aisle to it once upon a time.
Listen HERE.
---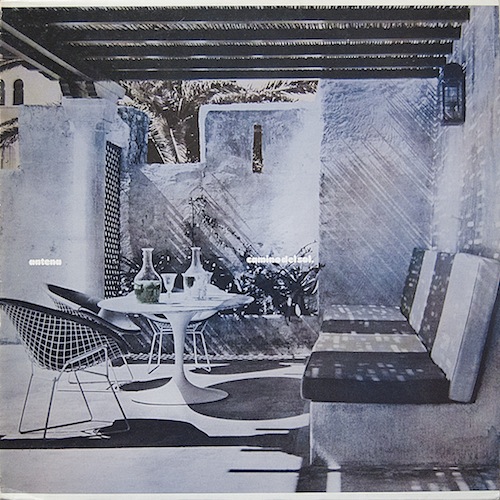 Antena
'Camino Del Sol' from Camino Del Sol
(Les Disques Du Crépuscule, 1982)
Let's face it, there are few things in this world more Balearic than an electro-samba chanson called 'Way of the Sun' about the pleasant experience of a luxury couples holiday. Lyrically falling somewhere between a Lynchian monologue and a 'visualise success' self help tape, this breezy pop gem from Isabelle Antenna is an all time classic.
Listen HERE.
---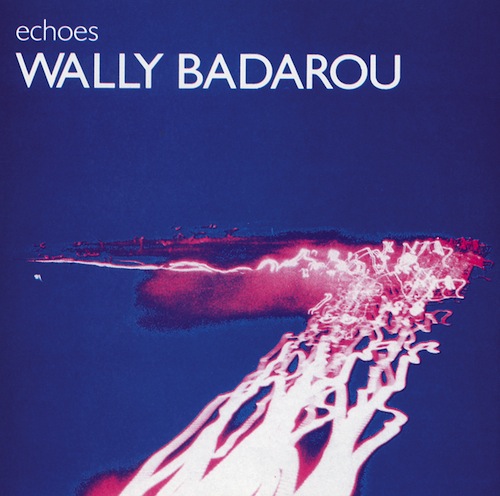 Wally Badarou
Chief Inspector from Echoes
(Island Records, 1984)
If I were to be stranded on a desert island, I wouldn't bother taking this groovesome little number by Compass Point All Star and Level 42 keyboardist Wally Badarou. I wouldn't need to, as I'm fairly sure this is exactly what a desert island would sound like. Lilting drum machines, bubbling chords and a hint of tropical jazz are shaken together in a cocktail sampled by thousands of wide eyed revellers at the Ku over the years.
Listen HERE.
---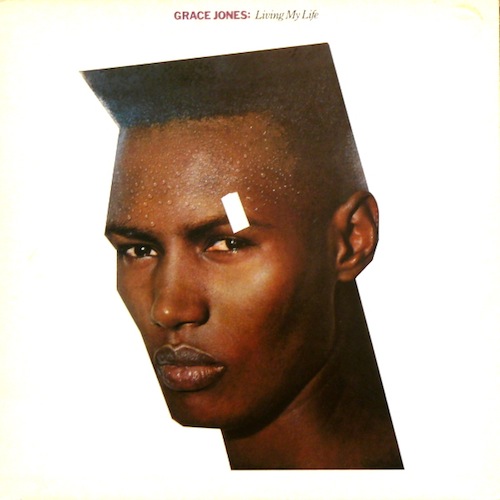 Grace Jones
'Nipple To The Bottle' from Living My Life
(Island Records, 1982)
With the long won experience of a rather obvious DJ we segue smoothly from a Compass Point All Star to a record featuring the lot of them, namely Ms Beverly Grace Jones' "Nipple To The Bottle". This reggae-not-reggae head nodder written by Jones and Sly Dunbar was a big record for Baldelli across the Med, but found its true home in the all night discotheques of the White Isle.
Listen HERE.
---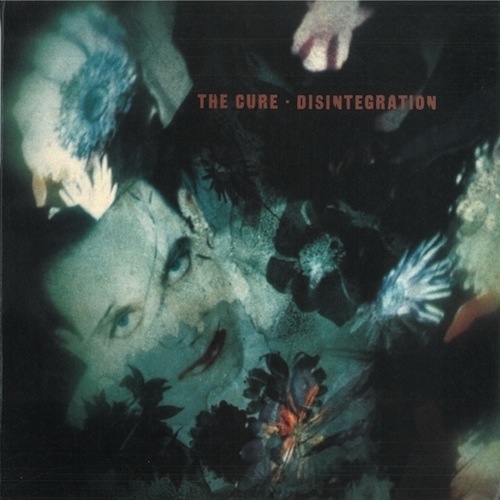 The Cure
'Lullaby (Extended Mix)' from Disintegration
(Fiction records, 1989)
Now, the dark pop majesty of this deeply creepy number by Crawley's finest might not immediately conjure images of glistening waves and white sands, but dreamlike sonics of this 95 BPM white funk groove made it a big hit for Alfredo back in '89 which easily transferred to the smoke filled dancefloor of Shoom when the summer season was over.
Listen HERE.
---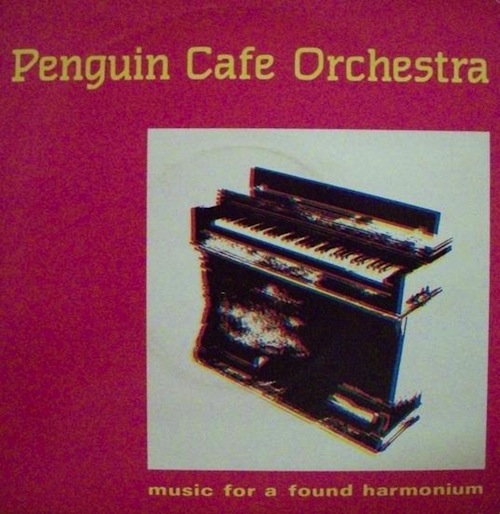 Penguin Cafe Orchestra
'Music For A Found Harmonium' from Broadcasting From Home
(Virgin, 1984)
I mentioned off-beat pop magic in the intro, and this bonkers serialist sea shanty from Simon Jeffes et al certainly ticks that box. The opener to the ensemble's 1984 LP "Broadcasting From Home" effortlessly combines serious musicality with tongue in cheek silliness into three and a half minutes of euphoric pop brilliance which sounds like Philip Glass conducting The Wurzels. What's more, you can pull out 'big fish, little fish, cardboard box' to it, and many did.
Listen HERE.
---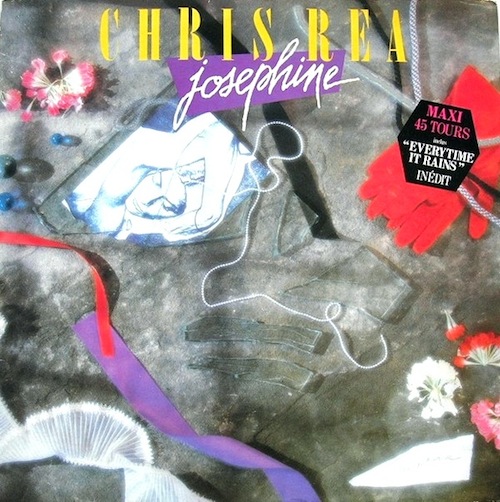 Chris Rea
'Josephine (La Version Francaise)'
(Magnet, 1987)
There's no song on Earth as uplifting as this lesser known track from the man who brought the world 'Road To Hell' and 'On The Beach'. The killer guitar riff, buoyant bassline (with a little hint of Herb Alpert's brilliant 'Rise' in there) and expansive synths carry those gruff North Eastern vocals high into the sunrise sky, taking our hearts along for the ride.
Listen HERE.
---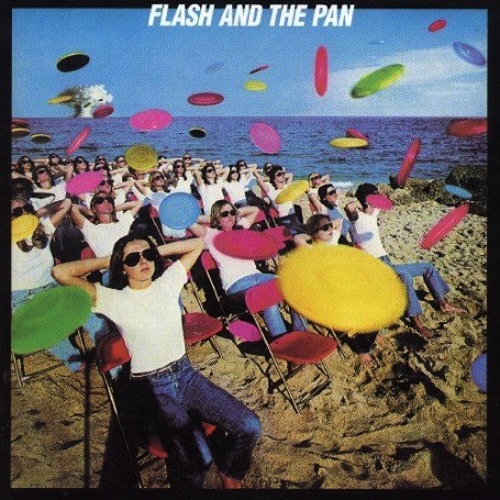 Flash And The Pan
'Walking In The Rain' from Flash and the Pan
(Albert Productins, 1978)
Most people know this track from Grace Jones' film noir tinged reggae cover on 1981's Nightclubbing, but for me the original by Aussie new wavers Flash And The Pan is the definitive version by far. Originally released in '79, the restrained melancholy of this outsider pop anthem makes for the perfect DJ tool; ever building but never quite getting there, "Walking In The Rain" immediately sets the next record up as a complete crowd pleaser; a fact not lost on Alfredo, Jose Padilla and Leo Mas.
Listen HERE.
---
Gina X Performance
'No G.D.M.' from Nice Mover
(Electrola, 1978)
This 1979 single from Cologne new wavers Gina X Performance was a bonafide anthem at the Ku, finding the perfect audience for its art school style and provocative posturing. A tribute to Quentin Crisp and the 'Great dark man' of his fantasies, "No G.D.M." is as sleazy as they come and packed with enough white funk to have you dancing for days.
Listen HERE.
---
Richie Havens
'Going Back To My Roots' from Connections
(Elektra, 1980)
Richie Havens' anthemic 1980 cover of Lamont Dozier's lyrical plea for racial harmony had already been a big hit on the jazz funk scene before disappearing into obscurity. It was from the dust of those furthest crates that the Balearic DJs rediscovered Richie Havens' rousing version and were blessed with the ultimate end of nighter.
Listen HERE.
---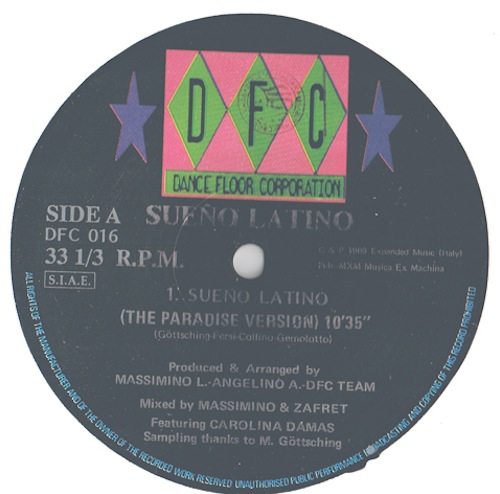 Sueño Latino
'Sueño Latino'
(DFC, 1989)
This eponymous 1989 hit for the Italo house maestros marked an important transition in the continuing evolution of the Balearic genre. Based entirely on Manuel Göttsching's ambient masterpiece E2-E4, (an Ibiza classic in its own right) "Sueno Latino" was a brand new Eurocentric house sound aimed squarely at the Ibizan clubs, which paid direct homage to the sounds and outlooks of the early to mid 80s.
Listen HERE.
---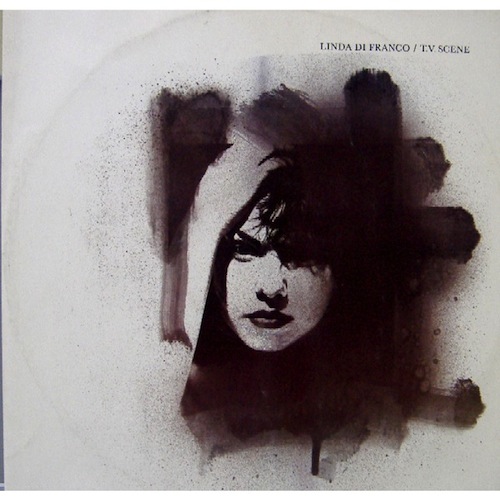 Linda Di Franco
'TV Scene' from Rise Of the Heart
(WEA, 1985)
The lovely Linda Di Franco has two bonafide Balearic classics to her name (the other being the jazzy and smooth "My Boss") but in the interests of fairness and inclusion I've decided to limit her to a single entry. Ms Di Franco was a talented DJ on the Turin underground, and made her transition to production and songwriting with this debut single in 1985, seeking to follow in the footsteps of Sade's new jazz success. It didn't quite work out that way, but at least we got the exotic and sultry brilliance of this single.
Listen HERE.
---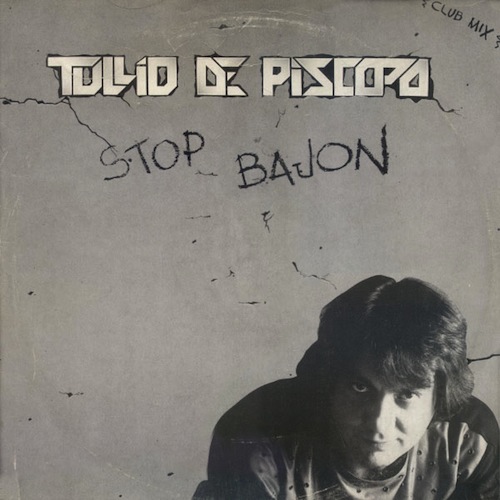 Tullio De Piscopo
'Stop Bajon' from Acqua E Viento
(Bagaria, 1984)
Pino Daniele's sunkissed slice of Italian pop was a hit all over Europe in 84, but didn't make the hop across the channel until the end of the decade when Rampling et al returned from their summer jaunt to Ibiza with vastly expanded horizons. The powerhouse drums and rumbling bassline had been keeping feet moving on the White Isle for years by that point, while the sunny keys and scat-happy vocals prompted outbreaks of smiles all over the place.
Listen HERE.
---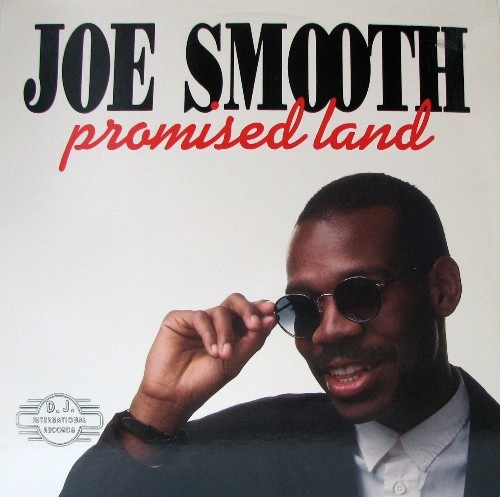 Joe Smooth
'Promised Land' from Promised Land
(D.J. International records, 1988)
This '87 house vintage from DJ International mainstay Joe Smooth might have become a chart hit thanks to Paul Weller and Style Council, but it's the direct thrust of the original version which first became a smash in the clubs of Evissa. If it weren't for the aforementioned "Josephine", then this gem would without a doubt win 'the most euphoric record of all time' crown.
Listen HERE.
---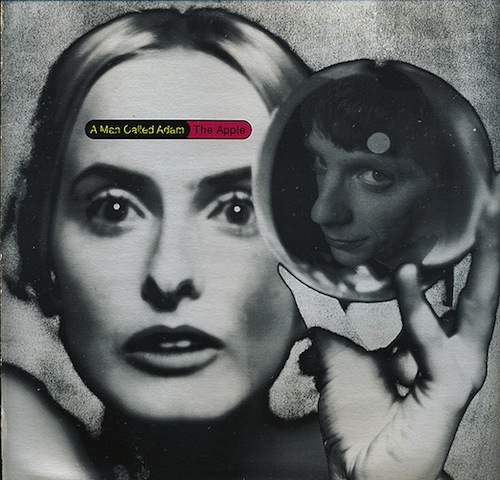 A Man Called Adam
'Barefoot In The Head' from The Apple
(Big Life, 1991)
Should you ever find yourself behind a pair of turntables at sunset, I suggest you stick this classic on and watch those separate figures out on the floor melt into one blissed out vision of peace and love. Sally Rodgers and Steve Jones (with a little help from a pre Leftfield Paul Daly) perfectly captured the zeitgeist on this 1990 release, delivering the classic Balearic house track at a time when the lines between acid house and Balearica were dissolving into nothing. Just wait for that tasty vocal sample to drop in and you'll be away…"I put a sea shell to my ear and it all comes back…"
Listen HERE.
---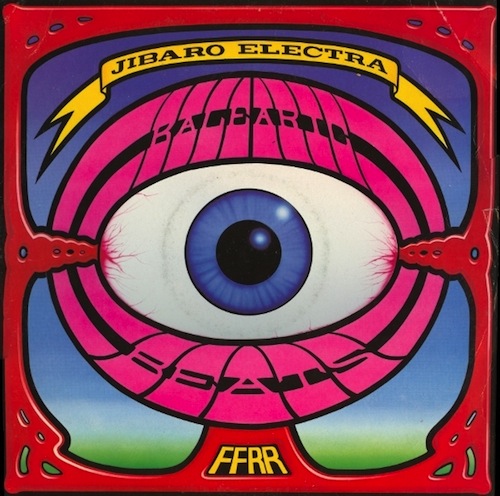 Electra
'Jibaro'
(FFRR, 1988)
If you're a fan of Elkin & Nelson's latin disco original of "Jibaro" then this '88 cover by Paul Oakenfield might seem like a bit of a stretch at first. But as with so much in life, patience is the key, and I've no doubt that this synth heavy cover will have you rocking out well before those vocal chants enter the fray. Bold, brassy and most importantly bouncy, Oakenfield's version of this beauty never failed to have the crowd in a frenzy at Shoom. (Balearic fact – Moonboots' cats are called Elkin and Nelson)
Listen HERE.
---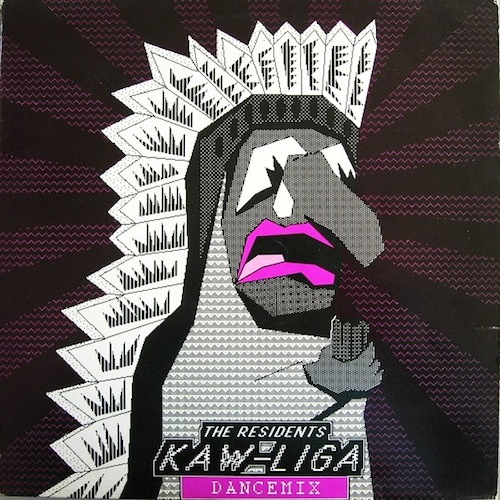 The Residents
'Kaw Liga'
(Torso, 1986)
Now, when Topshop and Kate Moss get together to knock up their next "Balearic" collection, I imagine they'll be working to some sort of carefully planned formula born out of extensive market research. And that's why they'll miss the mark spectacularly, because sometimes it's the most unlikely things that work best; like this completely unhinged mash up of 'Billie Jean' and Hank Williams' 'Kaw Liga' by a long running avant rock group. It's mad as a box of frogs granted, but it's completely irresistible.
Listen HERE.
---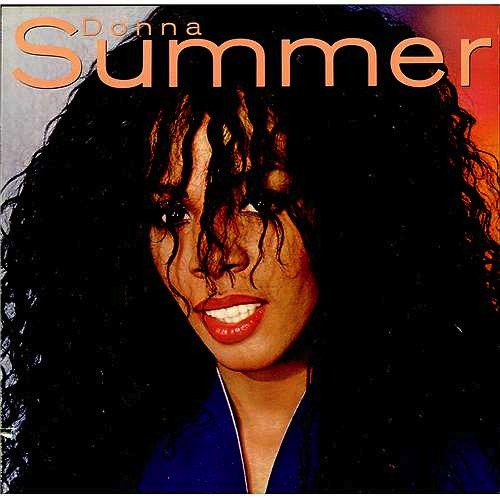 Donna Summer
'State Of Independence' from Donna Summer
(Warner Bros, 1982)
In 1982, the queen of disco, along with producer Quincy Jones, brought together a dizzying line up of Michael Jackson, Stevie Wonder, Diane Warwick and Lionel Richie (to name a few) to lend their voice on this uplifting tribal cover of Jon & Vangelis' lilting synth oddity. While its chart performance was modest considering the line up, it's legacy as a Balearic great is guaranteed.
Listen HERE.
---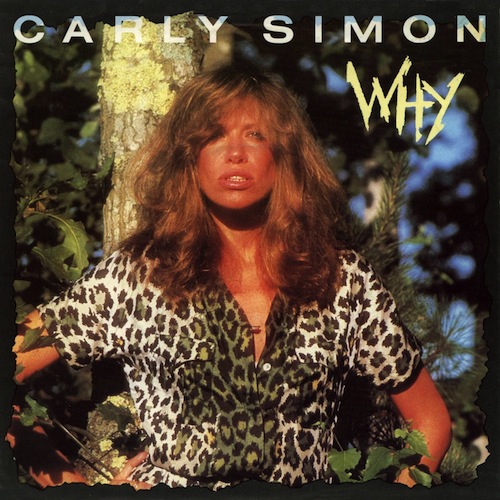 Carly Simon
'Why'
(Mirage, 1982)
By the time this 1982 collaboration with Bernard Edwards and Nile Rodgers rolled round, Simon's career was in a serious tailspin. The chart success of her 70s heyday had deserted her and following a well publicised on-stage breakdown the public had begun to round on her. Thank god the Chic organisation were on hand to turn her fortunes around with this yearning tale of heartbreak set to a reggae disco beat. Head to any of the real Ibizan clubs, or the rarified and bearded batch of Adriatic festivals and you're sure to hear this charity shop classic at any given time.
Listen HERE.
---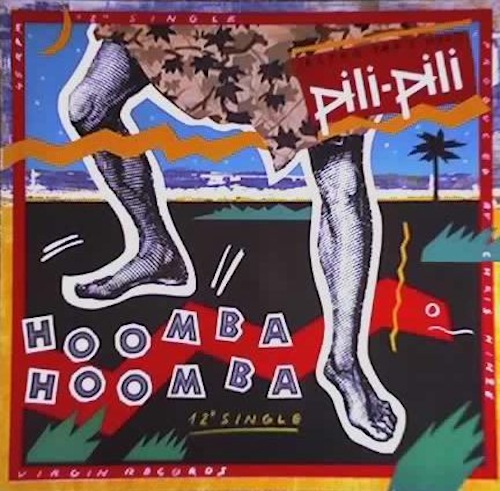 Jasper Van't Hof's Pili Pili
'Hoomba Hoomba' from Hoomba-Hoomba
(Virgin, 1985)
In 1984 classically trained Dutch jazz pianist Jasper Van't Hof formed his Afro-European collaboration Pili Pili, with the full 15 minute version of this beauty following in 1984. A striking combination of African chants, tribal rhythms and rolling piano chords, "Hoomba Hoomba" is a life changer of the highest order. Heard in the right place at the right time, this track can cement lifelong friendships and love affairs; and after all, isn't that the true Balearic spirit.
Listen HERE.