Published on
June 29, 2018
Category
Features
The producer and longtime Berghain resident takes us through his incredible personal archive.
Since Fiedel visited his "first real techno club" in December of 1990, he hasn't 'just' played at but has also attended some of the world's most storied club nights, parties and live shows – collecting flyers and ephemera from them along the way.
Ahead of a Saturday night set at Berghain on the 30th June, and new vinyl-only compilation SEELEN.002 which includes his track 'Troll Bait', Fiedel shares his favourite memories from the past 28 years with us.
Consider it an intimate journey through European music scenes for nearly three decades.
---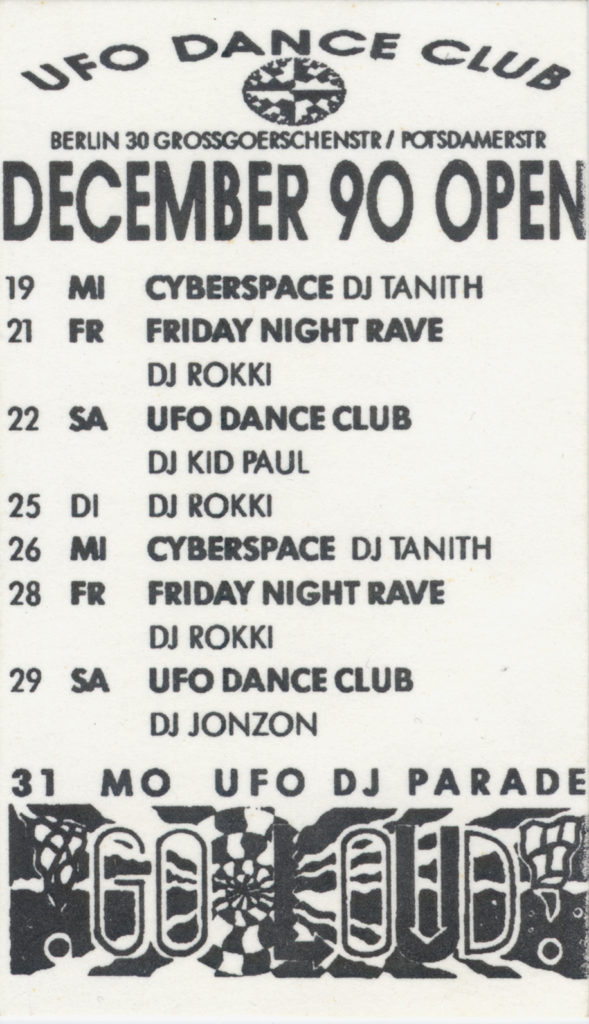 UFO
December 1990
Let's start at the beginning. This was my first visit to a real techno club. I just had turned 18, and heard about it in Monika Dietl's famous radio show on SFB2 – Sender Freies Berlin, West Germany's broadcasting station. I had been into house, acid and hip-hop a couple of years already. This kind of dance music fascinated me, but what I experienced at UFO I had not seen before. I went there completely on my own, the first one to enter and the last one to leave the club. Rok was playing all-night-long that evening. His music, and the people there, created an atmosphere that was extremely ecstatic, so I danced all night long too. On the train home I thought about the impressions of that night and came to the conclusion that they weren't from this world. I guess I am still hooked.
---
Love Parade
July 1991
I bought this shirt at Love Parade 1991, the first one I attended. We were in Berlin with our friends, and went to the parade at Kurfürstendamm as well as both official parties at Halle Weissensee. The parade was just crazy: it was an official demonstration with the theme "My House Is Your House And Your House Is Mine".
Over 2000 people rallied for their vision of community, and the freedom of self expression. The spectators standing along the street stared at the colourful and loud mass in front of them. There were small trucks with sound systems tied onto the loading area and DJs spinning records. Sometimes the DJs had to lift one turntable up as soon as the record was playing, because people were jumping and dancing which made the needles skip. I remember sitting on a speaker of the Low Spirit truck for a while with Westbam playing.
---

Heart Attack
1992/93
Talking about our posse, we went to raves together and threw parties in our local youth club. Our hometown is approximately 100 km north east of Berlin. For the parties we rented a small sound system from a local DJ who had a mobile discoteque. Everybody helped a little bit, so the work was done quickly. Shed and myself were playing most of the time, and my younger brother even did live sets on his Amiga 500. The music was hard and fast at that time: hardcore techno and breakbeat. I did the flyer art back then and we sent them to Marusha at radio station DT 64. On Saturdays we listened to her show, and waited for her to read out the party suggestions with our names. We just felt great.
---
Elektro / Friseur
1993-94 / 1995-96
The Elektro at Mauerstrasse was a very intimate place, no bigger than a living room, which combined art and music in a bar. Artists like Electric Indigo, Hell, Dave Clarke and Robert Hood were invited to play there. The building was eventually torn down in 1995. Right around the corner was Friseur. On Sundays, you met there to have a chat and enjoy quality music in various styles. Our first record release party took place on 29th February 1996. Errorsmith played a live set, and in the end we both jammed together. I remember that we had to carry two car loads of gear to the venue. Fuzzy Logic was a nice event series were I played regularly alongside DJs like Bass Dee or CGB1. Sometimes you even went back and forth between both venues.
---
Beat Club
October, November 1995 / Zurich, August 1996
Located in a backyard of Torstrasse in Mitte, Beat Club featured house and techno, mostly influenced by Chicago and Detroit respectively, a musical taste which I shared with a lot of people back then. I was a resident there, playing every two weeks. As with most venues in Berlin this location was used only temporarily as a club, the so-called "Zwischennutzung". One of the flyers shows the name of DJ Niplz, who had a radio show on Kiss FM back then called House Trax. I met a couple from Zurich another night, and we decided to drive to Leipzig together to see Jeff Mills play at Conne Island the next evening. It turned out to be a nice road trip and we became friends. Funnily enough, they organised parties in their hometown and they invited me to play there. And so I did – without wearing a tie, of course.
---
Tresor
April 1996
As a newborn raver, I started going to Tresor when it first opened in the spring of 1991. I enjoyed dancing to the records Rok and Tanith were spinning, and the shows of Underground Resistance. A couple of years later, I played both floors myself. Upstairs at Globus, I played together with Soundstream and DJ Niplz, who brought Headquarters to Tresor. Downstairs at Tresor, I did all-night-long sets and played parties with Cora S., Rok, Pete and others.
The basement was fierce: concrete rooms with a low ceiling, dark, no windows at all, only strobe lights on the dancefloor, and condensed water dripping from above. In the beginning, the bar was located behind some rusty steel bars. Everything was situated like this because it was an old vault of a chainstore company that had been abandoned when this area was part of the border between East and West Berlin. The original Tresor is still one of the longest existing clubs in one location in Berlin.
---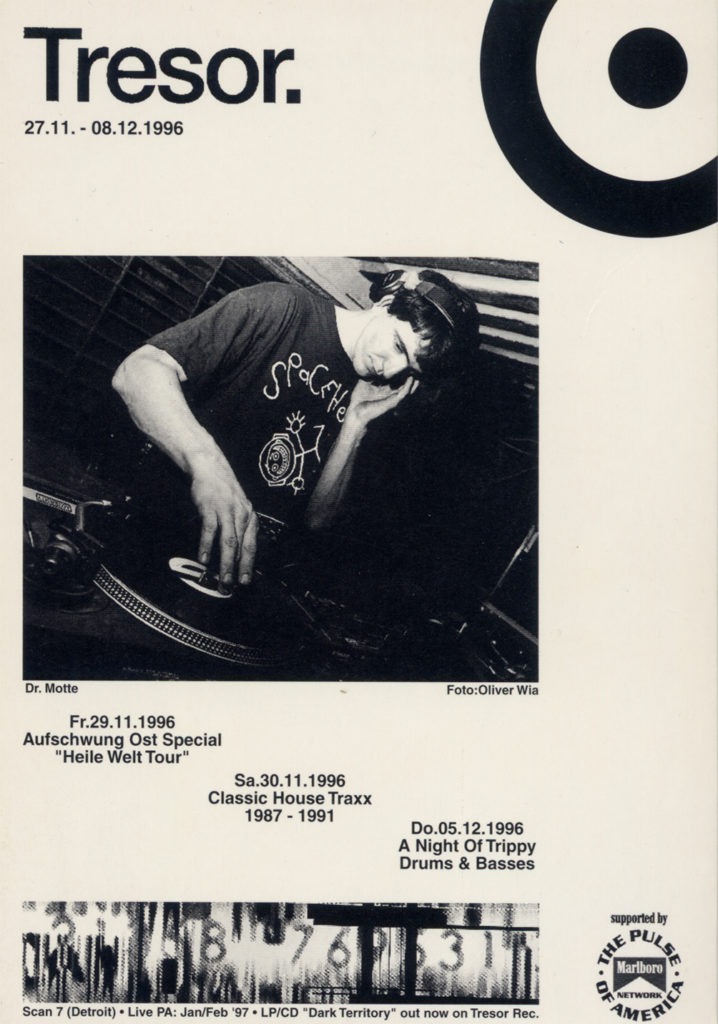 Elastic / Conne Island
1995-96 /  2000+
Apart from Berlin, I had my earliest rave experiences in Leipzig at venues like Conne Island, Basis or the old Distillery. Most intense for me though was Elastic, where I was one of the regulars. They had a very good selection of local and international DJs – we all felt very sad when it had to close down. When you spent the night in this venue, everything and everybody had a certain smell afterwards. It was some sort of rubber because it used to be a former underwear factory. The crew did a few parties in the following years at Conne Island, but it became quiet soon. Anyhow, the new scene in Leipzig is exciting and moving forward. I always enjoy being there, may it be at the new Distillery, Elipamanoke or IFZ, where I played earlier this year.
---
69 Glasgow
1998/2002/2015
One of the best places I ever played was the 69 in Paisley, close to Glasgow Airport. They had all the great artists over from Detroit, and it was run by a bunch of guys from the Rub-A-Dub record store. The crowd in Glasgow is very open minded, and you can turn the dancefloor into a burning mess when you play the right tracks. That doesn't necessarily mean playing the hits. They are curious and you can get them with more challenging tracks. At 69 we had our first official MMM live set in 2002, on a small UK tour we did together with Soundstream. Glasgow is the MMM capital by the way; we played live sets here about ten times, more than any other city. Unfortunately, the club only opens occasionally.
---
Ostgut / Panorama Bar
2002 / 2004
I started playing at Ostgut in Summer 2000, and it became a home base for me, which it still is today in its current incarnation as Berghain. The pictures show an ad from Flyer Magazine in 2001, and some flyers from 2002. Note the graphics on the last Ostgut flyer end of 2002 and the first Berghain flyer end of 2004: for the first couple of months when it opened there was only the new Panorama Bar inside. The Berghain floor was still in the making and only opened in December 2004. I still remember the first NYE party there when I played a long b2b closing set with Marcel Dettmann. Since the flyer is foldable I tried to shorten it a bit. The most incredible night was when I played at SNAX for the first time. The air was so charged with energy that a spark would have been enough to make the whole venue explode. The last flyer here is from our 20th anniversary party at Panorama Bar in 2017.
---
Wax Treatment
2009, 2012, 2018
We started this event series in 2009 at Horst Krzbrg to feature the amazing Killasan sound system. I am head of the organisational team, and responsible for the sound system itself since it was shipped over from Japan in 2001. With the knowledge about the special sound it provides, I go through my archives and search for records accordingly. I enjoy playing various styles, because it keeps my mind open and my hands trained. As a DJ you only see the back of the people, because the entire audience is facing the Killasan. Its sound and the music that comes out are what is important – one reason why we don't advertise the line-up. Our guests should rather come and get involved in the music. Hence it's our task to keep the selection interesting. Our aim is also to feature more female and unknown artists who fit to our musical and overall concept.
---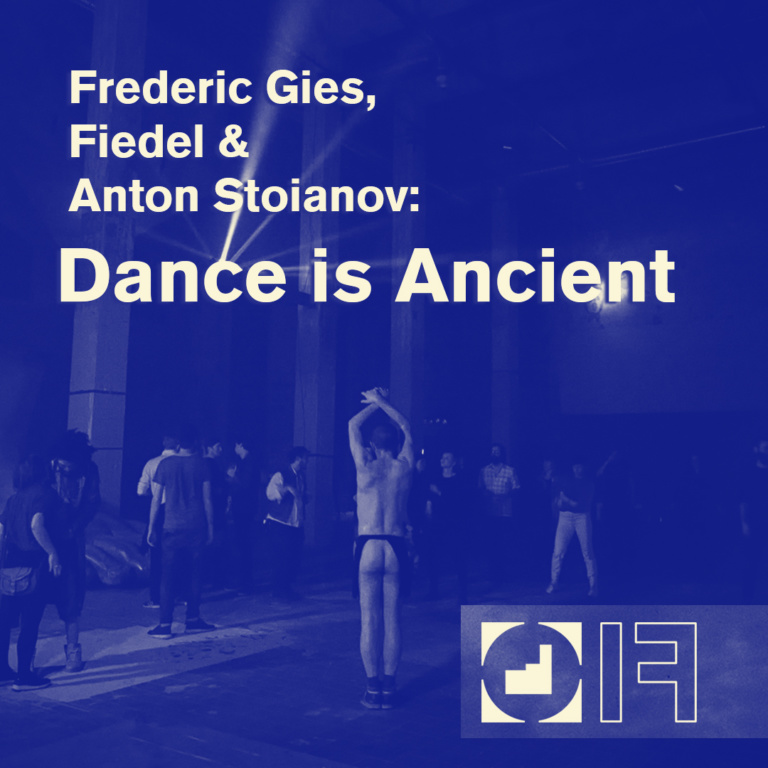 Bad Girls / Dance Is Ancient
2013 / 2016
Some years ago, the French choreographer Frederic Gies approached me and asked if I could imagine doing a dance project together with him. The name was Good Girls Go To Heaven, Bad Girls Go Everywhere. He is a big fan of my sets at Berghain, and wanted to incorporate this kind of music into his performances. In Stockholm, he teaches contemporary dance and develops his pieces from there. Since then we have worked on a few projects together and are touring with the latest, which is called Dance Is Ancient. This one is a very special piece, involving art and light, in order to set special moods for the durational performance. We performed earlier this year in Malmö and Zurich.
---
SEELEN.002 featuring Fiedel's track 'Troll Bait' is out now.