Published on
March 11, 2016
Category
Features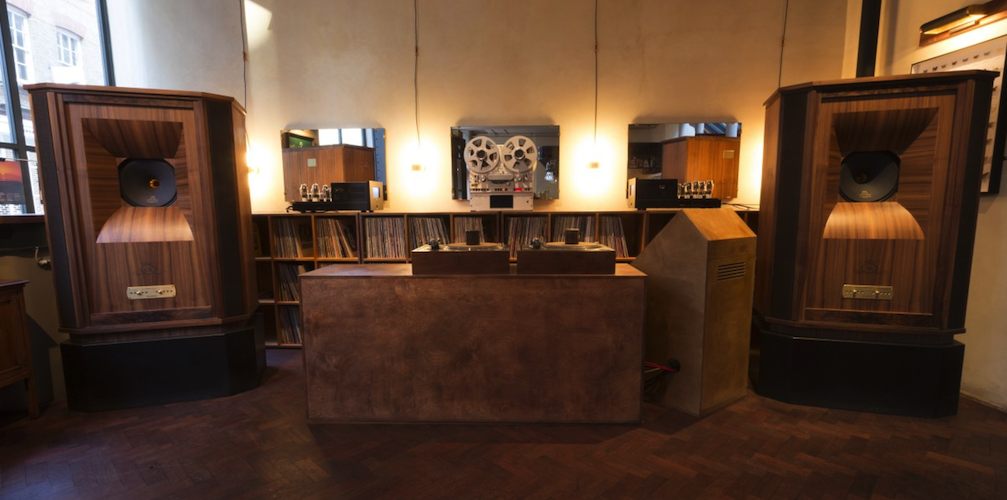 Rediscovering the art of slow listening at London's new vinyl-orientated spaces.
As any DJ who still plays vinyl will tell you, even the best clubs are rarely set up with records in mind. With dancefloors now demanding louder, more efficient sound systems built for ever-sharper electronic productions, the spaces in which you might listen to vinyl in public have diminished, and the art of slow listening (or some would argue, listening at all) somewhat lost in the process. And as we discussed in our recent podcast, people rarely carve out enough space or time to listen to full albums anymore. Our experience of music, now so ubiquitous, has become somewhat denatured.
However, it is in this environment that a rediscovered affinity with high-quality sound is taking shape. As maker of high-end speakers Oswalds Mill Audio told us recently, "most lay people will have never heard properly reproduced sound… And [given] how important music is, that's one of the most amazingly sad things." And since most of us will never have the opportunity to own sound systems as lavish as these at home, a number of spaces have opened up in London in the last few years to fill that gap. Places where music is not treated as sonic wallpaper, but as an experience in its own right.
With The Vinyl Factory launching an 8-speaker, 3D surround sound system in the German capital this Spring, we've picked out five of the best new spots for experience music on vinyl back here in London, from classic album listening sessions to intimate jazz rendezvous'. Got a favourite spot or club night that could have made the list? Tell us about it in the comments.
---
Spiritland
Address: Merchants Tavern, 36 Charlotte Road, London, EC2A 3PG (although a dedicated space will open this year)
Go for: Luxury music appreciation
What's the idea? Housed in Hoxton's elegant Merchants Tavern bar and restaurant, Spiritland is worth visiting for the towering Tannoy loudspeakers alone. 100% analogue, also on the menu are customised 1210s, valve amplification with Canary M500 mono blocks, a vintage Bozak CMA-10-2DL mixer and rows upon rows of vinyl records.
From the popular (think Prince-only nights) to the esoteric (electronic film soundtracks and Marixst jazz), the varied programme, running five days a week, is often dedicated to a theme or idea. Grab a rum and raisin old fashion, plonk yourself down on a green leather banquette and take in the audio experience.
---
Gearbox Records
Address: Gearbox Records, Tileyard Studios, Tileyard road, London N7 9AH
Go for: Classic jazz in an intimate space
What's the idea? The first name in analogue jazz recordings, Gearbox have exploited their all-analogue chain studio to master, cut and press high-end reissues with extreme attention to detail. It follows then that for the last few years, Darrel Sheinman and Adam Sieff have been running an intimate Tokyo-style jazz listening session (or Kissaten) from their mastering studio, exploiting the Audio Note monitoring system, 211 valve monitoring amps, speakers and ex-BBC EMT 948 reference turntable for a unique listening experience.
With events limited to ten spaces, it's about as exclusive as you get, but once you're in you can expect to here a combination of original Blue Note pressings from the in-house collection, Gearbox's own releases and a wild card or two over the ninety minute session.
---
Brilliant Corners
Address: 470 Kingsland Road, London E8 4AE
Go for: Soundtracked Japanese food and top selectors
What's the idea? Brilliant Corners is far from a secret anymore, but that doesn't make it any less special. A musical sanctuary in the heart of Dalston, it's a stellar Japanese restaurant (the prawn tempora…) with a consistent line-up of the world's most respected DJs (Floating Points is a regular) playing all vinyl sets through Klipsch speakers while you eat. Come end of service on weekends (and lively weekdays, the tables are slowly cleared, the volume on the rotary mixer cranked up and the place transforms into an audiophile dancefloor like no other.
Sharing its name with the Thelonious Monk opus and referencing the four speakers which guard the room's four corners, Brilliant Corners also runs a series of Played Twice events in which cult jazz albums are played through the system and then re-interpreted by a live band.
---
Behind This Wall
Address: 411 Mare Street, London E8 1HY
Go for: Cocktails and that Joy Division sound
What's the idea? Who needs a pair of decks when you've got Martin Hannett's old sound system in your bar? Hackney's newest vinyl space is as much cocktail speak-easy as a listening bar, but with a set up like this, it's easy to see why its attracting the audio-inclined too.
The producer behind the paired-back sound that defined both Joy Division and Factory Records, if you want to listen to music on anyone's set up it might as well be Martin Hannett's. Expect to hear his 1970's Tannoy Gold system hooked up to a rotary mixer, valve amps and a single Technics turntable. Sometimes one is all you need.
---
Classic Album Sundays
Address: Various locations (but usually Brilliant Corners)
Go for: Vinyl's answer to a book club.
What's the idea? Founder Colleen Murphy set up this listening event to celebrate the album format, a strike back against the increasingly atomised world of digital downloads and cyber chat. The series has a direct lineage to David Mancuso and his legendary NYC The Loft parties, which Colleen was involved with. Whether it's Miles Davis, J Dilla or The Stone Roses, the monthly album selection at CAS gets played out in its entirety on a high-grade audio setup. The playback is bookend with a conversation and Q&A, often with a musician involved in the record. Texting is banned, talking is discouraged… just sit on the floor and listen.