Published on
December 1, 2016
Category
Features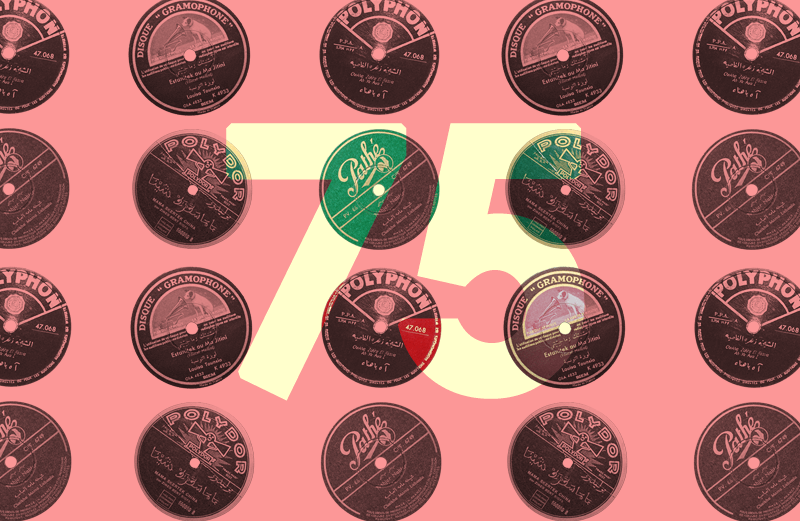 Tracing the origins of North African music.
At first sight, writing a piece about 78 rpm records for The Vinyl Factory might seem a bit paradoxical. Apart from a few exceptions, 78 rpm records were indeed not made of vinyl but rather of a mixture mainly composed of shellac. These thick and heavy records were produced from the late 1880's and lasted until the 1950's in western countries, one or even two decades later in some other places like India or South Africa.
78 rpm is a generic term that actually refers to a wide and fascinating variety of records. From the 5″ records produced in Germany by Emile Berliner in 1889 to French 20″ centre-start Pathé records from the 1910's, their sizes are anything but standard and would probably delight DJ Food and his odd-sized records list. Their speed also varied from 60 to 130 rpm until it was standardized in the 1920's.
The world of 78 rpm records enthusiasts might look a bit mysterious to most vinyl collectors. But contrary to common beliefs, it is not only populated by nostalgics focused on operetta or military music. Besides western classical music and opera, the pre-vinyl repertoire also includes several decades of jazz and blues recordings, as well as the very first rock 'n' roll or rhythm and blues songs. Furthermore, a huge amount of records were made outside Europe and North America starting from the beginning of the 20th century and the last majority of this material has never been reissued in any formats. So finding the original 78s is often the only way to listen to the first recordings made in North Africa, Middle East or East and South East Asia.
This mix of North African 78 rpm records from my collection was created especially for The Vinyl Factory. It will let you hear both folk and popular music recordings made in Algeria, Morocco and Tunisia from the 1930s to the 1950s. It starts and finishes with hypnotic gasba flute performances but also features some of the most famous singers in Maghreb at that time, such as Reinette l'Oranaise, Salim Halali and Zohra el Fassia. It is a subjective selection of songs I like and does not claim to offer an exhaustive overview of the various forms of music that were recorded in this region. Be sure to check out the Excavated Shellac and Jewish Maghrib Jukebox blogs as well as the different releases on Dust to Digital or Yazoo to discover more music from North African 78 rpm records.
---
Tracklist:
01. Cheikha Mama Labassia – Nahjar Nahjar, part 1 (Pathé, Algeria)
02. Zineb Bent Sigya – Mama Skertek China (Polydor, Algeria)
03. Lebrati dit Sassi – Lemta Yahna Kelbi (Columbia, Algeria)
04. Cheikh Nourredine – Sabhanek Allah (Pathé, Algeria)
05. Cheikha Zohra el Fassia – Ah Ya Aua (Polyphon, Morocco)
06. Raissa Mbarka et sa troupe – Lalla Aicha, part 1 (Pathé, Morocco)
07. Cheikh Ali Soufi – Ya Rabbi Sidi Kodertek, part 1 (Disque Gramophone, Algeria)
08. Reinette l'Oranaise – El Khikaa (Polyphon, Algeria)
09. Salim Halali – Elli Kalbou Safi (Pathé, Algeria)
10. Louisa Tounsia – Estanitek ou Ma Jitini (Disque Gramophone, Tunisia)
11. Smarda el Olgia – Noubet Edmaïl (Smarda, Tunisia)
12. Anonymous – Gasba Touila, solo de flûte oranaise (Pathé, Algeria)
---
Find out more from Cients de Bakélite here.