Published on
May 20, 2016
Category
Features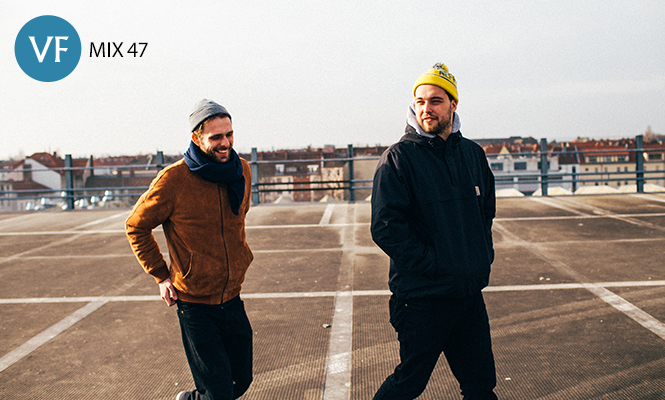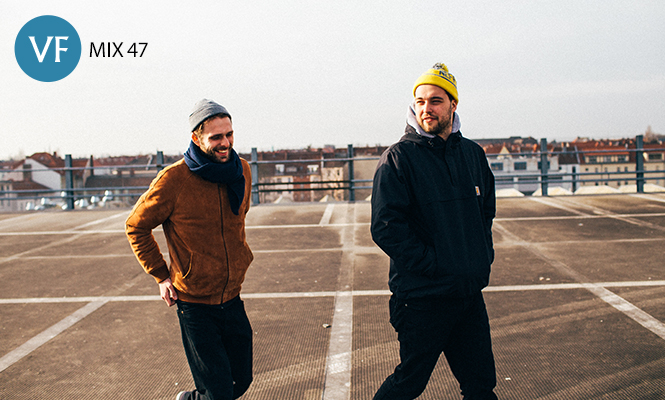 The crate-digging duo debut material on VF Mix 47.
These two have been on our hitlist for sometime. As they demonstrated at their Phonica in-store last night, give them two Technics and they'll smash out an electric b2b set, gliding effortlessly between jazz, funk, hip-hop, soul, disco of the deep-dug vinyl variety.
The pair originally linked up as mutual fans via Soundcloud in 2012. After independently releasing debut albums for forward-thinking Danish label Tartelet, the pair decided last year to launch their own Money $ex Records in collaboration with kindred spirit and OYE Records founder Delfonic.
With their woozy, mind-expanding joint album The Yard Work Simulator landing next week Ninja Tune, the boys have dropped this transcendental Money $ex Records extravaganza. Featuring loads of unreleased and forthcoming numbers, listen below and keep scrolling for a quick Q&A and (a tantalising) tracklist.
---
Tell us about this mix.
The mix consists of exclusively Money $ex releases, except the 'Money $ex Theme' which is from the new album on Ninja Tune. There's a lot of forthcoming stuff in there, Gerry Franke, Stevie Up In Smoke, Knowsum, Julius Conrad Group, Nas1, Kickflip Mike, IMYRMIND, Delfonic, and some stuff from ourselves.
When and why did you guys set up the label?
We set it up last year, the beginning of 2015. We set it up to focus on artist release by friends and people who's music we're into! And also to have a playground for our own stuff and to have no limitation on what genres we release.
Apart from the music, everything about Money $ex – from the name to the artwork – is totally unsavoury, obviously with tongue-in-cheek.
It was an anti-statement, everything is serious and lo-fi and dark so we wanted to do something else. Rahel Süßkind did the artworks which fit perfectly with the idea of the label.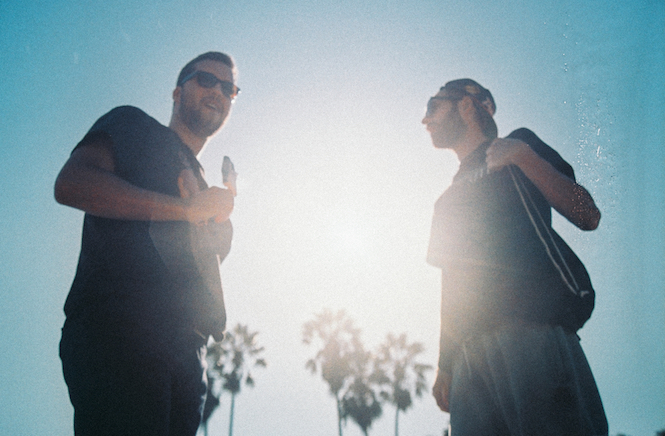 Photo: Bela Zecker
What's the hardest thing about running a label?
It's actually not hard for us because Delfonic is doing all the shit work ha! We get to do the fun part which is selecting the music.
Some other labels you admire?
Contemporary labels? Ninja Tune of course! Brainfeeder, Stones Throw and Wild Oats. Oh and Jazzy Sport and XL too.
What's in the pipeline for Money $ex?
Well a lot of new music coming from the artists featured in this mix. We're shifting the focus towards albums more and expanding the genres.
---
Tracklist
01. Stevie Up In Smoke (M$LP002)
02. ? – Upcoming MoneySex Records
03. ? – ? (Upcoming M$LP003)
04. Glenn Astro & Max Graef – Echoed Gehenna (M$001)
05. Alex Seidel – Boogie Down Sessions (M$004)
06. Christopher Rau feat. Ron Wilson – I Hear $$ (M$006)
07. Alex Seidel – W.T.T.D (M$004)
08. Hodini & Der Retrogott – Laugher (M$003)
09. Max Graef Band Skit (M$LP001)
10. ? – ? (Upcoming M$LP004)
11. IMYRMIND – Plej For Errrbody (M$002)
12. ? – ? (Upcoming M$LP004)
13. ? – ? (Upcoming Money$ex Records)
14. Max Graef Band – Tangerine (M$LP001)
15. ? – ? (Upcoming Money$ex Records)
16. Max Graef & Glenn Astro – Money $ex Theme (Ninja Tune)
17. ? – ? (Upcoming Money$ex Records)
18. Kickflip Mike – Outro (M$005)
---
Lead image by Maximilian Vergili