Published on
January 28, 2016
Category
Features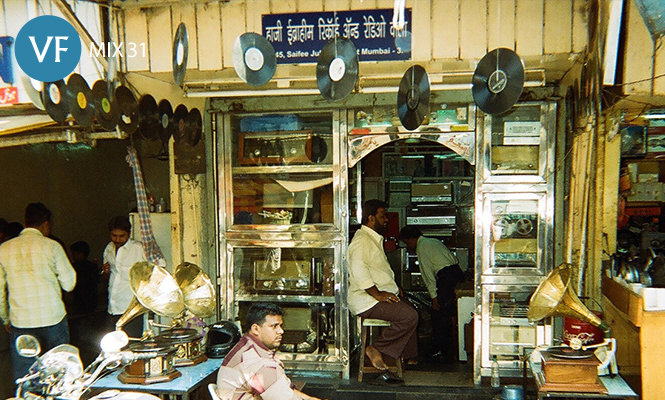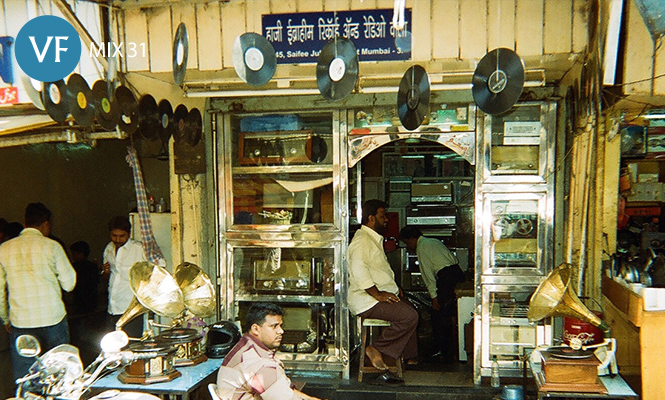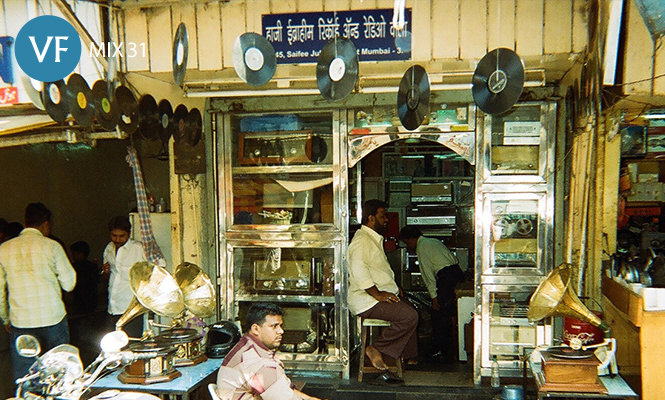 We're in Mumbai for VF Mix 31.
The London counterpart to our Wooden Wisdom homies, DJ Fitz tours the globe with Elijah Wood and Zach Cowie.
Last autumn, the trio went to Mumbai for the first time, where they played shows, ate mind-blowing food and dug out under-the-radar records. From Kishore Kumar and Bappi Lahiri to Asha Bhosle and Sharon Prabhakar, listen to Fitz's extra spicy 'Aloo Chat' mix, using records exclusively from that trip.
To accompany the selection, Fitz has also written a brilliant account of digging in Mumbai (see below and keep scrolling for the tracklist.)
---
Words : DJ Fitz
---
I went to India for the first time last September with my DJ partners Elijah Wood and Zach Cowie. On our hunt for records in Mumbai, we kept encountering the name Haji. He was the guy everybody told us to go to for the stuff that nobody else has. Our goal became about seeking out this mysterious guy and his stash of Indian jams.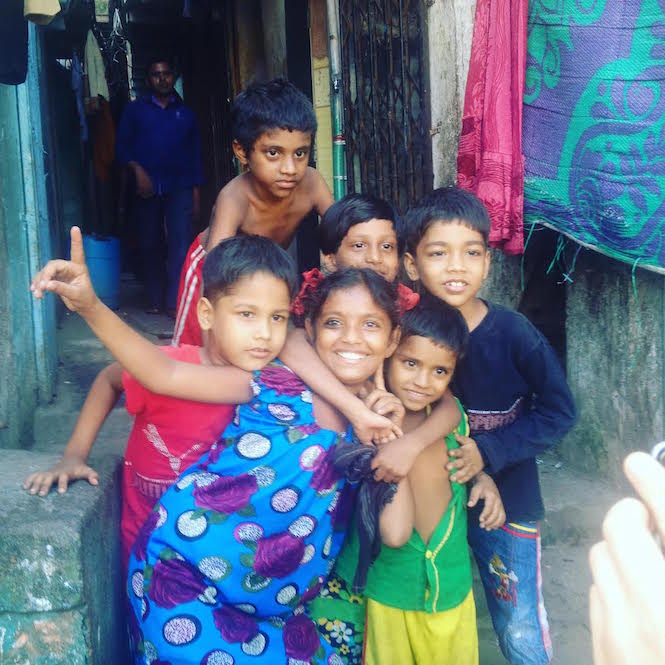 After several attempts – conversations, phone calls, emails – we finally found a guy who knew the exact address of Haji's store. We were told to head down to the Null Bazaar, also (worryingly) known as the 'Thieves Bazaar', to investigate.
The streets around the Null Bazaar are crazy. Traffic like you can't imagine with all manner of transportation, from Mercedes SUVs to and sci-fi jalopies to wheelbarrows, causing mayhem. The noise and energy in this neighbourhood is absolutely amazing.
When we arrived at Haji Ebrahim's store, we were slightly confused. It was a dusty store that seemed to sell Nokia phone adapters, cables and connectors, stereo receivers, some record players… everything except records.
We eventually clocked a copy of Michael Jackson's Off The Wall under a pile of rubble and wire.
Our Indian host and friend Shvate asked the man behind the counter if he sold records and in particular Bollywood stuff from the '70s and '80s .
The guy said something like, "Maybe, I have to see…" and disappeared into a room out the back before returning with five unbelievably rare Bollywood funk/synth freakout records.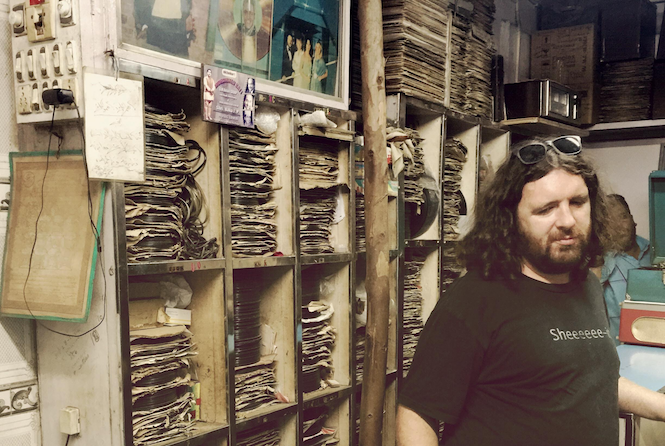 We all were psyched but tried not to display it so openly. We asked to listen and check out the condition.
The guy started playing the LPs on the store turntable and we told him that we were interested. He disappeared into the back room again and this time returned with 50-odd records of all kinds of crazy stuff from the '80s. So we set about listening on the decks. Around 30% of the records were familiar to us but the rest we had no idea about.
After two hours of the guy going back and forth into the back room and bringing piles and piles of LPs back, we decided to talk business. I started doing visual inspections while Elijah and Zach picked out the ones we already knew. After separating the records into stacks, we finally said: "How much if we buy these 200 LPs?"
The guy behind the counter replied, "Wait, I have to call Haji Ebrahim".
All this time we thought we were in the company of the legendary Haji Ebrahim, but it turns out this man was actually Haji's brother. So he arranged to have Haji Ebrahim come over and make a deal with us for the records.
We ate amazing lamb masala wraps and drank cutting chai from nearby stands until Haji Ebrahim rocked up on modified '70s vespa.
He looks at our stacks, checking out the ones we had selected, before disappearing into the back room and resurfacing with hundreds of even crazier, wild jams.
We ended up spending another two hours in there, listening to him play tracks for us and in the end changing our stack of records altogether. Eventually we made a deal for 150-odd records of trippy Bollywood magic.
In my mind, this is one of the best record stores in the world. The owners are super helpful and have an encyclopedic knowledgeable of Indian film music, disco and synth. I'll be back there at the earliest possible opportunity!
---
Tracklist
1. Kishore Kumar & Anette – Chhodo Sanam
2. Asha Bhosle – Jab Chaye
3. Sharon Prabhakar & Chorus – Chalo Calcutta
4. Usha Uthup – Pyar Main Jeena Pyar Mein Marna
5. Asha Bhosle & Bappi Lahiri – Osa Osa
6. Bappi Lahiri – Yaari Hai
7. Malaysia Vasudevan & Chitra – Adi Rani (Hey Queen!)
8. Babla – Babla's Disco Dandia Theme
9. Kishore Kumar & Asha Bhosle – Sare Bazar Karenge Pyaar
10. R.D. Burman & Chorus – Dig Lena Khel Hai Dildar Ka
11. Anuradha – Baby
12. Chitra – Ninnu Kori (A Simple Song)
13. Marian Stockley – Give Me Love