Published on
May 24, 2018
Category
Features
The Gearbox Automatic
---
UPDATE: 17/12/18
Price: £549
Pros: Bluetooth and Spotify compatible, switchable speed, compact and easy to install
Cons: Not as dynamic as the best at the price and flashing lights are a distraction.
Rating: 4/5
Verdict: A neat little turntable with some clever features that bring it into the 21st century.
A month or so after I reviewed this turntable, Gearbox announced that they were upgrading the Automatic with a better cartridge. The OM10 is the same type of Concord cartridge as the OM5 fitted to the original sample and can be easily retrofitted by swapping the tip with the stylus in. So when they sent me an OM10 it I plugged it in and gave it a few hours run-in before listening once more.
It clearly helps – the OM10 is more sophisticated and revealing which in turn makes the vinyl being played that much more engaging and enjoyable. Tonally it is richer and more nuanced than before, so the horns on ZZ Top's 'Hi-Fi Mama' sounded glorious, thanks in part to the glowing glass tube in the amplifier having more signal to work with.
The cartridge doesn't change the Automatic's fundamental character, which is still on the laid back side, but it does seem to reach into the groove a little deeper and pull out more of the fine detail that makes the music seem more real. Female vocals benefit quite clearly and I found myself enjoying Joni Mitchell's 'Court and Spark' and appreciating just how good she is at putting so much emotional intelligence into so few words. The bass is improved too with a bit more power and weight. All in all the OM10 makes the Gearbox Automatic a rather more desirable turntable than it initially seemed.
You can read the original review below.
---
I admit that I was a little non-plussed by the size of this record player. It has a down-sized platter and arm that suggest it's a lot bigger in pictures, when in fact it's pretty dinky. But size isn't everything and that glass platter with a felt mat is pretty cute. With a 7″ platter it's perfect for singles and there's enough space for 12″ vinyl too.
But I'm getting ahead of myself, Gearbox started out as a vinyl mastering facility in London's Kings Cross, a beautiful place with lots of vintage analogue studio gear where they cut some pretty sweet masters. Founder Darrell Sheinman could clearly see the vinyl revival taking shape and got on the bandwagon early, and with the Automatic record player he is doing the same. That's one reason why the Automatic has a vacuum tube or valve in it. The Gearbox studio is full of the things because, in the right situations, they can sound fabulous.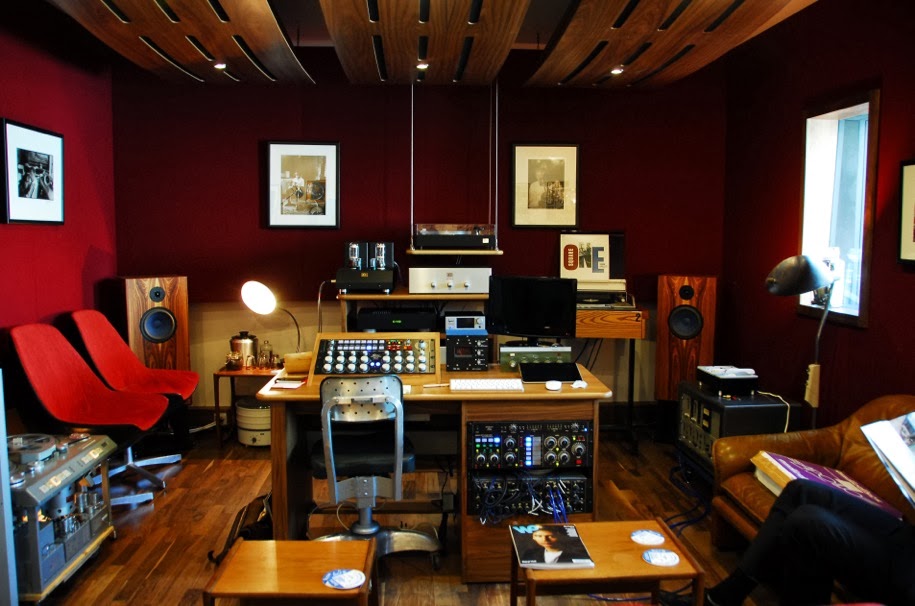 So called because it does pretty much everything for you save put the needle on the groove, the Automatic comes with its cartridge and counterweight fitted so that it will play as soon as you put on the platter and mat and plug in the power supply. You don't even need to connect up the supplied signal cable because if there's a Bluetooth receiver in the room it will automatically hook up before you know it. I was using an amp with BT and line inputs and was surprised to discover that it had paired up all on its own – something I couldn't override without disabling the facility on the amp. It's a little annoying that blue and red lights flash inside the clear acrylic box, but you have to make concessions to turntables that will hook up to your wi-fi and allow tracks to be added to a Spotify playlist. These feature will undoubtedly help to make up for its price in some quarters.
The sound via cable and BT is on the weak side compared to decent budget turntables like the Rega P1 Plus (£329), but while that has a phono stage it doesn't offer any of the wireless features of the Automatic. Built for Gearbox by Project, the Automatic has full belt drive, an Ortofon OM2 cartridge, electronic speed switching and a valve output on the onboard phono stage that helps it to deliver a tuneful and reasonably detailed result. While it lacks scale of image, the deck makes a pleasant and enjoyable sound, especially if you use the wired connection. Unfortunately the sound gets coarser and less engaging via Bluetooth, but I suspect it will sound better than your phone nonetheless.
By including BT and wifi on the Automatic, Gearbox has prioritised the modern listener's habits and may well be on to a winner as a result. However, if sound quality is the reason you love vinyl and you have a system that will accept a line input, you can find better alternatives at this price.
Studio photo: Véronique Dubois