Published on
November 13, 2018
Category
Features
Pro-Ject Debut III S Audiophile
Price: £325
Pros: Impressive bass, focused mids, and low noise.
Cons: None.
Verdict: A design that goes all out to produce top sound quality at an affordable price-point.
Rating: 5/5
---
One of Pro-Ject's principle sub-brands is the Debut series. There are various models in the catalogue, many of which feature targeted accessories. For example, the Debut Carbon Phono USB turntable includes a USB phono stage built into the chassis, while the Debut RecordMaster includes a built-in ADC to enable you to rip vinyl to a digital file.
The Debut III S Audiophile does none of this. In fact, in terms of the 'toys' that are sometimes found in a turntable chassis, the manual, two-speed, belt-driven Debut III S is surprisingly minimal. The clue is found within the 'Audiophile' bit of the name because this particular Debut is built to provide the best sound quality that Pro-Ject could for the money.
Let's start from the bottom up. Weighing in at 5kg, it features a sturdy MDF plinth, which is available in black or white. The platter, along with its felt mat, has been taken directly from the Debut Carbon, along with the sub-platter and motor.
The III S does offer a big surprise in terms of its overall design: an S-shaped tonearm. As S-shaped arms are not plentiful, this example will make the Debut III S stand out from the budget crowd. The aluminium arm tube is a one-piece piece design and comes in at 8.6".
Another point of interest here is the cartridge. Ortofon has been busy developing a new cartridge for Pro-Ject, coming up with a variant on the popular OM series. The new Pick It 25A includes silver spools to enhance sound quality.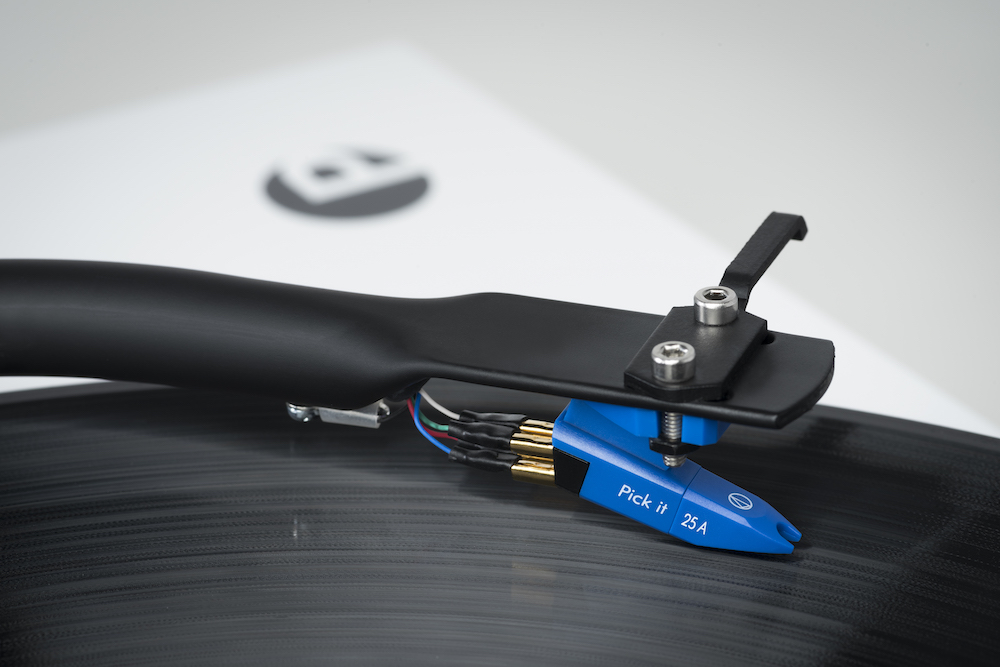 The plinth is supported by aluminium/TPE feet instead of the ubiquitous plastic, inverted conical, anti-resonant variety. Around the back are sockets for Connect it E phono cables, which are also included in the box. On the top of the plinth is a power switch on the front left with a minimalist new logo on the front right. You change the speed by manually lifting the platter and moving the belt from one pulley to another.
For the sound tests, I played a combination of Ian Dury and jazz vocalist, Ethel Ennis. The Dury LP highlighted the turntable's complete control over all frequencies (a reflection of that thick plinth), with impressive bass performance, that was precise and focused.
On the Ennis LP, the mid-range precision and low noise enhanced the orchestra's output, allowing the trumpets to be light, while the cymbal taps were both fragile and delicate.
Well built and nicely positioned in terms of parts, the Debut III S Audiophile is a top notch budget turntable.