Published on
June 25, 2019
Category
Features
Since his death, the record collection belonging to Tony Wilson – co-founder of Factory Records and the Haçienda – has been stored in an archive. With his new book, A Life in Thirty-Five Boxes, exploring the impulse behind collecting vinyl records, DJ and writer Dave Haslam gained exclusive access to the archive to share a few highlights.
I recently had the honour of viewing a vinyl collection belonging to the late, great Tony Wilson. Looking through the records felt like an intimate act. His son, Oliver, told me he'd decided not to accompany me, as the occasion was likely to be "too emotional".
Tony, who died in 2007, was an influential broadcaster on Granada TV, a co-founder of Factory Records, and the Haçienda. He was a man who gave opportunities to musicians, DJs, and young creatives of all kinds, always believing in Manchester, and singing the city's praises.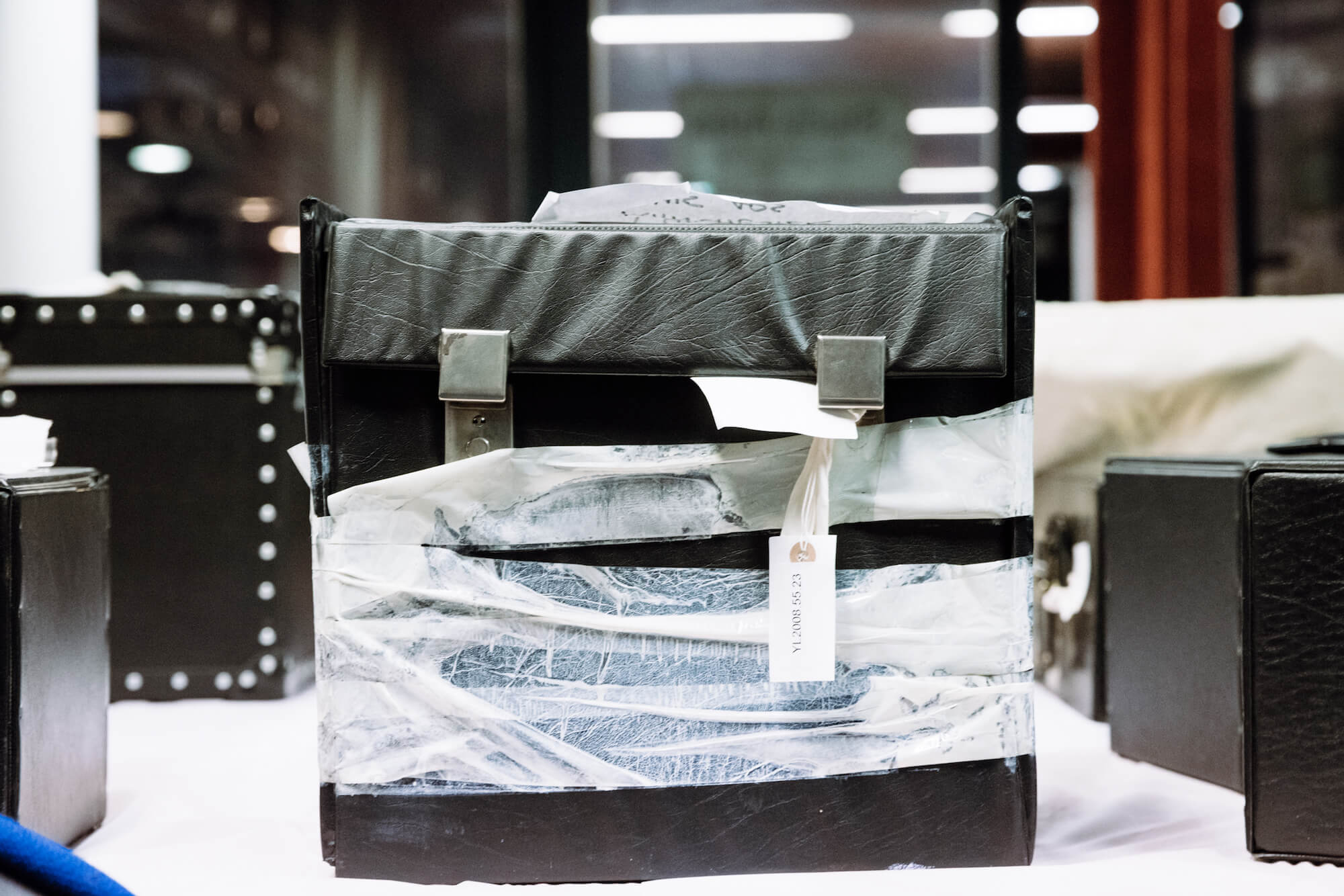 My relationship with Tony was often great, but also fractious. In the space of a few years, he went from giving my first book an amazing review to announcing on the radio he was going to shoot me. He had fallings out with lots of people, but he was always the general, the visionary, the inspiration.
Since his death, seven boxes of vinyl belonging to Tony have been stored at the Museum of Science & Industry in Manchester, loaned there by his two children. The vinyl at MOSI is part of a bigger Tony Wilson archive, including work notes and letters.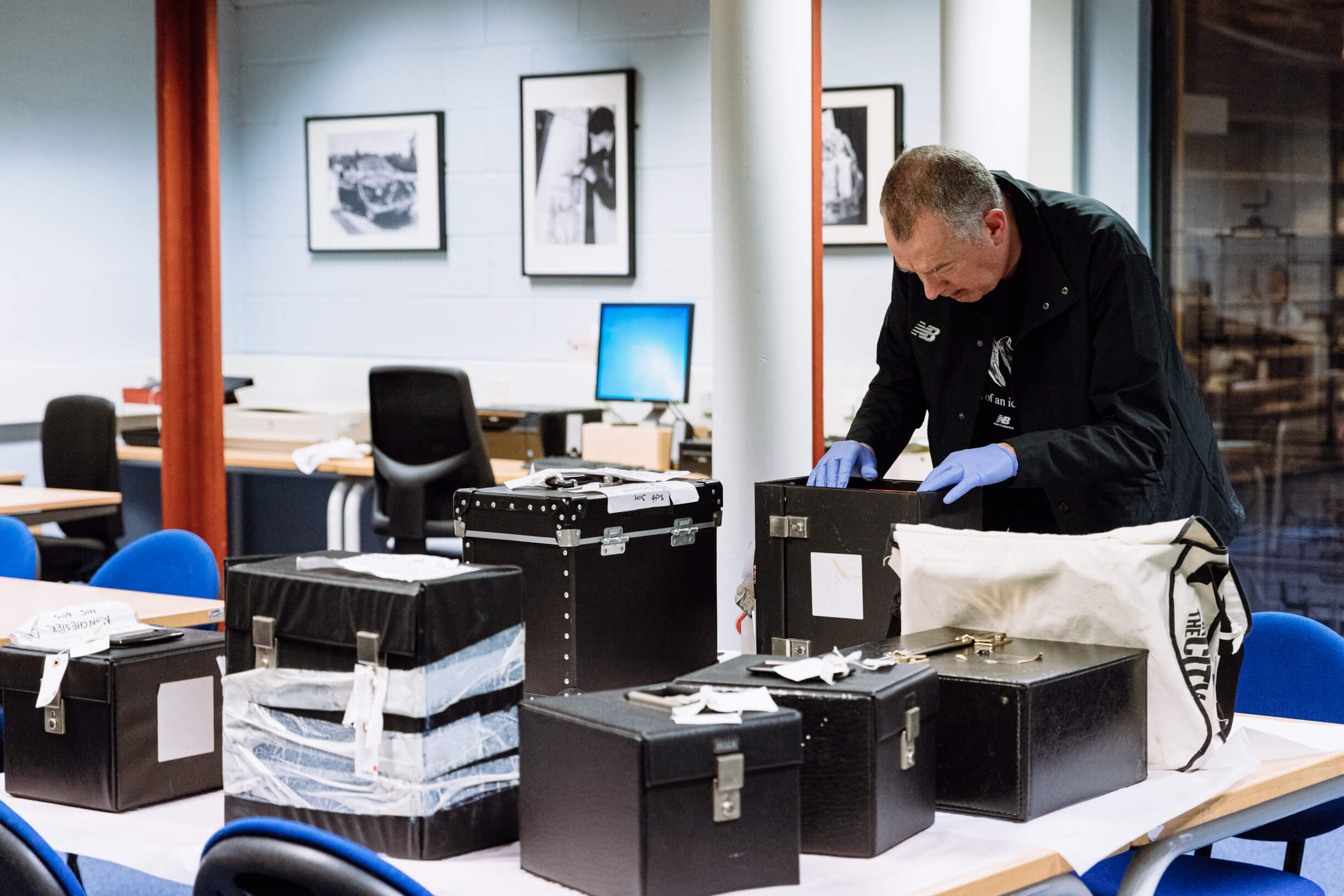 Viewing of the archive is only possible by appointment and with the approval of his family. It's a serious business; you're provided with blue surgical-style gloves before you can touch anything.
The seven boxes are dominated by releases on Factory Records, although there's little from after 1987. There are pristine copies of A Certain Ratio's first releases, and a mint copy of the first single by James, released by Factory in 1983.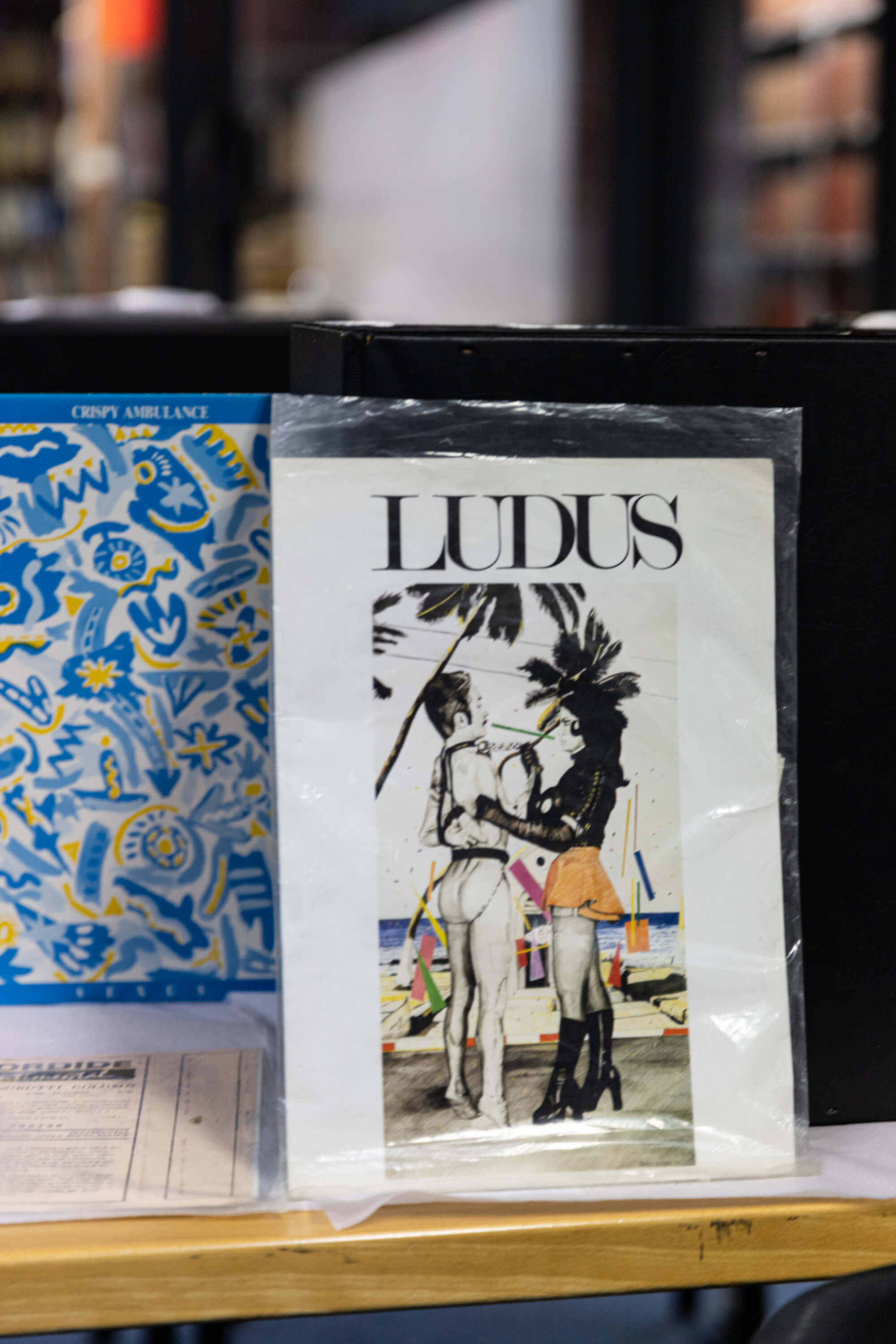 The collection also includes some of the most wonderful, obscure releases of the post-punk era, including records by Ludus, Pink Military, and Crispy Ambulance.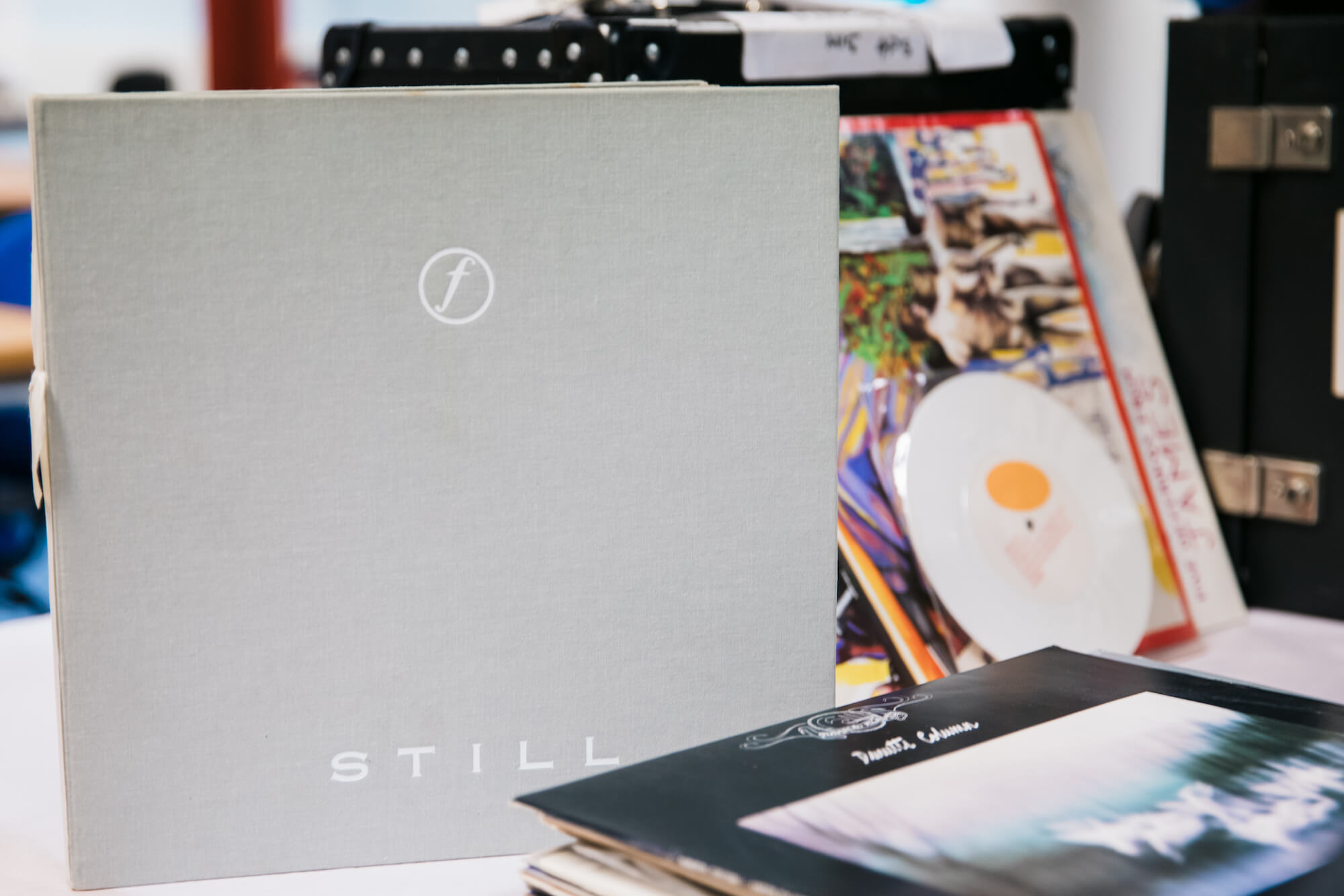 The Joy Division and New Order releases are spread over a couple of the boxes, including two copies of Joy Division's Still, although only one is the limited edition, gatefold release with the hessian-style cover.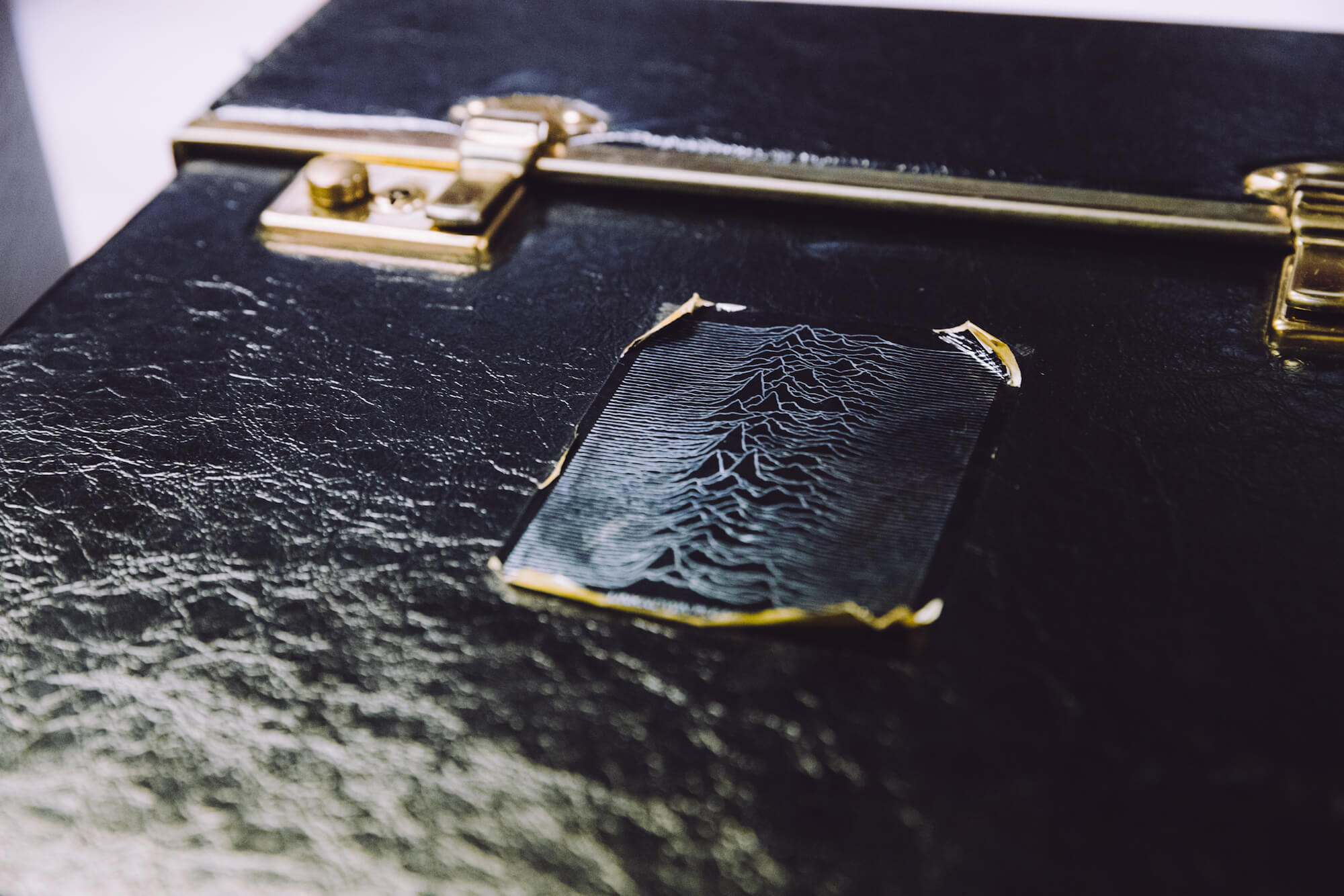 The smallest, but smartest, record carrying case has an Unknown Pleasures sticker on the front, and a luggage tag on it with Tony's New York hotel and Granada addresses. It contains some of the most precious pieces of vinyl in the collection, including Joy Division's ultra-rare 'Licht Und Blindheit' release on Sordide Sentimental Records.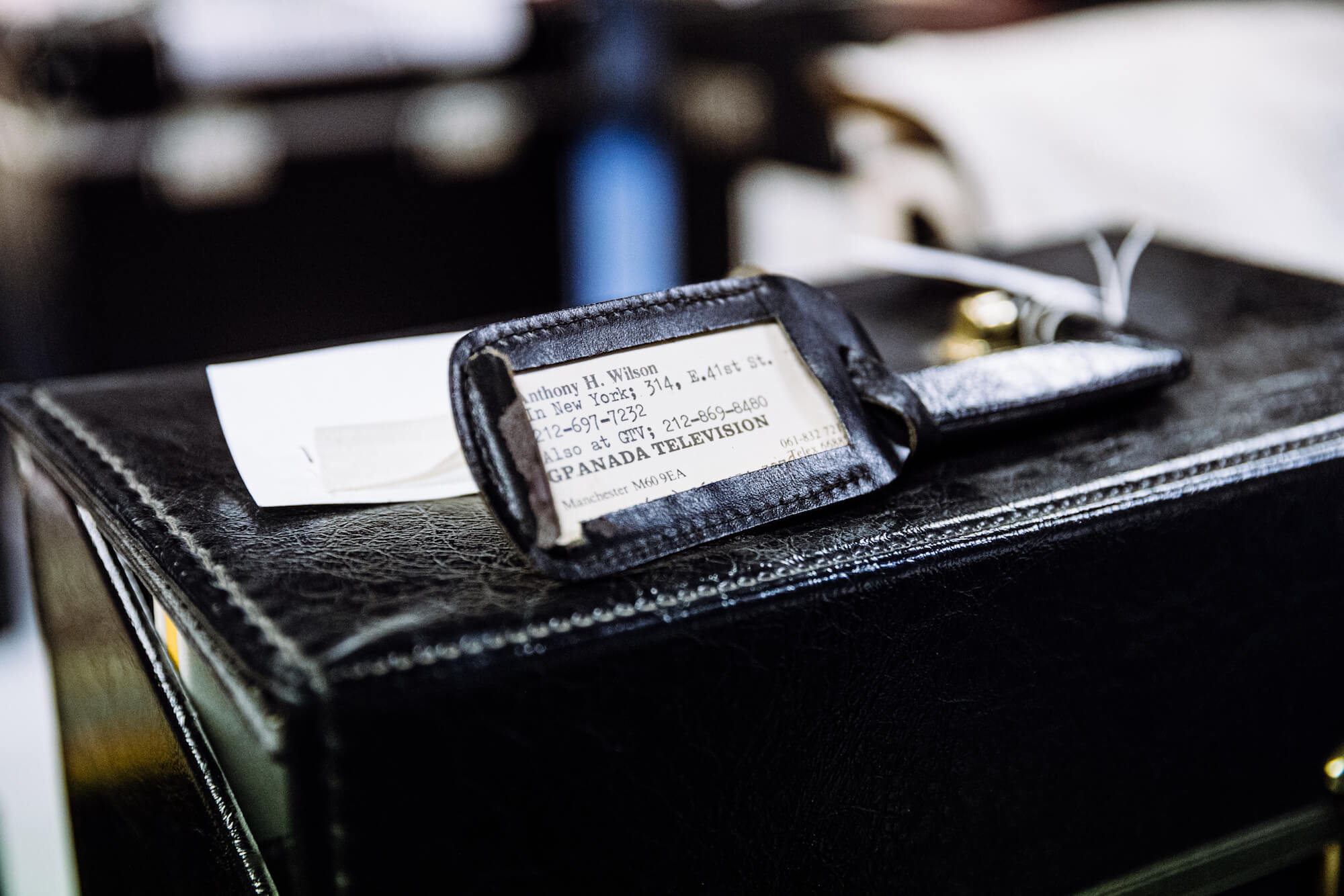 A 7" box includes a copy of Joy Division's first release, before they were with Factory. If you or I had a copy of 'Ideal For Living' it'd be worth at least £1,500. The value of Tony Wilson's copy is incalculable.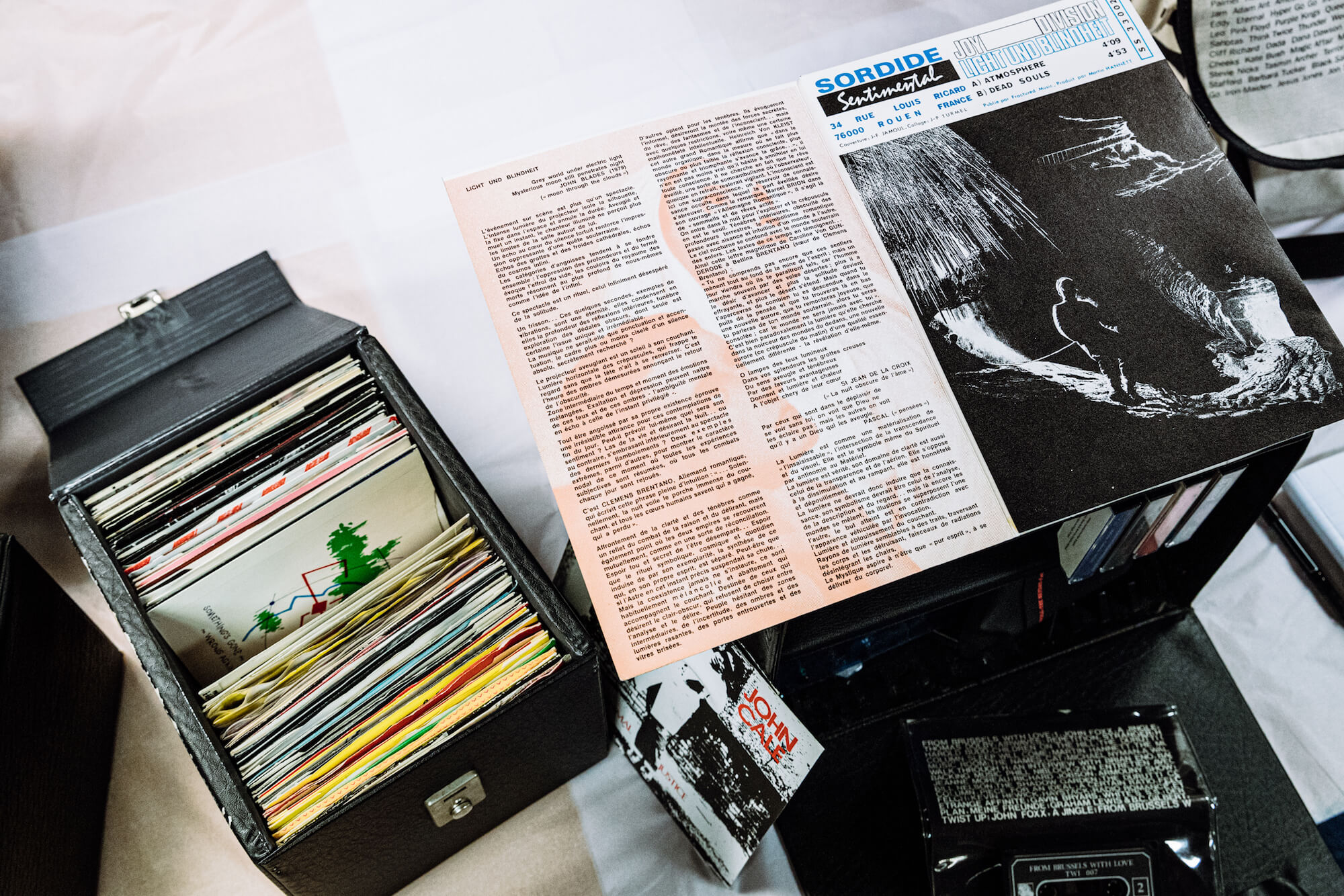 Tony was a voracious reader, a graduate of English Literature, a fan of the poet WB Yeats; he focussed on the lyrics in music.
To his ears, a lot of dance music lacked the lyrical depth – and therefore appeal – that you'd find in the work of Leonard Cohen, or, for that matter, Shaun Ryder.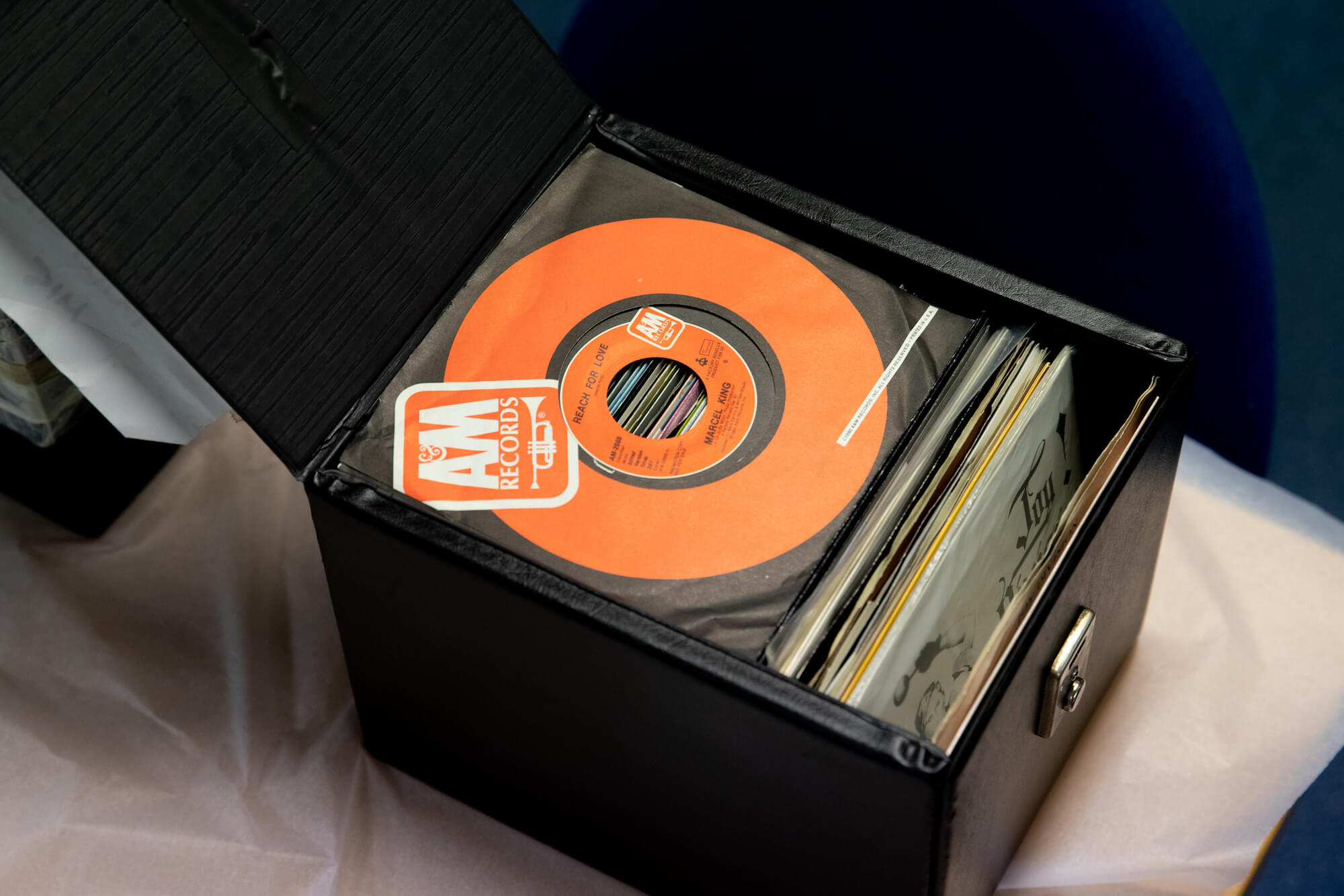 I was right in thinking dance music would be under-represented in the collection, but there are several versions of the glorious Factory floor-filler 'Reach For Love' by Marcel King.
Tony could resist a groove. In the late 1970s, Lipps Inc 'Funkytown' didn't float his boat, and in the late 1980s, he found it hard to understand the appeal of bleepy, wooshy acid house.
That's not to say he didn't enjoy the rise of acid house at the Haçienda, though. Beyond lyrics, the one thing that enthused him was the capacity of music to change society. He loved the way acid house shook things up.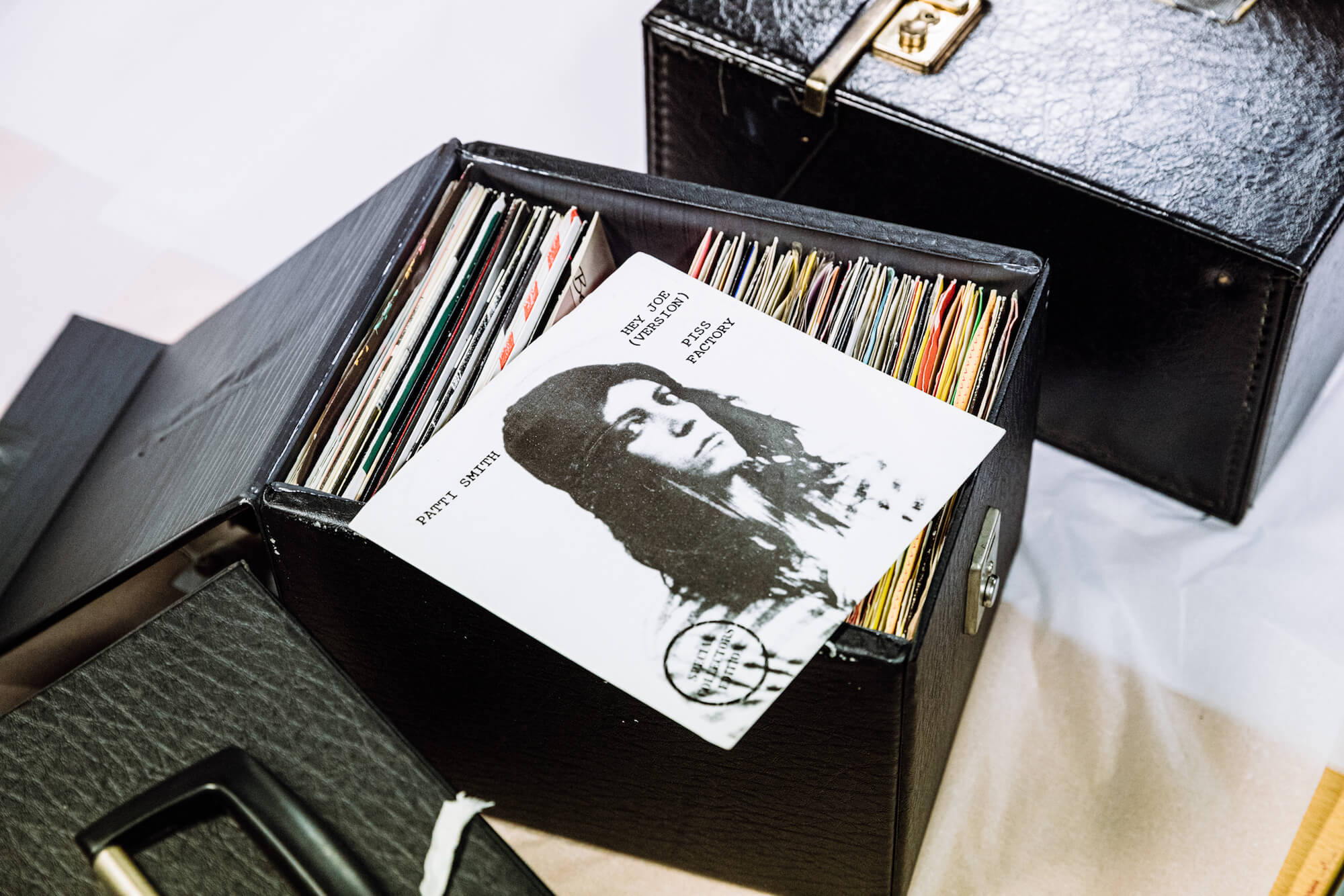 Patti Smith is represented by the 'Hey Joe' / 'Piss Factory' single. He used to say that her 1975 Horses album knocked his world off its axis, and marked an important moment of cultural change. The '60s were over, a new sensibility was advancing.
That era's most influential band were the Sex Pistols. They were everything Tony wanted music to be: incendiary and revolutionary. The first time they performed on TV was on Tony's show on Granada TV. The MOSI collection includes his 7" copy of the 'Anarchy in the UK' single.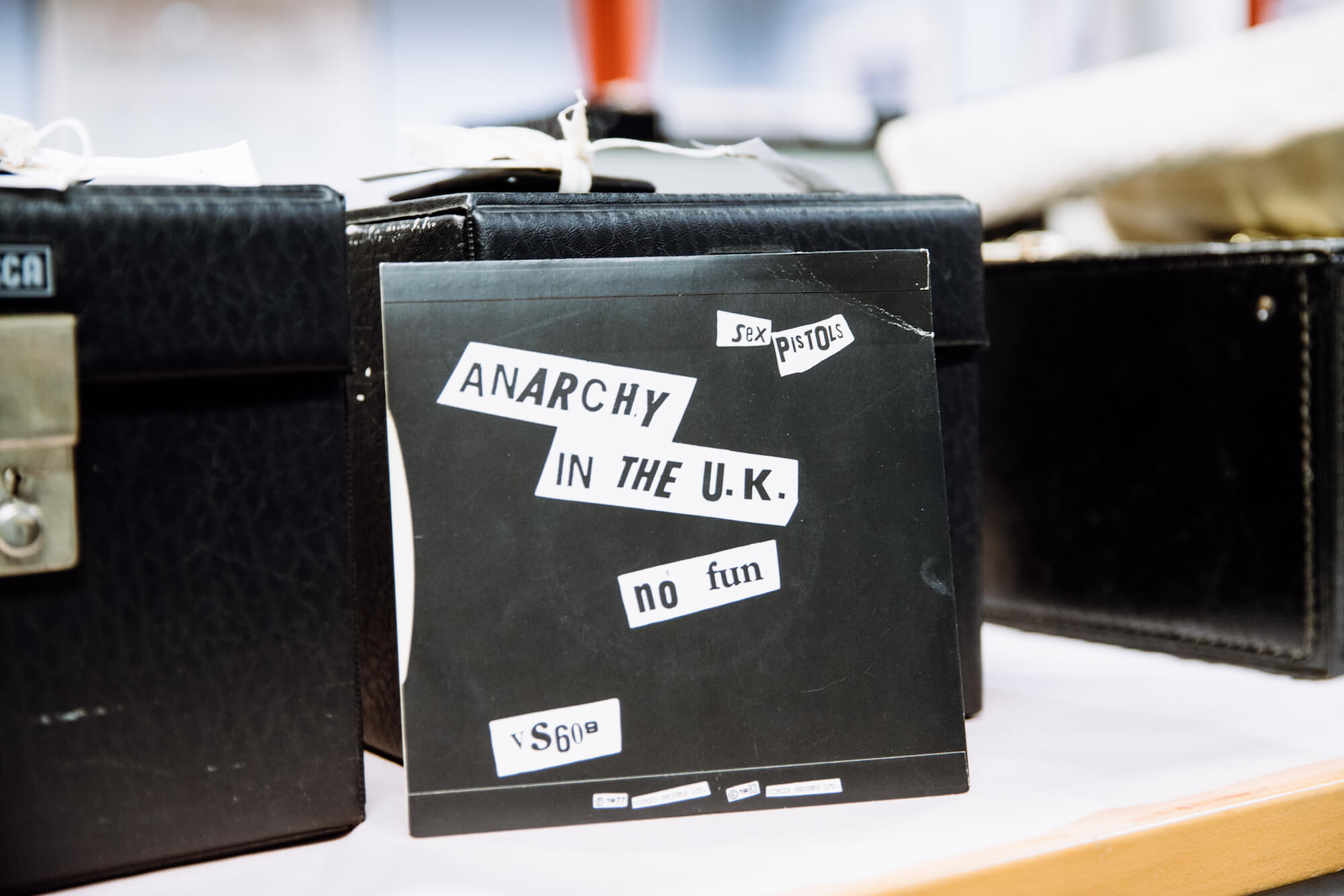 I spent an hour looking through the vinyl in MOSI's possession, but left with a few unanswered questions.
What about the records that reflect his personal life? For example, I know enough about Tony to know he would have treasured his copy of Simon & Garfunkel's Bookends (America), and the Gram Parsons & Emmylou Harris song 'We'll Sweep Out the Ashes in the Morning'.
The collection reminds us of his work, his achievements, and the gloriousness of Factory Records. But in my book I write about how our records have the power to recall our loves, our moments of happiness, our moments of regret? Where's the vinyl that would tell Tony's more private story?
The future for this vinyl collection is in the hands of his children Oliver and Isabel. Oli is civic-minded, just as his father was. He is currently engaged in a social enterprise project looking to secure a building in Manchester to create community facilities and music spaces, and to create a business staffed by people who have experienced homelessness.
Despite knowing collectors around the world would make amazing financial offers for the Wilson archive, Oli and Isabel want it kept in the city of Manchester. There's talk of finding a way for it to become a community resource.
Oliver wants to give the records in those boxes as much of an influence for the future as Tony had in the past. They symbolise the work of a pioneering figure, Tony's belief in the transformative power of music, and his inspiring life.
---
Dave Haslam's book A Life In Thirty-Five Boxes: How I Survived Selling My Record Collection is out now.
Photos: Debbie Ellis / A Supreme Shot