Published on
August 5, 2016
Category
Features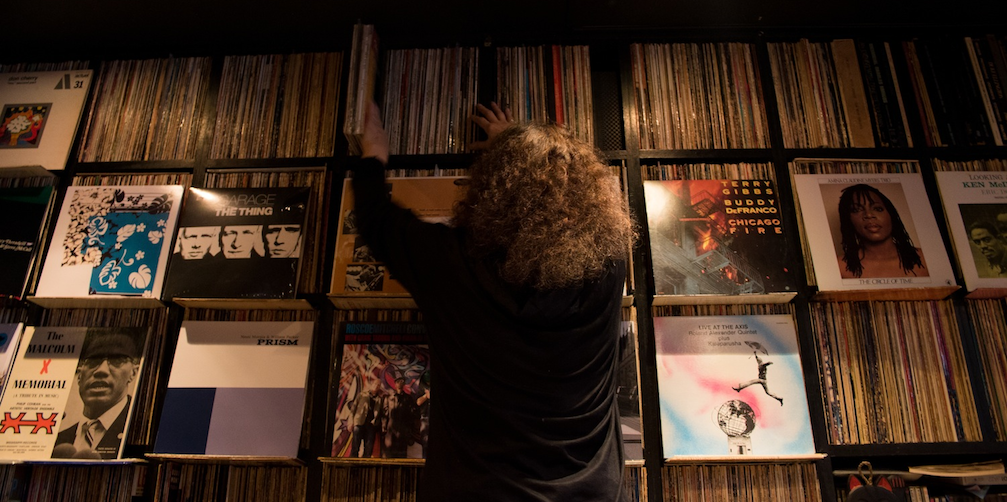 Tokyo Jazz Joints is a visual chronicle of an insular world, where time ceases to exist; spaces removed from the speed and chaos of the modern urban landscape. Sanctuaries for jazz enthusiasts where the music is played on vinyl through aging sound systems, these bars or kissaten are slowly disappearing.
---
Introduction: James Catchpole
---
The jazz cafe culture in Japan grew organically in the years after WWII as shops where fans could gather and listen to the latest records from the United States; imported records, yet alone turntables and speakers, were a luxury few could afford in those days as Japan recovered from the war years. The act of going to a cafe and listening to a new release in a social, group setting became the norm for a generation of Japanese jazz fans. At its height, areas like Shibuya and Shinjuku in central Tokyo had dozens of these cafes and bars scattered around the main station plazas.
Slowly, the cafes began to disappear as economic development continued, and listening to music at home became the norm. Some establishments transformed into night-time only bars, as it was no longer profitable to open for coffee time; fewer and fewer customers would spend leisurely afternoons immersed in jazz, books and coffee. As of 2015 there are (approximately) 150 jazz cafes and bars spread throughout the Tokyo Metropolitan area, a huge number compared to most cities, down from the peak of more than 250 in the early 1970s.
Year by year the old jazz joints around town close their doors as the men and women who own them age, and their children move on to other more 'legitimate' occupations. None of these establishments were contacted before we visited. Philip photographs are a window into this jazz community, showing the shops and their owners as they are. We have been to 58 such joints to date, throughout the vast Tokyo Metropolitan Area. At least another 100 remain to be documented as we continue on.
---
Photography: Philip Arneill / Captions: Philip Arneill & James Catchpole
---
Charmant, Nippori
Seeing Charmant, is believing Charmant. Pokey, smoky and dusty, all of that is eclipsed immediately as you enter by the sheer energy and enthusiasm of its owner Mr. Ishioka (a part-time dentist who opens it three nights a week), as he drinks Texas corn whiskey, cleans and cues the next records religiously, yells the "1,2,3,4" count into an Eric Dolphy solos, and refuses to turn down the blasting speakers for one-time customers.
---
Corner Pocket, Iidabashi
The Corner Pocket's location suits its name; down a narrow dead end alley and tucked into the corner. Open since 1982, it's as no frills as it gets in terms of decor but owner Mr. Matsura brightens the place with his friendliness and enthusiasm for jazz. On our last visit we hadn't sat down for a minute before he engaged us in heavy conversation about the live Weather Report DVD he was playing, and about the times he saw them in both the US and Japan. Corner Pocket is one of the old-school jazz 'dives' still remaining in Tokyo, where the menu is handwritten and hanging on the wall and the owner sits and smoke at your table while chatting about the music.
---
Bitches Brew, Yokohama
Bitches Brew redefines your expectation of what a 'live' jazz club is. It's a small square room with no stage; the performers stand literally two feet from the customers. The owner Mr. Sugita takes pride in hosting live musicians every evening, and having enough loyal customers to come and listen. He spent several decades as a photographer shooting jazz festivals around the world and will proudly show you his collection when you visit.
---
Old Blind Cat, Shinjuku
The railroad car shaped OBC is way down on the B2 floor of a building right across from Shinjuku Station, the heart of the jazz world in Tokyo. It's owned by the jovial Mr. Kikuchi, now in his mid-70s and still running this and another bar nearby. Sitting in OBC you can not only lose time, you lose a sense of time…it could easily be 1965 in there when the vinyl is playing. Then suddenly a DVD will be popped in of a recent concert in NYC and you're kind of back in the present. This is the bar Haruki Murakami had a part-time job in as a youth; he loved it so much he opened his own bar before becoming a writer.
---
Paper Moon, Ikebukuro
Paper Moon is an absolute treasure, a remnant of the time when there were dozens of jazz bars surrounding every major train station in Tokyo, instead of just four or five. Mr. Yamamoto has run the place for almost 35 years and keeps it almost in its original state. The music is from his extensive vinyl and CD collection, one gem after another from all jazz genres. Paper Moon is a place to go alone; sitting with your drink, immersed in the music, feeling the breeze come in from the large open window. If there is any old jazz bar that perfectly captures what Tokyo used to be like, it's this place. 100% authentic jazz-bar gorgeousness.
---
Jazz Inn Uncle Tom, Sangenjaya
Jazz Inn Uncle Tom may have an unfortunately anachronistic name, but the pure love of jazz shown by the owner dispels thoughts of any racial meaning beyond the lack of knowledge of the sensitivities of American society, all too common in Japan. The Inn is a tiny bar slightly west of central Tokyo and caters mostly to locals, playing standard jazz on vinyl and serving immaculately presented drinks. On the wall behind the bar for the photo of the owners with David Murray while he was in Japan.
---
Jazz Pepe, Shinjuku
Jazz Pepe is the ultimate of jazz dive bars. Once you realise it is in fact open, despite appearances at street level, you enter a narrow, dark and dusty staircase and enter what feels like an illegal drinking & gambling den. Mr. Okuma the owner has been there since 1969, serving drinks, chain smoking, and playing his favorite vocal jazz albums. Amazingly, Pepe still has regular live vocal nights, the band and singer crowded in the back corner. Pepe is an easy place to walk by without noticing, but that'd be a mistake; it's an old school jazz bar that only seems to exist in Japan.
---
Candy, Chiba
Mrs. Hayashi runs her bar on the ground floor of her house in a suburban street not far from a forgotten station off the the main Tokyo-China rail line. Specialising in free jazz music and gigs which she hosts in Candy, she began collecting records as a teenager roaming the bohemian sixties streets of Shinjuku.
---
Java, Kobe
Java was opened in 1956 below the train tracks of Kobe station. To date it is the only joint to date where permission to photograph – which is always asked for once we settle down to a drink and soak in the atmosphere – was an issue. The problem seems to have been embarrassment at how 'messy' the place was and after much frantic cleaning up and moving of piles of newspapers, I was allowed to photograph only this shot inside, and it had to be approved by the aging sisters who run this piece of living history.
---
Eonta, Matsumoto
Opened in 1974, this tiny bar has been tucked away in the same building, off the untouched traditional streets of Matsumoto. As you climb the tiny staircase, the signatures of many jazz musicians, Bill Evans and Chick Corea among them, scream out from the walls around you. Bill Evans, Chick Corea and many of their contemporaries visited Eonta on evenings after local gigs in the 70s and 80s, organised and promoted by its stoic owner and his wife.
---
Powell, Saitama
Powell is the only jazz joint we have ever been to before midday and probably one of the very few, if not the only one, which serves a Japanese breakfast known as the 'morning set'. Sat outside a 24 hour karaoke hall in the wilds of Saitama, being stared at by curious locals, waiting for it open felt like being stuck in a scene from a Japanese 'Twin Peaks'. Having recovered from the shock that we were not just passing by but had driven for an hour specifically to visit Powell, Mr. Kaminishi, the hospitable and chatty owner, was delighted to talk and talk about the history of jazz in Japan. His obvious love of Bud Powell was enough for him to christen his cafe/bar after him.
---
Swing, Shibuya
Tucked away off the back of the main Shibuya drag, this place has an amazing collection of vinyl and 78s, and like so many of its counterparts features a pair of enormous high-quality handmade speakers, placed almost altar-like along one side of the space.
---
To see more of the Tokyo Jazz Joints project, visit tokyojazzjoints.com and follow @tokyojazzjoints on Twitter and Instagram.