Published on
March 17, 2017
Category
Features
How 10 simple and enduring design rules created some of the most iconic turntables of all time.
Love it or hate it, but Minimalism is currently enjoying a renaissance. Originally conceived in the 1950s, as a reaction against expressionism and ornamentation, minimalism has influenced everything from branding, album sleeves, magazine art direction, clothing and industrial design. But why is minimalism relevant to turntable design?
Few mainstream consumer brands have influenced the direction of industrial design than Braun, the German manufacturer founded in 1921. They achieved design classic status through a series of innovative products, ranging from chairs, clocks, household goods and sound systems, which introduced minimalism to the mass consumer market.
Braun's influence can be attributed to the design direction of Dieter Rams, the legendary industrial designer who joined the company in 1955 and became their Chief Design Officer from 1961 to 1995. During this period Rams devised a series of ten rules to determine good design, which utilise simplicity, innovation, sustainability and functionality.
01. Good design is innovative.
02. Good design makes a product.
03. Good design is aesthetic.
04. Good design makes a product understandable.
05. Good design is unobtrusive.
06. Good design is honest.
07. Good design is long lasting.
08. Good design is thorough down to the last detail.
09. Good design is environmentally friendly.
10. Good design is as little design as possible.
These simple design rules formed the blueprint for Braun's creative output, which is epitomised by their definitive turntable, the SK4, also known as the Phonosuper SK4. This beautiful sound system, produced by Rams and Hans Gugelot in 1956, combines turntable and radio technology in a calm, white exterior, that's more reminiscent of Modernist architecture.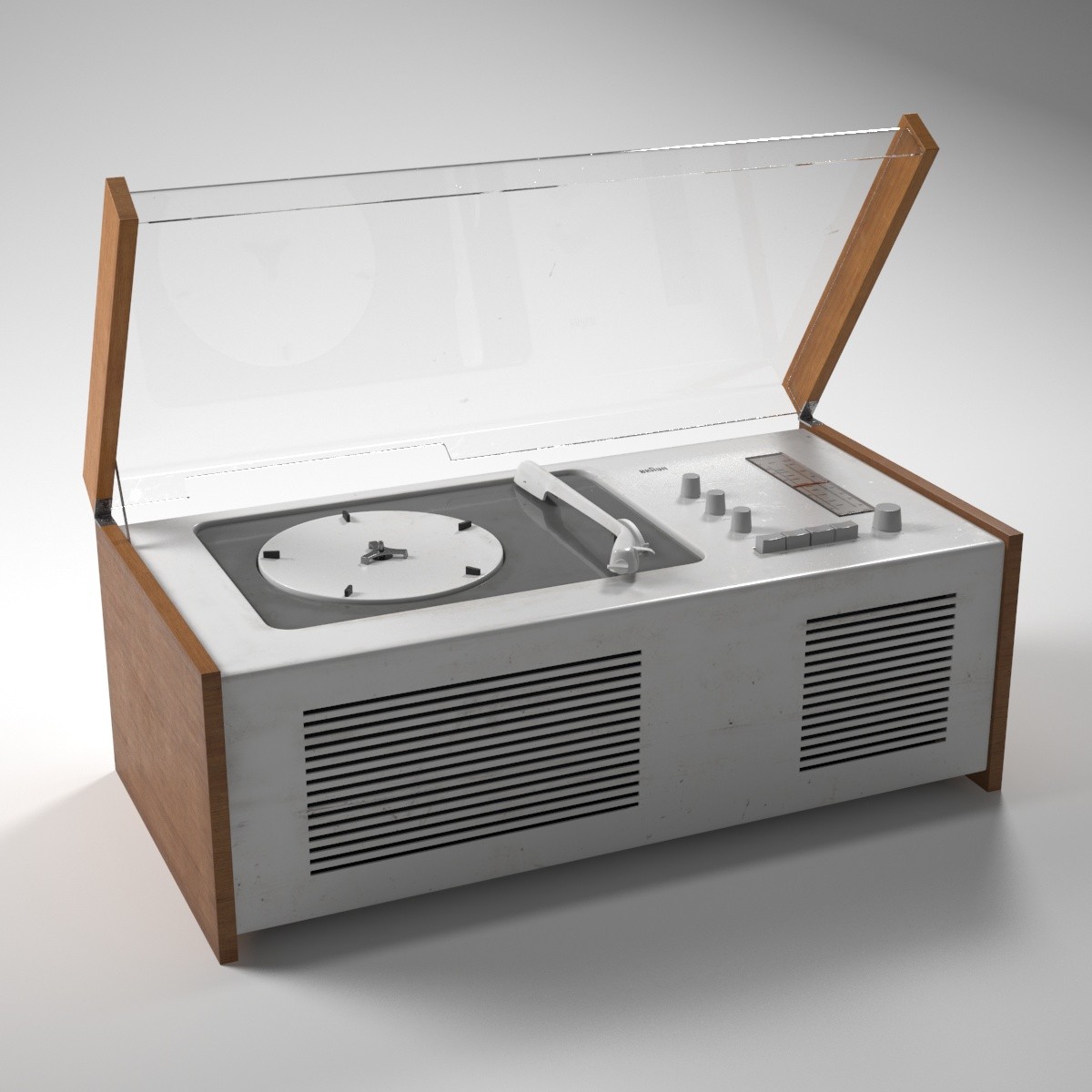 The SK4 revolutionised turntable design by featuring modern materials such as aluminium, Plexiglas and a sweeping white powder coated sheet metal façade. This approach was shocking at the time, when the majority of turntables were cased in heavy wooden cabinets that were more akin to traditional furniture design.
Braun's dedication to simplicity and innovation is reflected through the uncluttered design of the SK4 and it's successors the SK55, produced in 1963, which won the 10th Milan Triennale prize. The design was embraced by the public, but derided by competing manufacturers, who nicknamed it Snow White's Coffin. This was a direct reference to the Plexiglas lid, which only became a feature when Rams discovered that a sheet metal lid rattled when music was played at high volumes.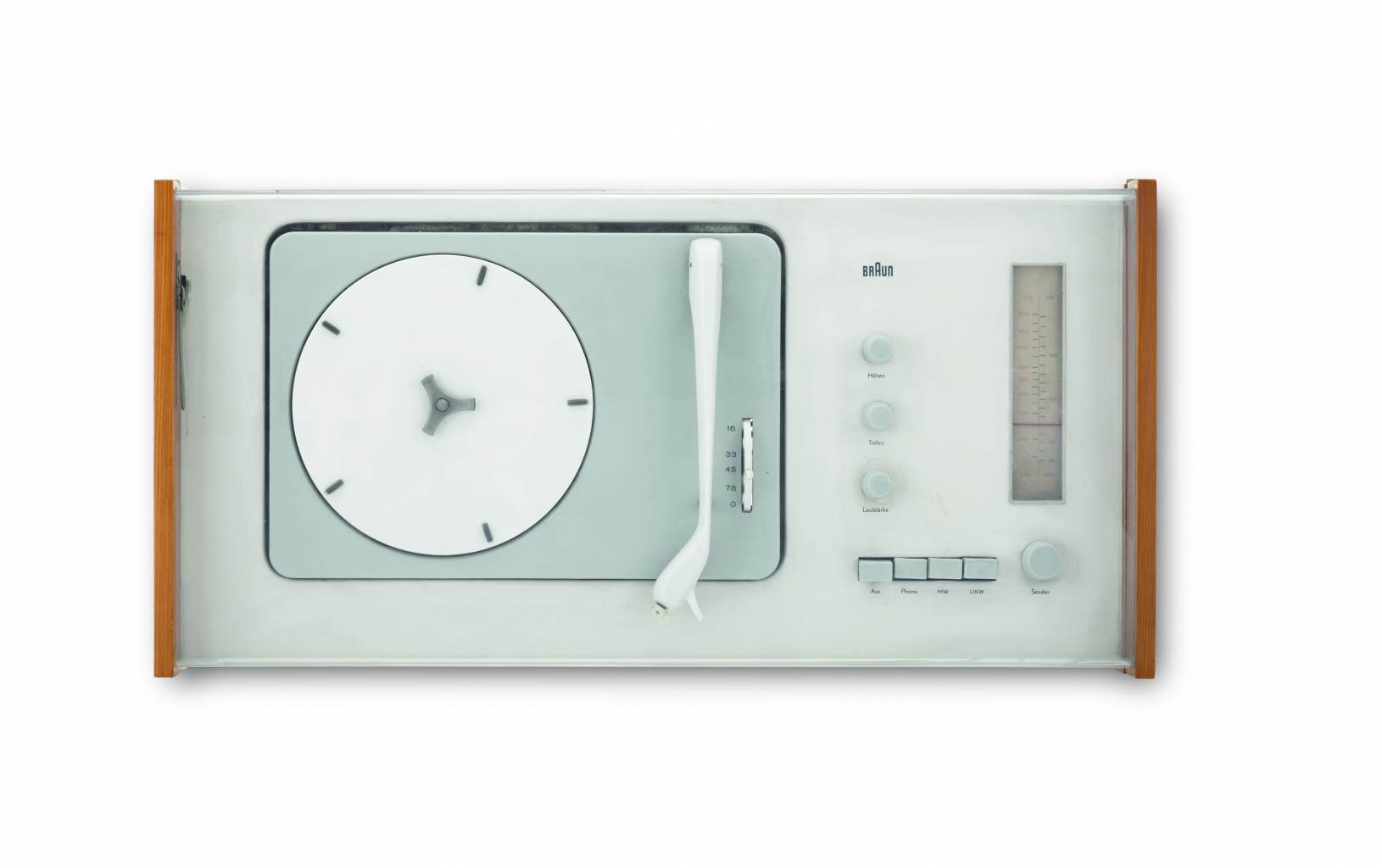 Many of Braun's turntables are highly collectible and prove that mainstream sound system design should have a positive impact on domestic interiors. Another manufacturer to embrace this ethos is Bang & Olufsen, the Danish technology company founded in 1925.
B&O's dedication to simplicity and innovation is evident throughout their product range, but perfectly realised in the iconic Beogram 4000. This striking turntable, designed in 1972 by Jakob Jensen, is often referred to as the most beautiful turntable ever produced and it's easy to see why. The innovative design features include the world's first electronically controlled tangential tracking arm, but it's the smooth surfaces, clutter free design and unique spoke record base that sets the 4000 and its successors apart.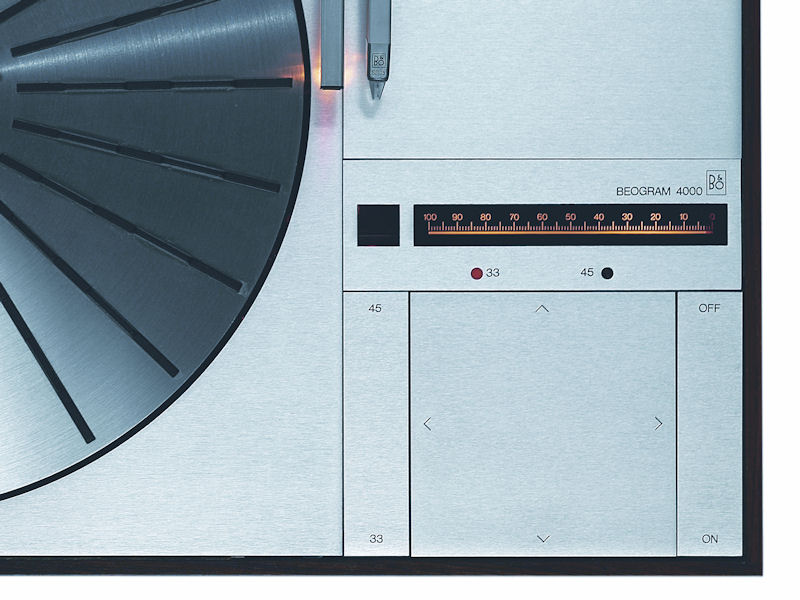 Bang & Olufsen's turntable and music centre design was the subject of a solo exhibition at the Museum of Modern art in New York, called Design for Sound. The retrospective featured a number of Jensen's minimalist turntables, which look equally comfortable in a domestic home and museum environment. His enduring design for the Beogram range is summarised by Zara Wood, a UK based artist and illustrator 'Like all great design, our B&O Beocenter 7002 is both timeless and cutting edge. It looks like the deck of a spaceship – it will always be modern.'
Braun and Bang & Olufsen ceased turntable production as mainstream music publishing became miniaturised, through CD's, downloads and streaming. However, the well-documented rise in production and sales of vinyl records has attracted a new generation of vinyl enthusiasts, who, along with consistent record collectors, are drawn to the large physicality, sound and tangible nature of vinyl records.
These new consumers were raised during the digital revolution and are accustomed to the evolution of music players and domestic interiors, which are streamlined, wireless and clutter free. The antiquated nature of vinyl means that turntables don't need to keep pace with digital technology, however, there are a number of manufacturers who recognise that turntable design should emulate the digital environment.
These manufacturers, such as TEAC, Bergmann and Pro-Ject, place minimalism at the centre of their product development, because of its ability to remain timeless. Minimalism works because it doesn't follow trends and instead places emphasis on quality, innovation and production, essential for products looking to stay relevant during the rapid development of digital technology.
---
Got a taste Minimalist turntable design and got cash to burn? Here's a run down of a few contemporary options that caught my eye.
MAG-LEV
What more negative space from your turntable? Why not check out MAG-LEV, the World's first levitating turntable.
---
ClearAudio Emotion SE
This German manufacturer produce a range of minimalist turntables, but the Emotion SE, finished in a transparent acrylic, has the most reduced design.
---
Bergmann, Magne System
Mentioned above and worth the mention again. If I could afford it, I would buy this turntable for it's Minimal looks alone – but I'd ask Bergmann to remove the ugly name badge from the front first.
---
BDDW, Turntable IV
I wasn't sure if I should include this, because it's a one of a kind turntable created by BDDW, an American furniture makers. It stays in because it looks great. Fact.
---
Stuart Tolley is the founder of Transmission and author of MIN: The New Simplicity in Graphic Design and Collector's Edition: Innovative Packaging and Graphics