Published on
March 12, 2020
Category
Features
In the year 2020, it may seem odd to call a project led by Theaster Gates as somehow under-acknowledged, or flying under the media radar; and yet you'd be hard-pressed to classify the work being done by a musical group he leads, the Black Monks, as anything but utterly slept-on.
Based in Chicago's South Side, while globally acknowledged as a central figure in contemporary art, Gates has added to his early mediums of pottery and sculpture, as well as his focus on studies of urban planning, architecture, space theory and archivism, to become a creative multi-hyphenate whose various practices all hold the idea(l)s of community and history as core to his artistic and social purpose. The latter certainly holds true for the Black Monks, which features a rotating cast of many of Chicago's finest musicians, often amended by local players from wherever the group may be playing, creating one-off improvisational pieces that integrate the richness of the musical traditions of the Black Atlantic with narratives based in the art and community spaces where they perform.
On paper, it's easy to imagine the Black Monks as nothing more than a theoretical, art-critical curio. Yet the real-life result is so much more: graceful, highly emotional, historically potent music with little precedent, informed by the muscle and flexibility of extraordinary musicianship and a higher purpose. Gates, who's been formally involved with music since his teen days in the New Cedar Grove Missionary Baptist Church choir, calls himself the "abbott" in the Monks — part bandleader, part primary storyteller, part zen guide. He is often joined by the vocalists Yaw Agyeman and Kiara Lanier, drummer Mikel Patrick Avery, and cornetist Ben Lamar Gay, among many others, to help him weave site- and situation-specific group improvisations out of the words and sounds of Black music, the spiritual practices of the Black church and Eastern religions, and the themes provided by galleries and museums. Sometimes the Black Monks sound like a free jazz and dub poetry group; sometimes like abstract, electronic soul musicians reciting folk tales; sometimes like deep house blues griots and newsmen; and often, all of these at once.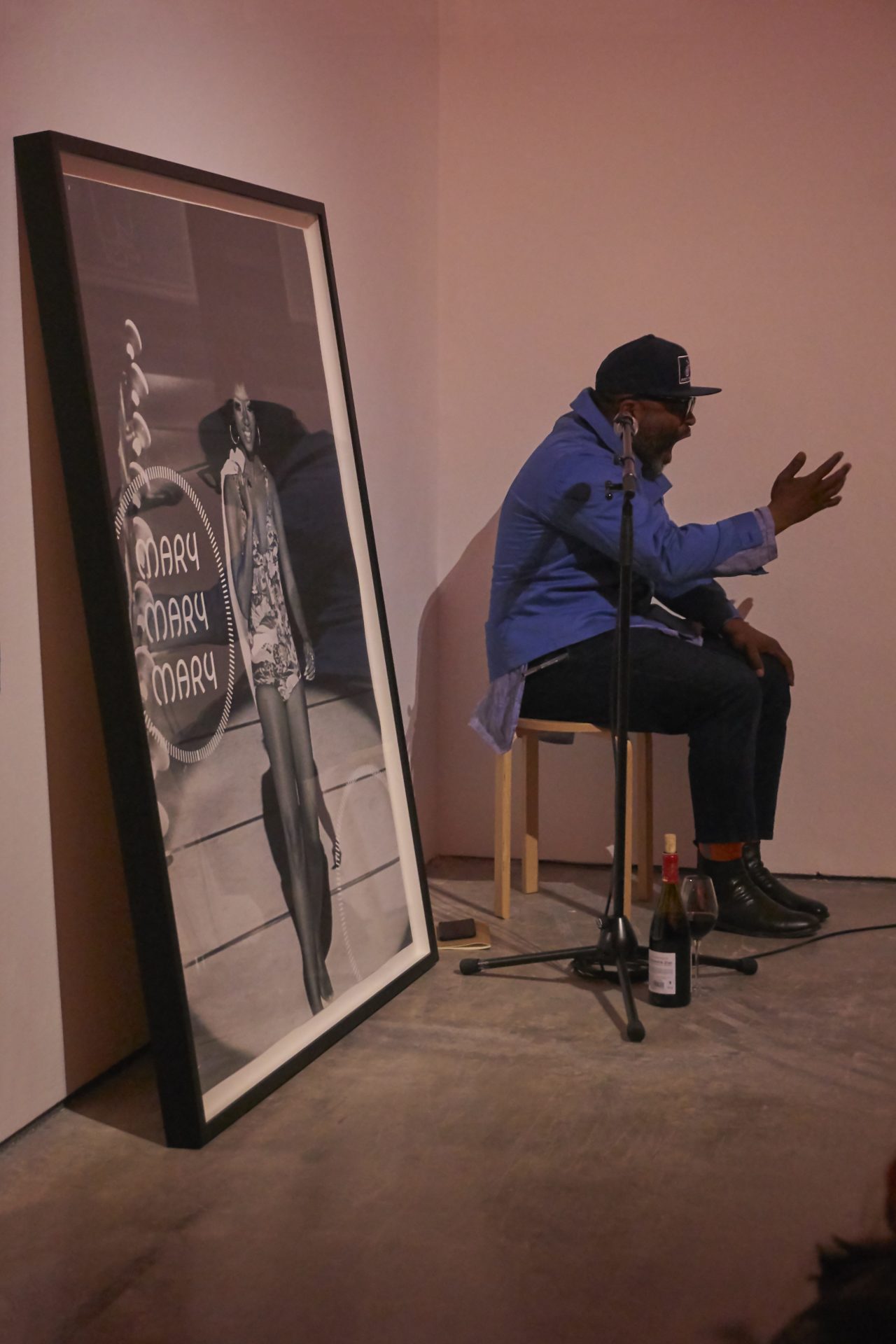 The Black Monks have so far only released a handful of limited edition vinyl EPs and the soundtrack to Gates' film Dance of Malaga (2019). The newest one is Afro-Mingei, a performance recorded at London's White Cube Gallery, in May last year. Gates opened up on-stage about where how he saw the Monks' function in the world and in his practice:
"People often ask me, do you sometimes feel like a contemporary artist, sometimes a potter, sometimes a musician? And I realize that a lot of the world spends a lot of time compartmentalizing parts of themselves. And in the art world, you must do this, or this or this. But if you had the kind of experience that I had, where survival was one's ability to take the things from inside and make those the best things ever, that you'd find that there is no difference between one ability and another. It's just a set of gifts. And that we could lend our gifts to whatever we want to talk about. So it's really wonderful that, in some ways, it's been the conceptual art world that has allowed me to come back to the gospel form to reimagine the kinds of things…the content that could live on top of the vehicle, "gospel." In the same way that it's been my interdisciplinary practice of urban planning, art, music, that thing that allows one to feed the other. That's where the work comes from, that at any point it could be the pot, or the hose, or the song. So I hope today, with just these songs, it is enough."
Still, Gates rarely discusses the practice of the Black Monks in public. But in November of 2019, before a performance that the Monks gave at Chicago's Garfield Park Conservatory as part of the Red Bull Music Festival Chicago, I had an opportunity to talk with him briefly about his musical group.
First things first: what is your background in terms of musical training, and in terms of participation? How did you get involved in music?
I learned to participate in conversations early on. Musically, it was almost like I went through all the genres. Like, maybe I was listening to Patti LaBelle, Luther Vandross, Curtis Mayfield — then I got to church. And when I got to church, I was All! In! When I became [the church's] minister of music at 14 — a choir director — my job was to make tangible God's presence. That was my job! And it was expected that I could do that — I was training to do it from that age. So I guess my musical training is as a kind of intelligent listener, and then as a performance leader at church; and then as a person who took that early training and became interested in ways to reshape conventional modes, became like a kind of abstract gospelist.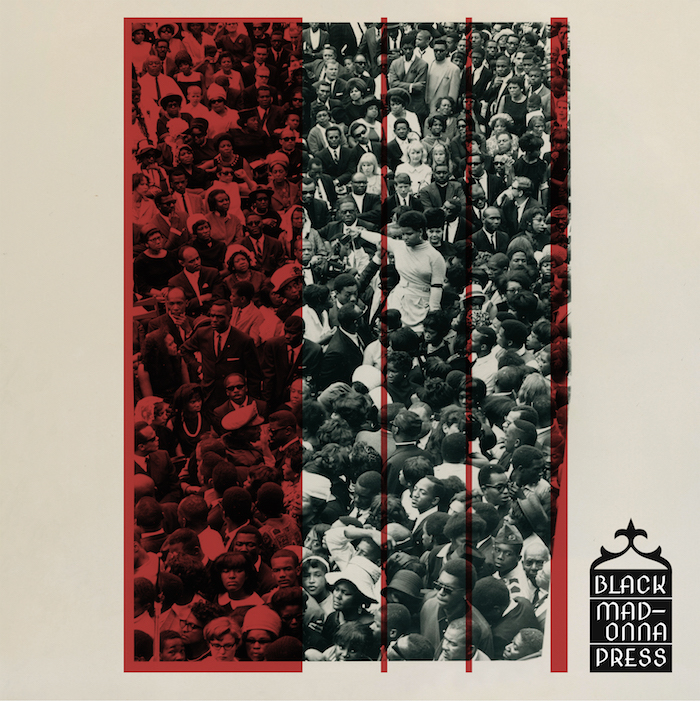 A conduit?
Conduit – sure. But the conduit still needs a valence, still needs a skin, or a direction. So the direction of the power became: how do you demonstrate that this power, that we thought was only for gospel music, is really raw power that can be directed at the author's intent and redeployed in the real world? With the Monks, I often call myself the abbot — and the abbot, in the monastic order, is the leader who serves.
When did the Monks start as a project?
In 2008, I was asked by a guy named Charles Esche — who runs the Van Abbemuseum in Eindhoven, Netherlands — if there was a sound, a contribution I could make to the world of music that demonstrates Black people's presence in the world. And the Black Monks was born out of that direction, out of that provocation. So me and some brothers went to Eindhoven, we met some Dutch musicians and we made music together. Then there was a shift. After that I thought, could the Black Monks actually be the platform whereby I go back to the earliest DNA strands of Black American music, and starting there, could I reflect, meditate, chant on the earliest forms, so that those forms would lead to not only, soul, blues, work songs? Could there be other forms that hadn't been explored, if we go all the way back?
So right now the Monks really experiment with the oldest forms of the Black American experience, and then iterate on those forums. And because we have Yaw in the band, who is also thinking about diasporic experiences, his history with Ghana, and learning to speak Twi, I think that we're an experimental Black sound ensemble that's interested in early musics, and in how chant, meditation and a monastic vehicle might help us make a truly new music.
When you say "monastic vehicle" and speak of monasticism in the context of this group of musicians tell me a little bit of what you mean by that.
What I think is available in the monastic is a question about where one's inner motivation is. Like, "Am I with ego tonight, or am I not with ego tonight? If I started with ego, could I get to a point 15 minutes later where I have less ego?" Or, when in a state of improvisation, "Who's going to go first, is it going to be Mikel, Ben or Yaw, how do we decide that? Are we going to have a moment of ego? Are we going to have a moment of generosity, a moment of brotherhood, or a moment of sensitivity to where each other is?" In a way, the monastic is a way of working out one's basic humanistic problems through sound.
What I hear you talking about is a kind of musical fellowship.
Yeah. Brotherhood — brotherhood for the monastic. An order. Let's say that, at first, it started out unfocused. Maybe it was a joke, but what's happened over the last decade is that we've found ourselves slowly gaining more and more respect for each, and more belief in the possibility of the monastic as a way of producing a new sound. It's not about a lyric, about a time, meter or cadence, and not about tonality. It seems to be more about expression and experience and interconnectedness, intentionality and sincerity. It assumes that all these musicians have our own practices — but could we come to this thing, and instead of worrying about the sheet music or the hit, could we drop all of that and try to get to sound? So it has a lot of reverberation of gospel and soul and all the traditions, but it also has in it a gentleness.
Hearing you talk about the core of the Black Monks experience, it sounds like what you are going for is a truthfulness and a feeling.
When we're together, as a band or an ensemble, we're not entertainers, and we would probably fail in an energy of entertainment. But if people are open, and if we're open, we might be quite successful at introducing something that's probably more akin to contemporary performance art practice, than it is to what happens in the jazz club.
Towards that end, the Monks do not really play in music venues. Instead, you play in community spaces and in art spaces; and you've spoken about how, in the performances, you invoke the energy that is inherent to the places you're playing. Can you expound on that a bit?
Part of what motivates the Monks' work in terms of content, is that often we are deployed as a response to visual art. So what we might do is — if there's an object by Francis Alÿs like when we were in Porto, Portugal — we might collectively do research around objects that are in a museum's collection, the history of the museum itself, the history of the site, and then all of that becomes memorized improvisational fodder. So, in a way we become temporary professional docents, that can make a more articulate jingle. And that's cool. Really what I want to do is make it so that art history and art objects are not so estranged from normal people. I think the way we might be able to get to that is if we were to translate art historical practice into a soul sound. We're in the process of trying to make that noise joyful.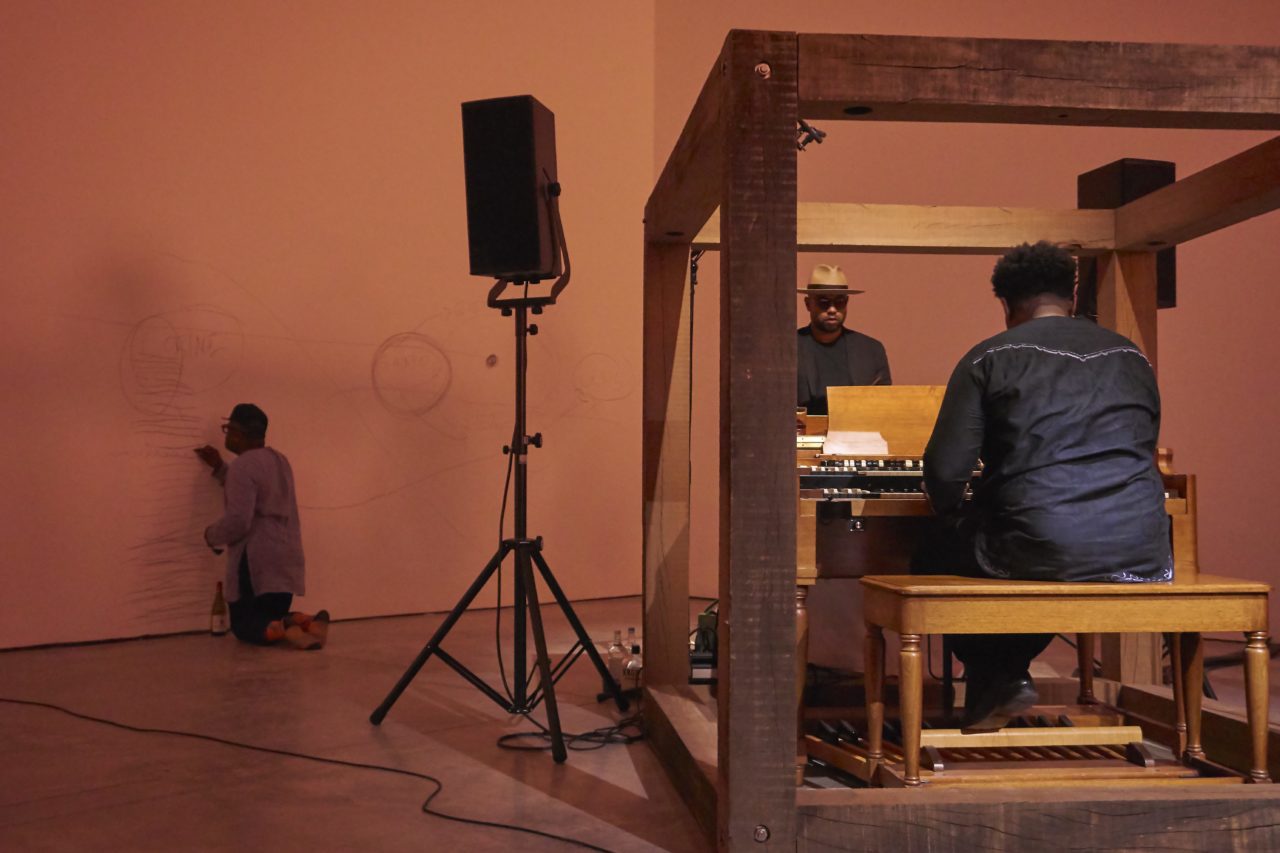 ---
Theaster Gates and the Black Monks' Afro-Mingei is out now on The Vinyl Factory.