Published on
December 8, 2018
Category
Features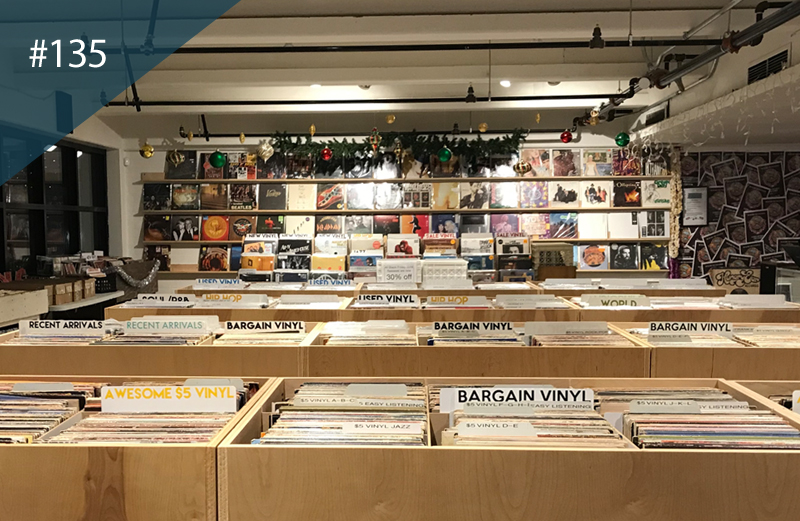 Record shopping in paradise.
Every week, we pick out one must-visit spot from a different city around the world with photos and a little bit of history. Think of it as a kind of 1000 places to see before you die for record shops.
From Devon to Hawaii, our next stop on the hunt for the world's best record shops is in something of a dream location. Hawaiian records have been making their way into sets and collections around the world in recent years, but to go to the source, there's few places better than Hungry Ear.
---
Hungry Ear
Location: 2nd Floor, SALT At Our Kakaako, 691 Auahi St, Honolulu, HI 96813, USA
Go for: Hawaiian disco, rare reggae, the odd Japanese rarity and cute shop dogs
What's the story?
There are countless reasons why you'd choose a life in Hawaii. The sun, the surfing, the scenery, hell, just everything about Hawaii is appealing, and that goes for Hungry Ear Records, too. As Hawaii's oldest record shop, it was founded in 1980 by Luke Yamashiro, Dennis Chun, and Reynold Yep on Kuulei Road in Kailua, where the business had its flagship store for 35 years. Now under the ownership of former employee Ward Yamashita, Hungry Ear aims to "accommodate as many customers and tastes as we can, in as friendly and generous an atmosphere as possible."
Hungry Ear's racks boast collections of rare reggae and rock classics (the huge Beatles mural that covers the back wall of the store may give that away), but their bread and butter is Hawaiian and local music: from disco by Nohelani Cypriano to smooth, jazz-tinged grooves from Momi Riley. To Yamashita, this is music he wants to hand down to another generation.
"I remember the days when a record store was not only a repository of great music, but also a place where you could meet like-minded people and hang out," Yamashita says. "A lot of kids aren't on a professional path and I'd love to give them the tools to integrate into the world outside school, friends and parents, without feeling they have to lose themselves. We'd love it if kids rediscovered the pleasure of spending afternoons after school at our store."