Published on
October 28, 2017
Category
Features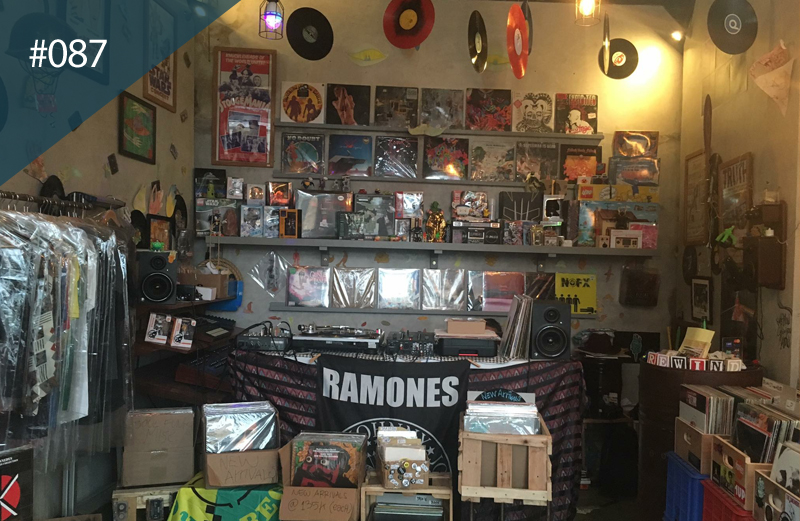 Island digging at Dee's.
Every week, we pick out one must-visit spot from a different city around the world with photos and a little bit of history. Think of it as a kind of 1000 places to see before you die for record shops.
Our next stop on the world record shop map is a special one. Rewind Records is the only record shop on the Indonesian island of Bali, and a haven for locals and visitors alike.
---
Rewind Records
Location: Jln.Pantai Berawa Canggu Square Unit 2, Canggu, Tibubeneng, North Kuta, Indonesia, Bali 80000, Indonesia
Go for: New & second hand vinyl, and well, since you've made it this far… why wouldn't you?
What's the story? "Most of my online costumers think I'm a guy, because in Indonesia it's kind of rare for a girl to run a record shop by herself," Dee Fubby tells us. Rewind Records is a one-woman operation and Dee's life-long passion.
Opened two years ago, this daughter of keen record and cassette collectors took matters into her own hands, and opened the island's only record shop. Catering to locals who were sick of ordering music from the capital Jakarta, as well as the stream of international visitors chasing the hedonistic and spiritual dream, Rewind stocks new and second-hand music from across genres on vinyl and cassette.
As well as tourists, Dee counts DJs, producers and musicians as customers, all of whom are welcomed by the shop's unpretentious, living room feel. Created from scratch, Dee says Rewind feels like home – an extension of her previous life as a toy collector and a space where you can hang out, chat about music and drink a beer on one of the most beautiful islands in the world.
Sounds alright, doesn't it?