Published on
February 4, 2017
Category
Features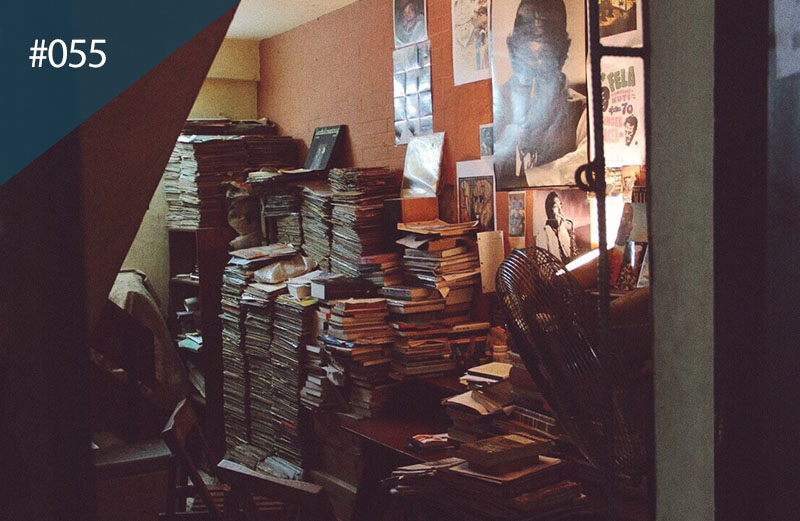 Grab a spade.
Every week, we pick out one must-visit spot from a different city around the world with photos and a little bit of history. Think of it as a kind of 1000 places to see before you die but for record shops.
Having ticked off both Cape Town and Johannesburg, and following the recent death of Nigerian synth trailblazer William Onyeabor, we continue our African adventure with a timely stop in Lagos.
With a name like The Jazz Hole, we had high hopes for this book-and-record shop and they were met, maybe even exceeded.
The Jazz Hole
Location: Shop No. 168, Awolowo Rd, Lagos, Nigeria
Contact: Facebook
Go for: Books, coffee, African art, vinyl
What's the story? Record shop, book store and café rolled into one, The Jazz Hole is a welcome escape from the mile-a-minute hustle and bustle of downtown Lagos life.
Kunle Tejuosho established The Jazz Hole in the '80s as an offshoot to Glendora, the legendary bookstore chain founded by his mother. With more expats residing in Lagos, Tejuosho wanted to create a hub for international music in Lagos whilst also preserving and archiving African music and literature.
Today it has possibly the best collection of African artefacts – records, books, artworks – on the continent. It also has a fine collection of titles from around the world and, as you'd expect, is particularly strong in the sphere of jazz. "From the busy metropolis of Lagos to the rebellious streets of Rio, the music of the universe rests on our shelves," says Tejuosho.
Monthly art exhibitions look to showcase African literature, music and arts, whilst there are regular live jazz evenings from local and international acts. The café boasts over forty varieties of tea, which is reason enough to pay this iconic shop a visit next time you're in Lagos.
Photography by Black Fabulousity