Published on
October 8, 2016
Category
Features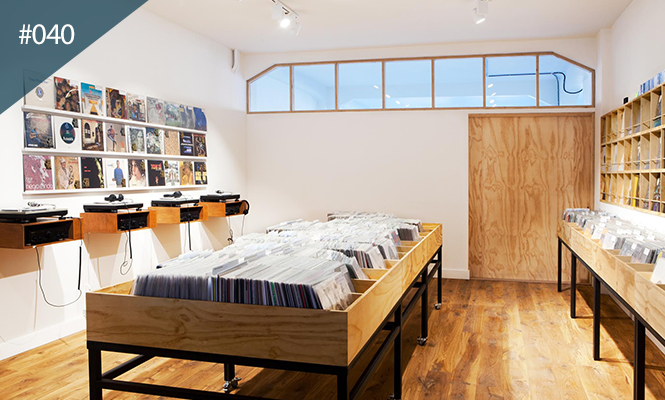 A virtual tour of the landmark store.
Every week, we pick out one must-visit spot from a different city around the world with photos and a little bit of history. Think of it as a kind of 1000 places to see before you die but for record shops.
With of a population of under one million, Amsterdam's music scene may be small but by no means is it lacking. The city's laps of canals, picture-perfect bridges and historic gabled buildings play host to an incredible wealth of record shops, bursting with personality and beauty.
After spending some time with the completely unique Red Light record store and radio station, it's time to introduce evidence Exhibit B: Rush Hour Records. Over the past twenty years, Rush Hour has developed into more than just a store; sure it's now one of Europe's best labels and an international distributor, but it's also an indispensable meeting place and public noticeboard for the curious-eared community.
---
Rush Hour
Location: Spuistraat 116, 1012 VA Amsterdam, Netherlands
Contact: www.rushour.nl
Go for: Dance, electronic, soul-jazz, global scenes
What's the story? In 1996, Antal Heitlager and Christiaan Macdonald bought the entire basement at dance specialist shop, Coco Records. With the stock, the pair launched a mail-order company, exporting top-drawer house from their, err, student house.
A classic tale of zero to hero, Rush Hour has since ballooned into Amsterdam's best-known record store, a lynchpin distribution company and a forward-backward-looking record label.
Earlier this year, Rush Hour moved to a new and larger shopfront just a few doors down from Spuistraat 98 to Spuistraat 116. ""We wanted to move for a while, but it wasn't easy to find something suitable," said Antal at the time. "We even checked for buildings in the outskirts. To find such a beautiful space in the same street is quite unreal to us."
The flawless and now expanded stock spans the spectrum but is especially alive with electronic 12"s and LPs as well funk, soul and jazz sounds, old and new, from across the globe. With regular BYOB in-stores and plenty of listening decks, it's easy to get comfortable here. "Every city needs its own Rush Hour," Young Marco has said. We're inclined to agree.