Published on
September 1, 2016
Category
Features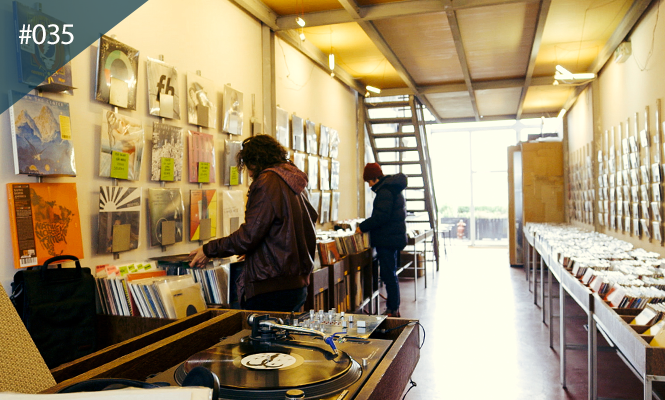 If you go to just one shop in Portugal, make it this one.
Every week, we pick out one must-visit spot from a different city around the world with photos and a little bit of history. Think of it as a kind of 1000 places to see before you die but for record shops.
As our documentary Vinyl Culture: Lisbon revealed, Portugal's colonial history has impregnated the city with a rich and unique musical landscape.
Centuries of rhythms and dances from Lusophone countries – Cape Verde, Mozambique, Guine Bissau, Angola, Brazil – are waiting to be discovered in the city's narrow streets and steep hills. But if you're not sure where to begin, we recommend starting with Flur Discos.
---
Flur Discos
Location: Avenida Infante D. Henrique, Armazém B4 Cais da Pedra – Santa Apolónia, 1900 Lisboa, Portugal
Website: www.flur.pt
Go for: A river-side adventure
What's the story? Perfect for cooling down after a boozy day in the sun, Flur delightfully spills out on to the River Tagus waterfront. And it's just a stones throw from Portugal's premier nightclub Lux Fragil, if you fancy a post-digging shakedown.
The shop was founded in 2001 by Pedro Santos and José Moura, who exhaustively lists "pop, rock, noise, electronica, jazz, drone, experimental, krautrock, house, techno, disco, boogie, italo, hip hop, dub, reggae, funk, soul, library, dubstep, UK funky, country, film music, African and latin styles, ambient, improvised and others I'm sure I'm forgetting right now" among its relatively modest selection. Basically, you'll find everything here.
Moura says the Lisbon scene is thriving and that the shop plays its role in representing the vast swathes of releases put out by local labels. The city's electronic scene is particular exciting, with a generation of music makers, playing, sampling and reinterpreting old records from Portugal's former colonies. Indeed Moura – alongside Márcio Matos, André Ferreira and Nelson Gomes – runs Principe Discos, a label dedicated to release "100% real contemporary dance music coming out of this city, its suburbs, projects and slums."
Once you've ticked Flur off your digging itinerary, try these top Lisboa records shops and don't forget to visit a flea market or two.