Published on
June 23, 2016
Category
Features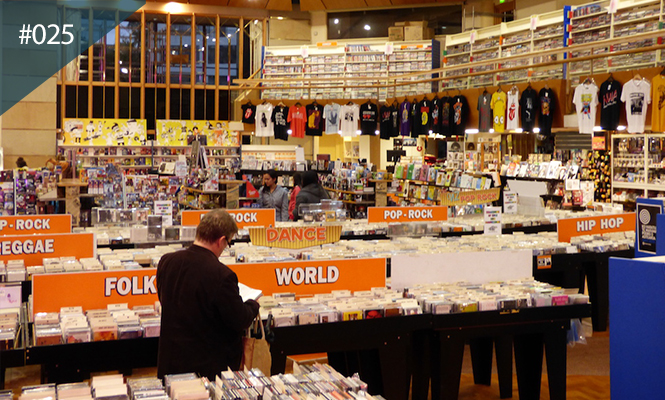 New Zealand's answer to Amoeba.
Every week, we pick out one must-visit spot from a different city around the world with photos and a little bit of history. Think of it as a kind of 1000 places to see before you die for record shops.
Having travelled to Melbourne's hip-hop haven Wax Museum, we continue the down-under circuit with our first ever trip to New Zealand.
And where better to start than with the mothership of all record stores? The entertainment dreamland that is Auckland's Real Groovy.
Real Groovy
Location: 369 Queen St, Auckland, 1010, New Zealand
Go for: The wow factor
What's the story? Founded in 1981 by Chris Hart (the current owner) and Chris Priestly, Real Groovy is Auckland's oldest and biggest second hand record store. In fact – putting L.A.'s enormous Amoeba Music to one side – not many shops worldwide compare in size.
Real Groovy has weathered a chequered past, moving location multiple times and just about managing to survive the 2008 recession – when lots of store worldwide closed – to revitalise itself as vinyl-orientated fun palace.
Apparently past customers have been as varied as Kurt Cobain and Stephen Fry. The shop says that it has "the classic Kiwi relaxed attitude towards fame, where we leave people alone to enjoy their time and not pester them for autographs or photos." Celebrity or not, bus loads of visitors pile into the store on a daily basis for this completely record store experience. Don't be surprised if you see people posing for photos under the neon sign.
The warehouse-like operation covers an enormous vinyl and CD collection, pop-culture ephemera, DVDs, tees, books graphic novels, quirky homeware, figurines and even their own brand of soda pop. Humorous and upbeat staff help keep the vibe super friendly.
A feast for the eyes as well as the ears, it's hard to imagine Auckland without Real Groovy.