Published on
May 12, 2016
Category
Features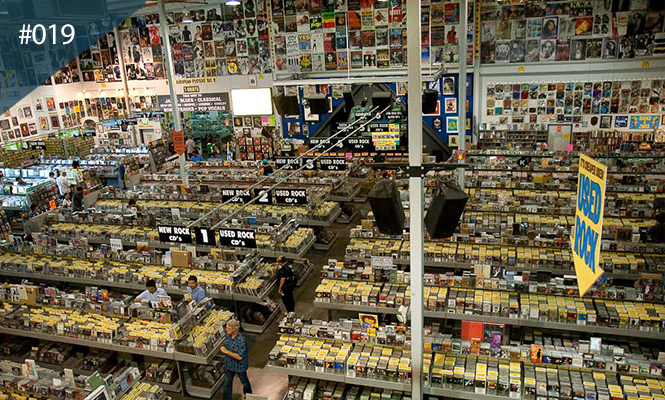 The Disney World of record stores.
Every week, we pick out one must-visit spot from a different city around the world with photos and a little bit of history. Think of it as a kind of 1000 places to see before you die for record shops.
Our first visit to Golden State took us to San Francisco's understated funk mecca Groove Merchant. For our next Cali stop we're heading to Hollywood for a totally maximal record shopping experience at Amoeba Music.
An entertainment wonderland, Amoeba has claim to the biggest, broadest and most diverse collection of music and movies ever seen on under one roof. Little can prepare you for a trip to this store…
Amoeba Music
Location: 6400 Sunset Blvd. Los Angeles, CA 90028
Go for: An overwhelming shopping experience
What's the story? Opened in 2001, Amoeba Music Hollywood is a hangar-sized emporium with an utterly awe-inspiring catalogue of music that makes Tower Records look positively quaint.
Quite possibly the largest entertainment store in the whole of US, the shop occupies an entire city block on Sunset Blvd. In motorists terms, there's a back parking lot, an underground parking garage and street parking, and even then parking can be tough.
The shop stocks millions of titles on vinyl, CD, tapes, 8-track and DVD, new and used, obscure and essential, and the stockpile is constantly evolving as customers trade in old collections. Spread across two ludicrously large floors, must-visit areas include the Jazz room, the Out of Print section, the Punk aisle and sections dedicated to pop culture ephemera.
The Amoeba Music chain was originally established in 1990 with a branch in Berkley. Seven years later Amoeba crossed the Bay to open its San Francisco location, in a converted bowling alley at the eastern edge of Golden Gate Park. These shops are also well worth a visit next time you're in Berkley or San Fran.