Published on
June 27, 2014
Category
Features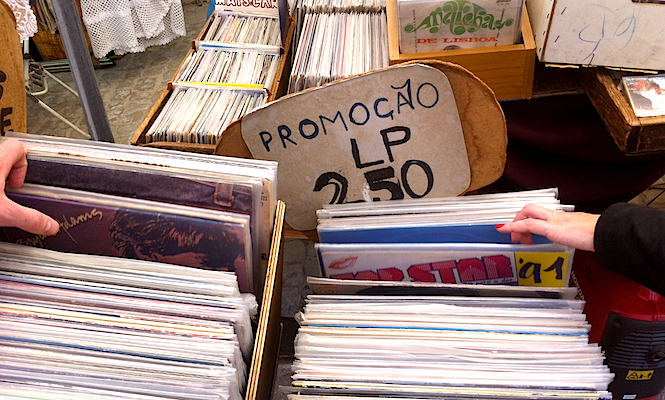 The Vinyl Factory went record shopping in Lisbon only to discover that like the most rewarding finds, the city's best record shops seem to be the ones you didn't know you were looking for.
---
"I thought yeah, I have a label, I feel that the label is selling really good [sic], and people are buying vinyl, so why not?" As the co-founder of the city's youngest record shop, Carpet & Snares, João Maria is full of enthusiasm. There's a boyish positivity about the way he pulls out 12"s from the brand new racks to show off his vinyl-only label Assemble Music, a grown man living out an adolescent fantasy in a small glass retail unit on the second floor of a neglected shopping centre.
To a casual visitor like myself making only his a second trip to the city, just locating Carpet & Snares seems to represent a lot of what record shopping is all about and, like buying the records themselves, the best spots seemed to be the ones I didn't know I was looking for.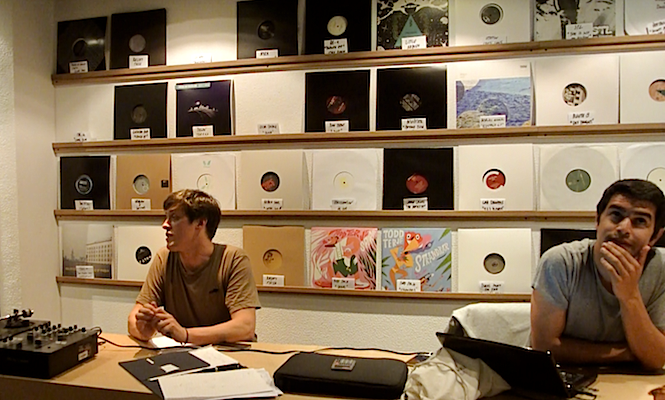 Carpet & Snares (Espaço Chiado, Rua da Misericordia 12-20, Piso S/L, Lisbon) is one of two record shops sequestered deep within the Espaço Chiado shopping centre, an architectural paradox that is both gleaming and gloomy, like a camp Portuguese rebuild of the Stanley Hotel with added brass, so utterly bereft of life they've barely bothered to turn on the lights. As João laments, most people don't realise the building is even open.
Perched at the top of the first escalator, Carpet & Snares is all about house and techno, a shop that in João's words is "working for a group of people" rather than "for everyone". The wall of vinyl behind the counter is stacked with new 12"s from the UK, US and beyond for local DJs servicing a scene that seems to be going from strength to strength.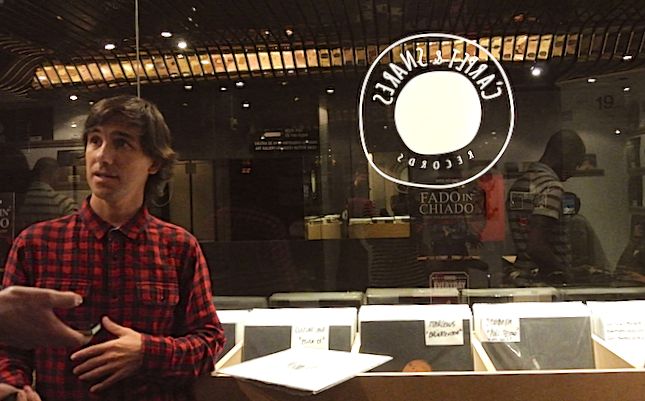 And yet, Carpet & Snares was not the shop that I was looking for. The Espaço must be the only shopping centre in the world where record stores outnumber all the other retailers. A second hand haven (also in a glass box), Sound Club (Espaço Chiado, Rua da Misericordia 14, 1200 Lisbon) is more of an old school joint and is split across two floors, the first crammed wall to wall with second hand goodies from the full spectrum – disco to jazz to prog – the second a floor up serving a more traditional Portuguese fair, where you'll find Fado classics from the likes of Amalia Rodrigues in abundance.
From a personal perspective, there was unfinished business to take care of at Sound Club. Back in 2011, doing my best to look after my bank balance and the stingy Ryanair hand-baggage weight limit, I left a good quality copy of Billy Paul's When the Love Is New featuring the fiscal soul jam 'Let the Dollar Circulate' (famously sampled by Dilla) lying. By no means a rare record, but still one that raises a smile when pulled out unexpectedly. Needless to say, this time round, it was no longer there. Dedicate the time to explore its well curated selection and Sound Club could eat the whole afternoon.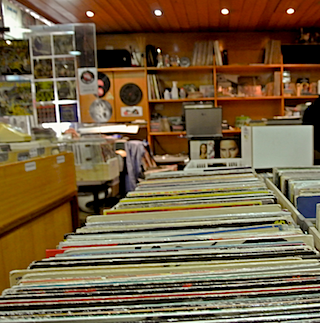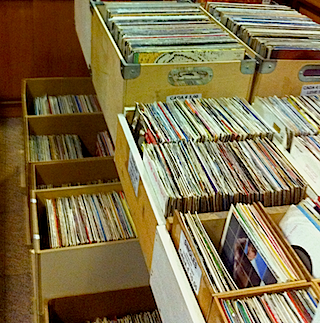 Like its smattering of record shops, Lisbon is a city that all but demands exploration. There's something irresistibly inviting about the beautiful chaos of its medieval alleys, perilous staircases and secluded praças, and with a map that looks like someone's taken an iron to a ball of string, even the most meticulously planned routes tend to, for the uninitiated at least, end in wild detours.
Muddling down through the medieval district of Alfama in the east of the city, you might eventually come across Flur, an outlier in location alone and go to for the city's DJ's and collectors alike. Down on the riverfront, Flur is a detour with a destination, a breezy corridor of a shop that couldn't feel more unique.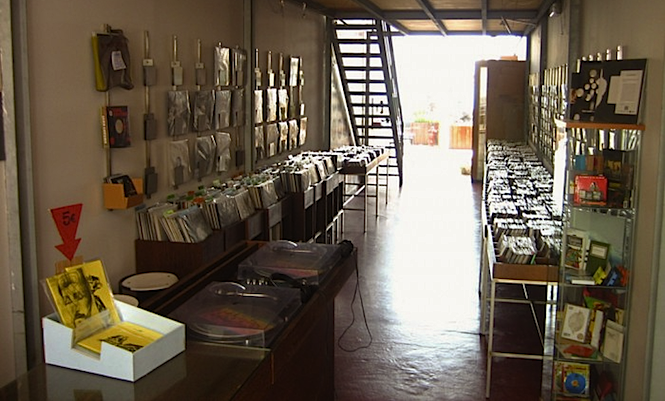 Flur (Avenida Infante D. Henrique, Armazém B4 Cais da Pedra – Santa Apolónia, 1900 Lisbon) is probably the only record shop I've ever been to that practically opens out onto the water, where it has been for thirteen years, constantly refining a collection that spans the full gamut of coveted genres. In a recent(ish) interview, founder José Moura exhaustively listed "pop, rock, noise, electronica, jazz, drone, experimental, krautrock, house, techno, disco, boogie, italo, hip hop, dub, reggae, funk, soul, library, dubstep, UK funky, country, film music, African and latin styles, ambient, improvised and others I'm sure I'm forgetting right now" among its relatively modest selection. It's a curated eclecticism reflected in the five records I ended up leaving with on my first visit in 2011 – French jazz arranger Jef Gilson's Jazzman retrospective, Make It Fast, Make It Slow by enigmatic Ghanaian artist, the mighty ROB, a Juk Juk 12" on Four Tet's Text records, comedian Richard Pryor's 1976 stand up Bicentennial Nigger and the Kevin Keagan 'England' 7" which I was more than happy to part with €1 for, based on the cover alone.
A stone's throw from Lux – one of the city's most widely recognised and respected clubs – Flur is by all accounts a cornerstone for locals and visitors alike. And yet, while you'd do well to stumble across this one by accident, it remains strangely enigmatic, left off what you'd be forgiven for thinking was a comprehensive guide to the city's record shops over at lisbonrecordshops.com. Even with this resource in tow, Lisbon is a city that makes you work for your rewards.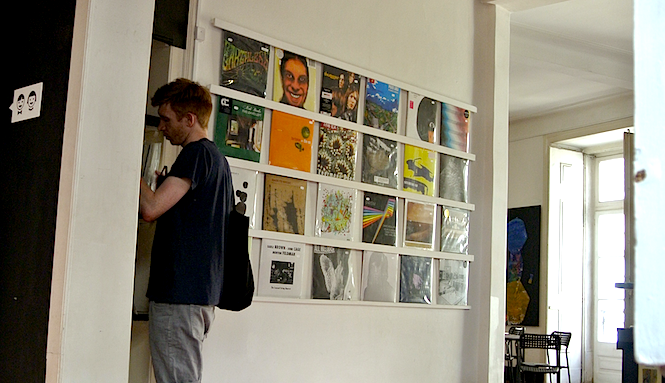 Another that hasn't made the list is Trem Azul – or Blue Train – recommended in retrospect by João at Carpet & Snares for its impressive and uncompromising jazz selection. I say in retrospect, for I happened upon Trem Azul (Rua Alecrim 21A, 1200-014 Lisbon) almost by accident, set back and embedded beneath the pavement as the Rue Alecrim climbs steeply from Cais do Sodré towards the Largo de Camões in the centre of the city.
Half record store, half exhibition and event space (comparisons with Cafe Oto come to mind) where the counter doubles as a bar, on a regular afternoon, Trem Azul feels more like a hidden gem than a hub of activity. Split between a demanding selection of avant garde jazz CDs, new & freshly reissued vinyl and a small second hand section, it has an intellectual, yet welcoming air and is one of the few places enlightened enough to sell Aphex Twin alongside Matana Roberts and Jackson C. Frank next to label's like Flying Dutchman.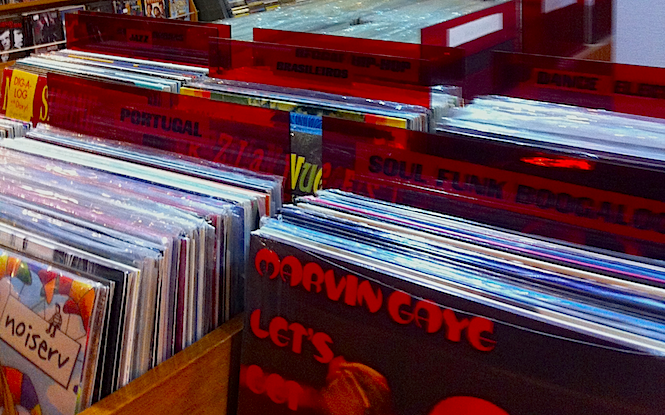 The last of João's recommendations was Louie Louie, a lovely shop servicing both new and second hand buyers that I'd visited in 2011 (and from which I'd taken home a beautiful Caetano Veloso and Chico Buarque live LP), but had, unsurprisingly, been unable to locate again this time round. Heaven forbid, a record store with a shopfront on a normal street, Louie Louie had, as João explained, moved locations, opening up again in 2013 in a large basement with a coffee shop, half way up a secluded pedestrian staircase in downtown Chiado.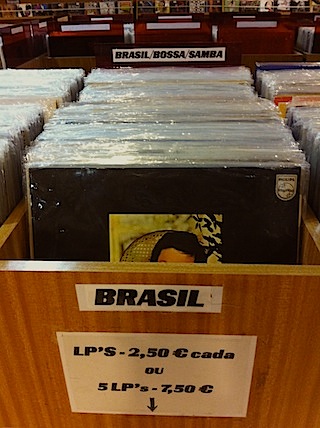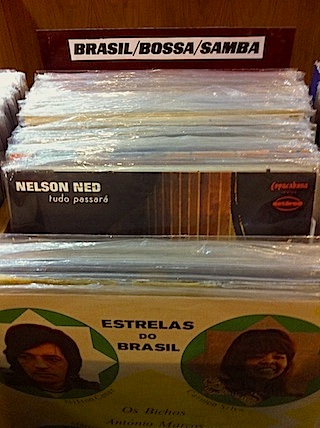 One of the city's most popular record stores, Louie Louie (Escadinhas do Sto. Espírito da Pedreira, 1200-290 Lisbon) stocks a range of new and second hand vinyl, as well as CDs and has a brilliantly unpretentious atmosphere that takes its lead from the approachable, engaged staff. That said, what did it for me at Louie Louie was the selection of Brazilian music – so prevalent across Lisbon, and one of the great pleasures of shopping in the city.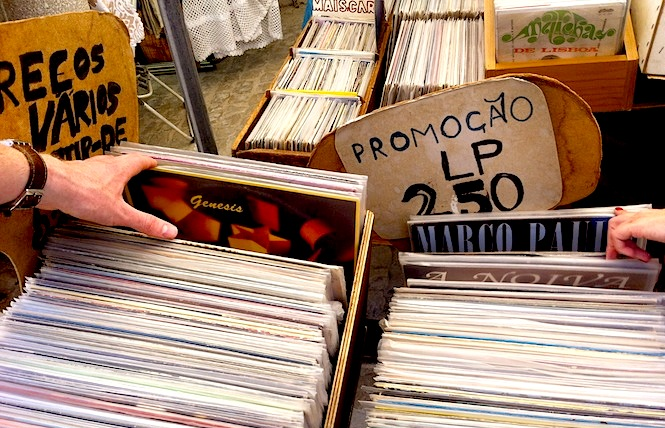 For the even more committed, the sprawling Saturday flea market at Feira Da Ladra (Campo de Santa Clara) in Alafama is another must, with boxes of records scattered among the domestic knick-knackery as well as several more dedicated stalls, where you can nab Gilberto Gil and Milton Nascimento originals for next to nothing and watch grown men squabble over the prices of Roberto Carlos records til the sun goes down.