Published on
July 10, 2014
Category
Features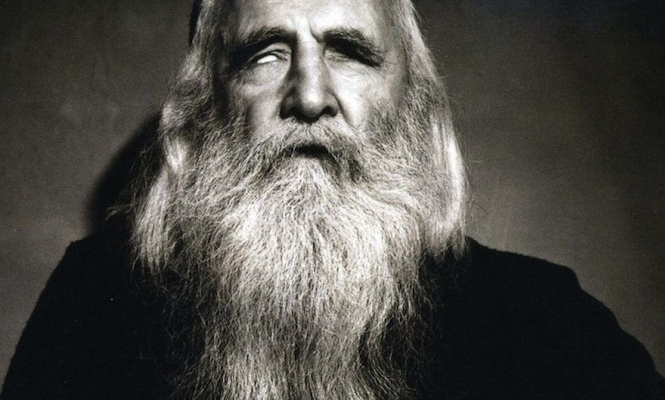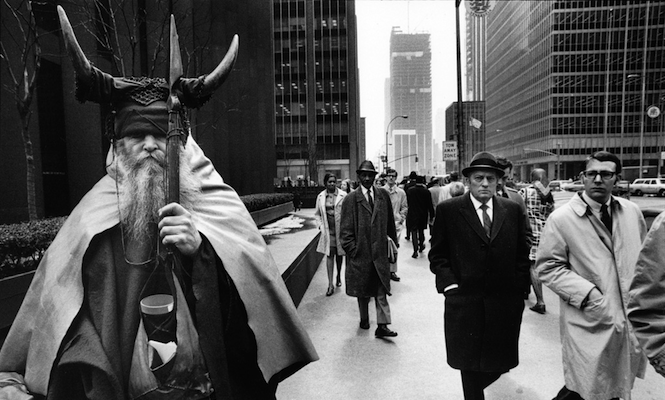 For over 30 years he stood, in viking garb, on the corner of Manhattan's 6th Avenue and 54th street. A totemic guardian planted firmly in the midtown throng, he kept a blind watch over the many vices of the big smoke, selling poetry and playing home-made instruments. Surrounded by high profile admirers he released countless records and starred in feature films. He was Moondog, the most unique artist of his generation. Now, with a landmark documentary on his life receiving unprecedented support on Kickstarter, we profile the extraordinary story of Moondog through his ten most important records.
---
Words: Chris May
---
Moondog was the ultimate outsider of 20th century music. Championed by an assortment of stars including Frank Zappa, Igor Stravinsky, Charlie Parker, Janis Joplin, Arturo Toscanini, Benny Goodman, Philip Glass, Lester Young and Woody Herman, he chose to work as a street busker for most of his life, and his five decades as a recording artist were mainly spent on tiny independent labels. Born Louis Thomas Hardin in Kansas in 1916, he was blinded in a farm accident aged 16 and was largely self-taught as a musician. He adopted the name Moondog and his Viking dress style after moving to New York in 1943. Moondog's life in music was sparked by the Native American dance ceremonies which his father took him to as a child, and echoes of Native American drumming are often heard in his recordings. Sometimes called the founder of minimalism, Moondog rejected all labels and said he just played "Moondog music."
---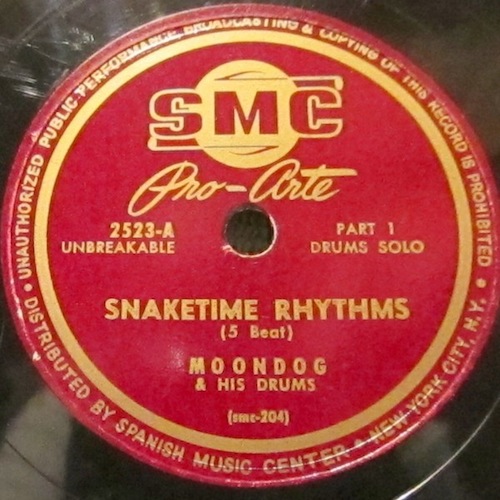 Moondog & His Drums
Snaketime Rhythms Part 1 (5 Beat) / Part 2 (7 Beat)
(SMC Pro-Arte, 1949, 78rpm single)
Moondog lived in New York until 1974, when he relocated to Germany. He slept rough in midtown Manhattan for the first few months, until an acquaintance offered him the back room of a shop to live in. Out busking, Moondog was frequently asked to move on, but Gabriel Oller, the owner of the Spanish Music Center record store near Moondog's favourite pitch, heard something special in his music and recorded him for his SMC Pro-Arte label. "Snaketime Rhythms" was Moondog's first release. Unable to find, or perhaps to afford, accompanists, he devised a basic overdubbing technique using two tape recorders. Self-overdubbing remained at the core of his recordings.
Listen HERE.
---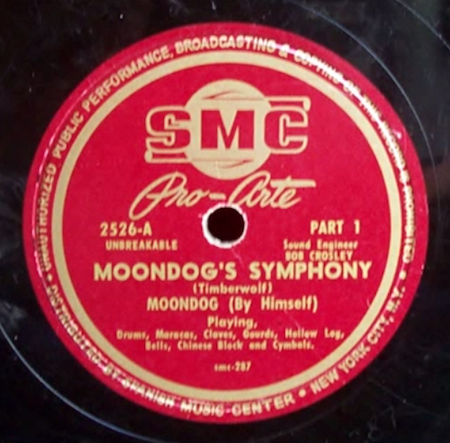 Moondog (By Himself)
Moondog's Symphony Part 1 (Timberwolf) / Part 2 (Sagebrush)
(SMC Pro-Arte, 1950, 78rpm single)
Like 'Snaketime Rhythms', Moondog's second single sold only a few hundred copies, but one of them found its way to the high-profile rock'n'roll deejay Alan Freed. In 1954, Freed titled his New York radio show The Moondog Rock & Roll Matinee and used 'Moondog's Symphony' as one of the programme's idents. Moondog took Freed to the New York State Supreme Court, where Toscanini appeared on his behalf, testifying to his seriousness as a composer. Stravinsky also supported him. Freed was told to stop calling himself Moondog on air.
Listen HERE.
---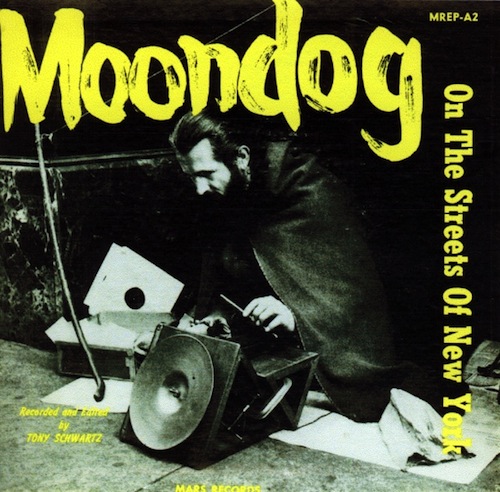 Moondog
On The Streets Of New York
(Mars, 1953, EP)
The Spanish Music Center was close to 52nd Street – in the early 1950s the epicentre of the jazz world – and Moondog met and was befriended by many jazz musicians. One was Woody Herman, for whose Mars label Moondog made this eight-track EP. It was recorded by Tony Schwartz, an urban folklorist who worked the streets with a portable tape recorder. Ambient sounds such as ambulance sirens and foghorns from ships on the Hudson weave in and out of the tracks, as they do on many other Moondog recordings. The cover shows a few of the instruments Moondog invented, notably the trimba, a combination drum, cymbal, clave and maraca.
Listen HERE.
---
Moondog & His Honking Geese
Playing Moondog's Music
(Moondog, 1955, EP)
In the mid 1950s, unable to interest record companies in his music, Moondog briefly operated his own label. This four-track EP is – despite the attribution to the Honking Geese – a Moondog-only affair, as are almost all Moondog's recordings. Interestingly, but probably coincidentally, the arrangements of 'Bumbo' and 'Rabbit Hop' are precursors of a style developed by fellow-outsider Sun Ra following his own arrival in New York six years later.
Listen HERE.
---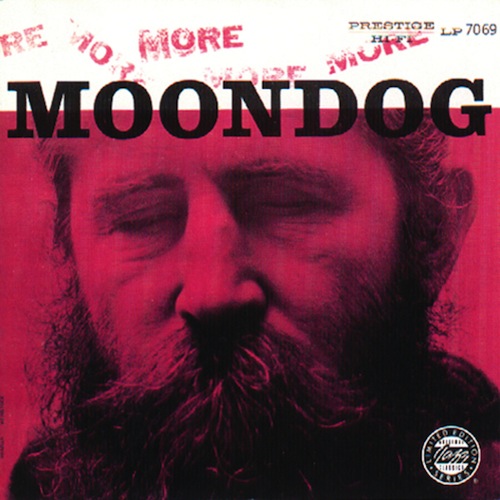 Moondog
More Moondog
(Prestige, 1956, LP)
In 1956 and 1957, Moondog recorded three albums for the Prestige label, then second only to Blue Note in importance on the US jazz scene. The association introduced Moondog to a new, progressively-inclined audience. More Moondog has been acknowledged by Philip Glass as an early influence on both himself and co-minimalist pioneer Steve Reich when the pair were studying composition at New York's Juilliard School. Another celebrity endorsement came from the late Frank Zappa, who said that the track 'Autumn' inspired him to form the Mothers of Invention in the mid 1960s.
Listen HERE.
---
Moondog wih Julie Andrews & Martyn Green
Songs of Sense and Nonsense: Tell It Again
(Angel, 1957, LP)
A collection of songs and stories for children, set to music by Moondog and featuring an unlikely partnership with the British actors and singers Martyn Green and Julie Andrews, who was riding high on her Broadway success in My Fair Lady. It would be Moondog's last new release for 10 years. His profile grew in the late 1960s, when he was lauded by leading members of the counterculture, among them Janis Joplin, who covered 'All Is Loneliness (from More Moondog) on Big Brother & The Holding Company's 1967 Columbia debut album.
Listen HERE.
---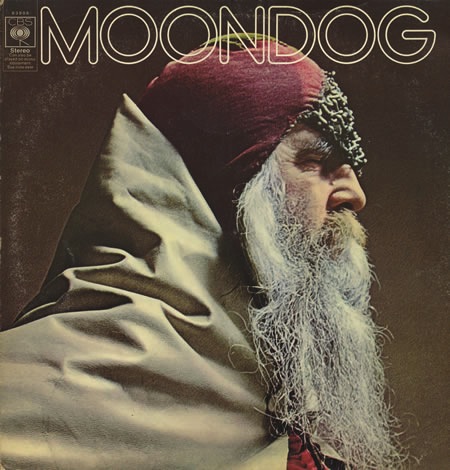 Moondog
Moondog
(Columbia, 1969, LP)
Major label breakthrough (don't blink or you'll miss it)! Moondog's spell with Columbia, then America's most prestigious jazz and classical label, began here. Joplin's lobbying opened the door. The album was produced by James William Guercio, a former Mother of Invention and producer of Columbia artists Blood, Sweat & Tears and Chicago. A modest commercial success, and an unqualified artistic triumph, the disc featured Moondog fronting a 40-piece orchestra. The best known track is 'Bird's Lament', written in memory of Charlie Parker, with whom Moondog was scheduled to record before Parker died in 1955. The perfect album with which to start a Moondog habit.
Listen HERE.
---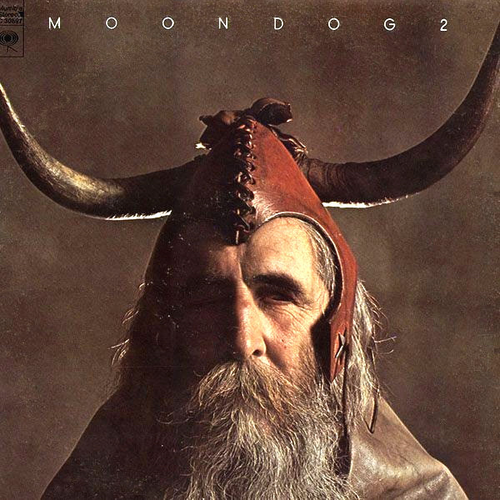 Moondog
Moondog 2
(Columbia, 1971, LP)
In true outlier style, Moondog celebrated his signing to Columbia by moving his busking pitch to the pavement opposite the label's opulent headquarters on Madison Avenue. The often overlooked Moondog 2, his second and last Columbia album, was also produced by Guercio, but this time Moondog fronts a small, acoustic band. The album includes a new version of the Joplin-boosted 'All Is Loneliness'.
Listen HERE.
---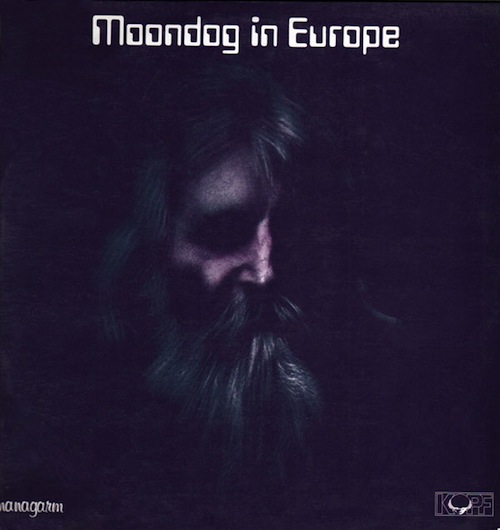 Moondog
In Europe
(Kopf, 1977, LP)
Moondog settled in Germany following radio performances he made in Frankfurt in 1974, and remained in the country until his death in 1999. The story behind his relocation is appropriately serendipitous. Hitchhiking out of Frankfurt in late December in full Viking gear, Moondog was picked up by a young archaeology student, Ilona Goebel, who invited him to spend Christmas with her family. Within a few days, Moondog had been adopted by the household and the holiday stop-over turned into a 25-year residence.
Listen HERE.
---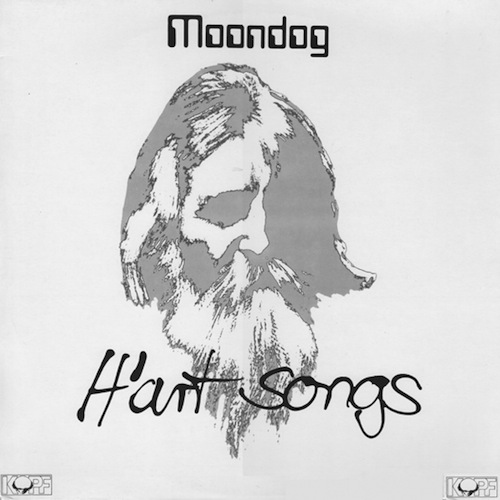 Moondog
H'art Songs
(Kopf, 1979, LP)
In Germany, Moondog dropped his Viking persona and adopted a more conventional appearance. His music, however, continued to be resolutely out there, and H'art Songs – which contains the wonderful 'Enough About Human Rights!' – is among his finest recordings. He returned to New York briefly in 1989, for a New Music America Festival tribute at which Philip Glass had invited him to conduct the Brooklyn Philharmonic Chamber Orchestra. Back in Germany, Moondog continued to record, releasing his final CD in 1996. The current Moondog revival can be traced back to 1998, when his music was used in the Coen brothers movie The Big Lebowski.
Listen HERE.
---
Find out more about the Moondog film The Viking of 6th Avenue here.