Published on
March 23, 2016
Category
Features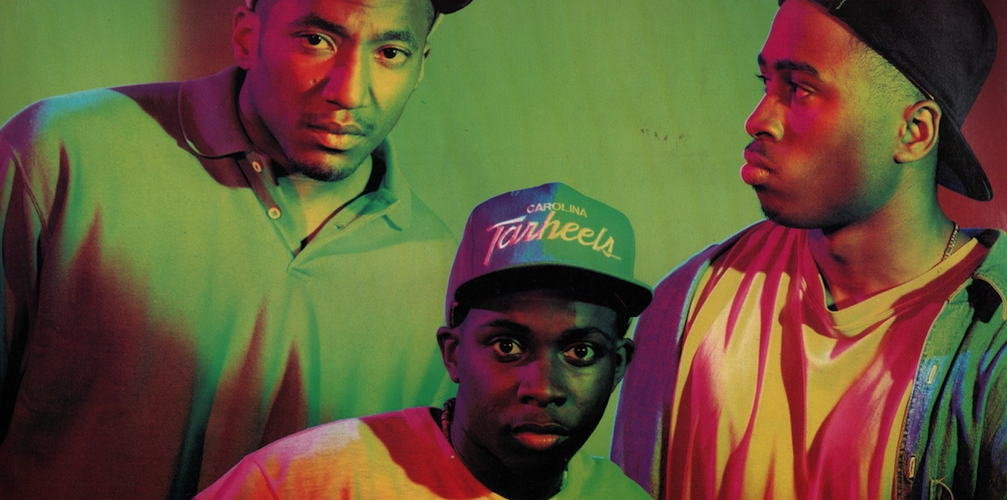 When Rob Butler was first given a copy of Midnight Marauders he played it every single day for 18 months. The Be With Records boss pays tribute to the funky diabetic through 10 unforgettable lyrical turns.
---
Words: Rob Butler
---
They say never meet your heroes. Like most clichés, it's well-worn for good reason. But in a sun-soaked park in East London on a balmy July evening just three years ago, a diminutive genius gave the lie to this otherwise universal truth.
After a perfect summer Sunday watching our favourite group for only the second (and now, evidently, final) time, myself and fellow hip hop fanatic Alastair Bird (my oldest friend, going back to 1988) met legendary rapper and lifelong hero Malik 'Phife Dawg' Taylor. We'd gone to Wireless Festival not for Nas or Jay Z (who we both admire, of course) but purely to see Tribe. After they'd finished performing in the haze of that late afternoon magic hour, we sneaked backstage, illicitly scoring wristbands for all the different areas with the sole intention of getting close to Tribe. Following numerous close calls with security, we made it to the heart of the action.
We found the Tribe trailer. It was empty, but the light was on. Within seconds, we spotted a couple of cheery women in their 60s nearby. Adorned in Tribe apparel and sat relaxing in lawn chairs, they were clearly amused by the revelry around them. One of the women had more than a passing resemblance to Phife. It had to be his mum.
We bounded over and started chatting with Cheryl. She had come all the way from the States to accompany Phife and proudly watch her son rap to thousands of adoring fans. She was so warm and genuinely hilarious (much like her son) and it breaks my heart to think what she must be going through now, along with the whole Taylor clan. Here's a touching clip of the two of them, proving just how close they were.
We asked Cheryl where Phife, Tip and Ali were. Only Phife was still around. He soon emerged, generously chatted shit with us for longer than he needed to and posed for some pictures that demonstrate just how excited we were to meet him. He was so humble and cool. It made our summer.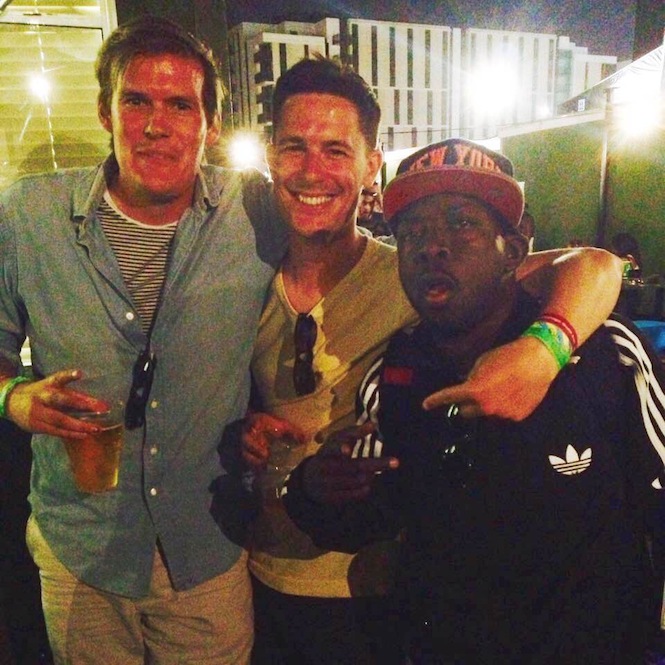 Alastair, Rob and Phife
"You'd be a fool to reply that Phife is not the man"
Like most kids in early '90s Britain, my introduction to Phife Dawg came via the ubiquitous 'Can I Kick It', with my older brothers playing records from the whole Native Tongues collective throughout that time. But I was still very young when they first emerged. It wasn't until my brother Rick gave me a copy of Midnight Marauders in 1997 that they became my instant favourites. I played that record everyday for 18 months. It remains my favourite ever LP.
They spilt up when I was 16 so, naturally, I never thought I'd get a chance to see them live. But, miraculously, they put well-documented personal differences aside and performed at Rock The Bells in LA in November 2004 – the day Ol' Dirty died (tragic news announced to the gathered crowd by Q-Tip, no less). Madlib and J Dilla were there, performing Champion Sound. It was great. How could it not be? But again, Birdie and I were there only for Tribe. I happened to be in California studying that year and as soon as the show was announced I implored my old friend to fly over for it. Incredibly, he did. We still get goosebumps to this day reminiscing about that performance in the car park of the Anaheim Angels baseball stadium.
"Bust off on your couch, now you got Seaman's Furniture"
For all Phife's fantastically salacious lyrics, the overwhelming portrayal was that of the fiercely loyal everyman. Check Beats, Rhymes And Life: The Travels Of A Tribe Called Quest, Michael Rappaport's acclaimed documentary, for many heart-warming scenes with his tight family and moving footage of his chronic struggles and health problems. He's the only serious MC that could get away with using words like 'tidbit' and 'smidgin' – in the very same sentence, no less – and, in stark contrast to Q-Tip's effortless playboy celebrity, Phife was ever the underdawg.
Despite Tip possessing an ability more refined than his partner, it is Phife who is routinely nominated by Tribe acolytes as the favourite. For most rap fans, perhaps drawn to the genre for its championing of the oppressed, Phife's scene-stealing couplets and perennial upstart status will forever remain irresistible and eminently relatable.
When a tragedy like this occurs in the music world – whether the victim is an industry veteran or, as in this case, they are taken so young – one of the few positives that often arises is the introduction of said artist to a whole new world of predisposed listeners.
I'm still in shock, so it's been a real struggle to put into words how much this rapper meant to me. But, hopefully, a listen to these important Tribe tracks can hearten those feeling as empty as me today and spark a fresh love of Phife for all newcomers to his unique way with words. This is truly devastating news for the whole hip hop community. Please, be sure to play some Phife today. Tell your nearest and dearest all about your love for him. Tell your mother. Tell your father. Send a telegram.
---
"Strictly hardcore tracks, not a new jack swing"
Here are ten unforgettable lyrical turns from Phife – all within the Tribe unit. Yes, there were some promising solo moments post-Tribe, but it's the crucial role in this group that will be the legacy of the man like Mutty Ranks.
---
'Buggin' Out'
From Low End Theory
(Jive, 1991)
They often seemed to start their shows with this and if you don't get a little bit hyped by Phife coming straight out the gate with Yo, microphone check one two what is this / The five foot assassin with the ruffneck business then you might be in the wrong place.
---
'Butter'
From Low End Theory
(Jive, 1991)
Known principally as a peerless – and comic – battle rhymer, Phife could also write compelling narratives that held your attention for the duration of a track. No mean feat for a lot of MCs, let's face it.
---
'Check The Rhime'
From Low End Theory
(Jive, 1991)
For the effortless interplay of the greatest rhyming duo in rap history, doing it in the greatest hip-hop song of all time.
---
'Scenario'
From Low End Theory
(Jive, 1991)
Phife enjoyed the great honour of being 'first up to bat' in a lot of Tribe records, energetically laying the groundwork for the undoubtedly smoother, more dextrous Tip. Often coming across as a little tetchy, he spoke of how he'd "had it up to here" (but this wasn't very high – he was a mere 5' 3")
---
'Stir It Up'
From Midnight Marauders
(Jive, 1993)
Yep, first up to bat in the first song on Midnight Marauders. Unforgettable: When the mic is in my hand, I'm never hesitant / My favourite jam back in the day was Eric B. for President. Not to mention that lines like Height of Mugsy Bogues, complexion of a hockey puck perfectly demonstrate his self-deprecating sense of humour.
---


'8 Million Stories'
From Midnight Marauders
(Jive, 1993)
A real quiet masterpiece on the rap LP to best them all. Hilarious and not a little haunting, too.
---
'Electric Relaxation'
From Midnight Marauders
(Jive, 1993)
The immortal line I like 'em brown, yellow, Puerto Rican or Haitian was an instant hip hop quotable from a man who simply oozed memorable lyrics.
---
'Oh My God'
From Midnight Marauders
(Jive, 1993)
And here's a few more: I like my beats hard like two day old shit and Mr. energetic, who me sound pathetic / when's the last time you heard a funky diabetic?
---
'1nce Again'
From Beats, Rhymes And Life
(Jive, 1996)
Not the best representation of Phife, this LP, but this single rightly got a lot of play, ably displaying his enviable flow.
---
'Find A Way'
From The Love Movement
(Jive, 1998)
Wonderful sign-off single from an LP unfairly scorned at the time and now stands up to the test of time in the post-Dilla landscape. Again, the slick combination of Phife and Tip really carry the track beyond the neck-snapping beat.