Published on
September 20, 2013
Category
Features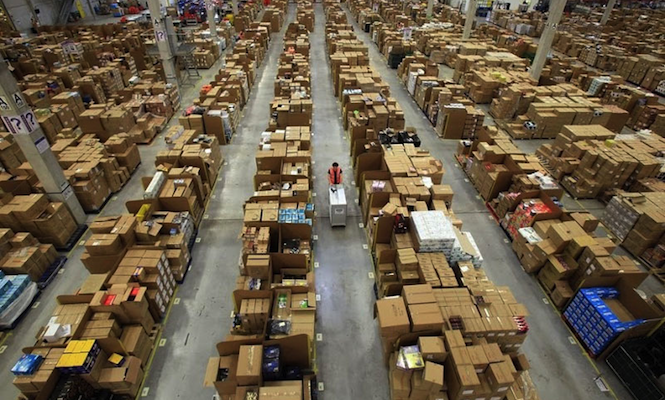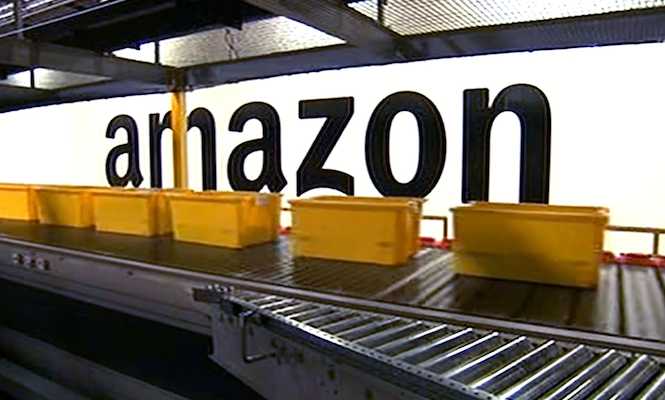 We asked four representatives of the independent music industry for their view on Amazon's growing stake in the vinyl market. Is history repeating itself?
It's been another strong week for Amazon. First they announce a 100% rise in vinyl sales on last year from their UK outpost Amazon.co.uk, then they unleash the headline-grabbing stat that US sales of physical records are up 745% since 2008. And yet, perhaps the greatest success of the last seven days has been cosmetic rather than economic – Amazon's gains are being celebrated as positive for the music industry at large.
There are a few things to remember at this point: As the omnipotent retailer in the Western world, it's no surprise that Amazon's vinyl sales correspond to a similar trend registered by independents in the last 12 months. Furthermore, comparing Amazon's 2013 vinyl top 20 with that registered by the UK's independent record stores, there's a pretty distinct split between major and indie label releases. Since Amazon refuse to publish details of units sold, you could argue that their share of the vinyl market was previously so small any increase will be relative.
But, as regular as night follows day, eye-catching stats tend to be followed by a period of hyperbole and extrapolation. The boom in Amazon's "fastest growing medium" has not only touted as good news for the music industry but capable of saving it completely. What is most disturbing about this assumption is the conflation of Amazon's sales figures – that of a single company – with the future of the industry as a whole.
And we've been here before. While the price war on the high street in the 90's forced many smaller UK retailers out of business, the fatal blow was dealt the following decade by a tax loophole called Low Value Consignment Relief, which annulled the VAT on any product worth less than £18 if it was shipped from the Channel Islands. Alongside supermarkets selling CDs as checkout loss-leaders, Amazon's Channel Islands operation suffocated the market and, unable to compete on price, selection or distribution, hundreds of record shops were forced to close.
Since then, the surviving few – like their all-but extinct cousins in book retail – have been forced to operate in the gaps Amazon has yet to fill, the most significant of which has been vinyl; a format which has been directly responsible for a change of fortunes. As Graham Jones, author of Last Shop Standing notes: "Vinyl has saved many record shops and it is the reason that since 2009 more independent record shops have opened in the UK than closed."
However, the stats this week comes as a direct result of what appears to be a more concerted move by Amazon to try and fill that gap in their portfolio. Introduced in the US in April and the UK in June, the monolithic retailer points to its AutoRip service, which automatically gives customers of physical formats a digital copy, as responsible for vinyl's increased popularity. Auto-Rip enabled releases sell at a 62% higher volume and have helped to push their overall vinyl sales up 66% since the initiative was launched. Look closely and Amazon's strides in the vinyl market seem a more like strategy than circumstance.
In an attempt to cut through the incessant cooing that surrounds every "vinyl is back" stat, we canvassed opinion from across the independent retail industry to take stock of Amazon's latest move. Giving an insight into what is really going on are Phil Barton and Philippa Jarman of London's Sister Ray Records and Manchester's Piccadilly Records respectively, Dan Hill of independent distributor Above Board Distribution and Graham Jones, author of Last Shop Standing the accompanying documentary of which was the official film at this year's Record Store Day.
---
The back story – Amazon has previous
---
Graham Jones, Last Shop Standing: It was not Amazon who caused the decline of record shops; the main reason was the Government's failure to act on LVCR (Low Value Consignment Relief). This tax loophole allowed companies to set up operations in the Channel Islands and ship goods with a value of less than £18 into the UK without paying VAT. Play.com were the first to recognize this and it wasn't long before Amazon, Tesco and a whole host of high street names had set up operations there.
Record stores were having a torrid time as internet retailers based in the Channel Islands had a huge unfair advantage. The Labour government stood back and did nothing despite intensive lobbying from high street businesses. In April 2012 the government closed the loophole. It was better late than never but hundreds of record shops had closed during this period. Within a day prices had gone up on the internet as everybody was now paying VAT. Within 3 months all the major players who had taken advantage of LVCR had left the Channel Islands and closed their operations down. The only exception was Play.com who are a Channel Islands based company.
Philippa Jarman, Piccadilly Records: Piccadilly Records was squeezed out of the high street a long time ago during a price-cutting war between HMV and Virgin in the early 1990s, so I feel like we've been here before. We restructured our business at the time, moving away from the mainstream market, and have seen sales rise because of this.
Phil Barton, Sister Ray: We used Amazon as a selling platform until very recently. Their fee structure changed and the amount of p+p cost you get is laughable. We have withdrawn 95% of our vinyl stock as it makes no sense to sell at a reduced margin. Amazon are the unstoppable force not competition. If we tried to compete we would be bankrupt within a year. We plough our own furrow and if people like what we do and what we represent then they come back.
---
Good News for Amazon, bad new for everyone else?
---
Philippa Jarman: We are in competition with Amazon, so any sales that take away from us isn't good, but we just keep focusing on what we're good at – friendly, knowledgeable, enthusiastic physical shop and website.
Dan Hill, Above Board Distribution: We only, to be honest, work with Amazon on bigger album projects such as Rudimental or the Hot Natured album. They do take big numbers on these mainstream titles but they don't take any small independent label music on wax so they don't effect us and what we do on a week by week basis. But it's good for sure when they come in as it means an extra level of sales to people who wouldn't go into a record shop.
Phil Barton: The remaining shops are the ones that were tough enough to survive. There is room for this bunch of 300 stores to live alongside Amazon as long as the record companies who produce vinyl don't start pressing exclusives for them. History unfortunately has already proved that record company accountants and sales depts will sell their own souls for short term gain. I'm hoping that vinyl remains niche enough for them to consider it a nice bonus and not a guaranteed revenue stream.
Graham Jones: The fact that Amazon's vinyl sales have increased by 745% over the last 5 years is not the gloomy statistic many record shop supporters would think. The more that Amazon sells the more vinyl product record companies will release. A percentage of vinyl fans are reluctant to buy vinyl over the internet because of it being posted and the potential for it to be damaged during shipping. Music fans like to see the vinyl and it is the independent record shop where many will go to buy from. Amazon do not take part in Record Store Day so their is going to be around 500 vinyl releases only available in record shops in April 2014.
---
After the CD, a case of history repeating itself?
---
Philippa Jarman: Obviously there is a possibility of this, and I would worry if we were a smaller shop. However, I think there is definitely room in the market for a shop like ours. While our online sales have increased slightly over the past 2 – 3 years, it's the sales in our actual shop that have gone up most, proving that customers still appreciate the personal touch.
Graham Jones: The music industry has realised that they don't want a monopoly where only one company controls the market, so it is in their interests to support record shops. I am really chuffed at the amount of independent record shop exclusives that are coming out on vinyl. Examples such as if you buy the vinyl from a record shop you get a free 7″ or a download card. The industry needs to do more of that sort of promotion to get people back visiting record shops.
Dan Hill: Well if it grows it's because the vinyl market is growing, not specifically because Amazon have paid more attention to it. They treat music like everything else on their site. It could be a cake cutter, or a children's bike or a vinyl record. It's all just a product or just a line in their system. At least HMV has the pretence that it's still a music / DVD store. Amazon will sell anything and will try and undercut everyone.
Phil Barton: Everything that rises will fall. Amazon will fuck up royally somewhere along the line and we will all march to a different tune. It may not be in my lifetime but my daughter will enjoy dancing on their grave sometime in the future. The only concern being that whatever replaces it will probably be even more ubiquitous, insidious and all pervading. We as consumers give this leviathan its power. We can cut it down, but for the vast majority of consumers it is convenient, easy and most importantly cheap. Multiple entertainment retail is dead thanks to Amazon and supermarkets. I fear that the remaining rump of HMV is lost too. Independents are feeding on the scraps. Good service, good stock, good knowledge and a good shopping experience will enable us to survive.
---
Watch Graham Jones discuss last Shop Standing at this year's Record Store Day here and see which 5 releases Piccadilly Records recommended for our Behind The Counter series earlier this summer here.