Published on
August 21, 2019
Category
Features
One of the most iconic British sound systems of all time, Saxon has made an indelible impact on popular culture over the past forty years. David Katz meets founders Lloyd 'Musclehead' Francis and Denis Rowe to trace its steps from teenage obsession to international soundclash masters.
The training ground for Smiley Culture, Maxi Priest and Tippa Irie, Saxon helped bring British reggae onto Top of the Pops in the mid-1980s, their collective ethos inspiring the 'funki dreds' of Soul II Soul. An unparalleled 'clashing' sound that has battered top-ranking sets in reggae's birthplace, as well as at dancehalls in the Jamaican underbelly of New York, Saxon is probably the only British sound system to appear at Reggae Sunsplash in Jamaica. Chuck D, Wycliffe and KRS-One were all blown-away by Saxon sound tapes back in the day, and the Saxon crew have been long-time sparring partners with David Rodigan. Doing things of their own volition and demolishing stereotypes along the way, Saxon brought incredible kudos to the sound system landscape during a time when British reggae was still deemed second-rate.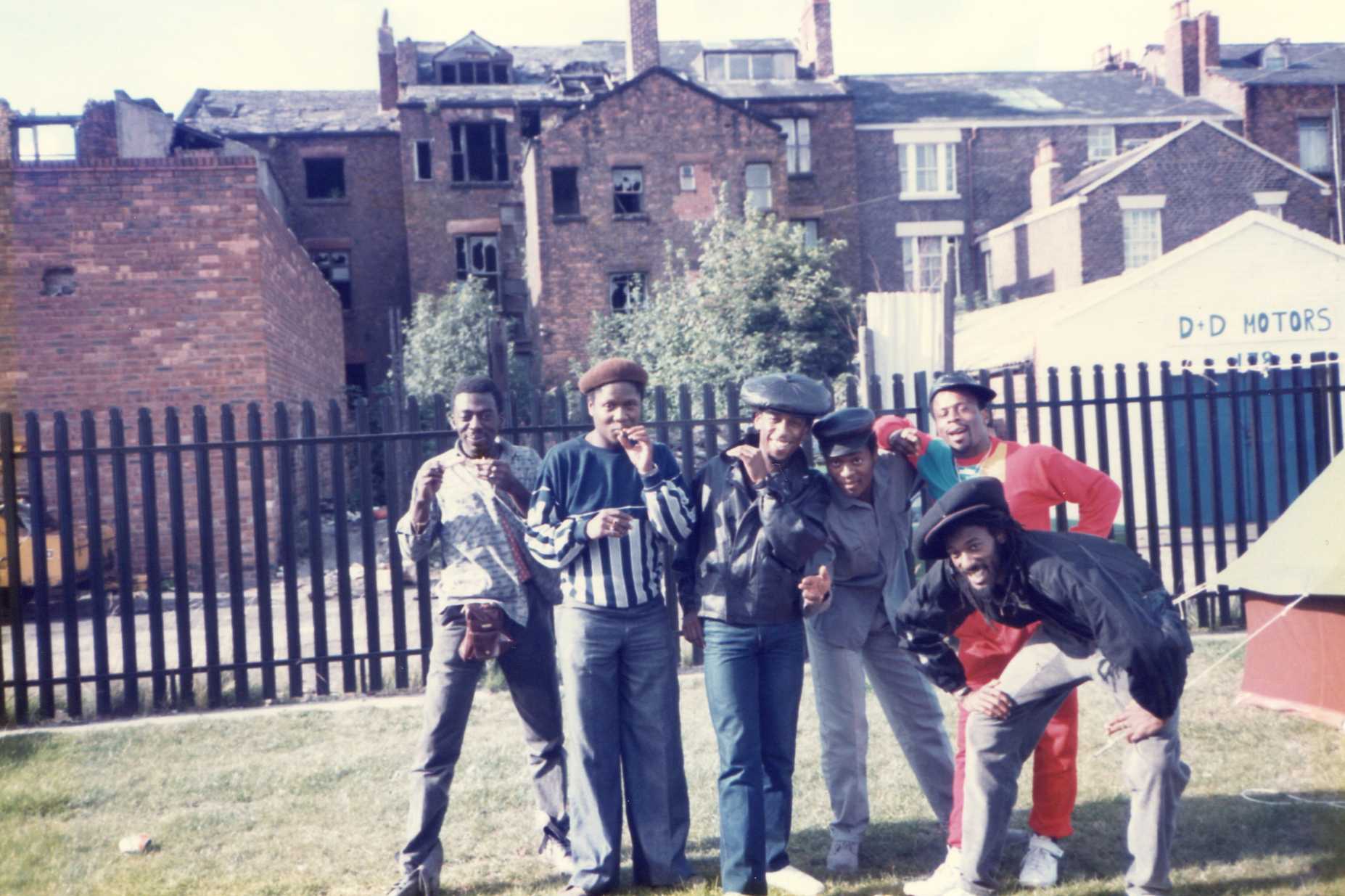 Dennis Rowe, Mikey General, Paul (bassist in Aswad), Papa Levi, Musclehead and Angus AKA Drummy.
"Saxon was like an academy of young talent," says Tippa Irie. "They gathered talent, because the more talent that you had around your sound is the more chance that you're gonna win the dance."
Saxon was formed in the south London borough of Lewisham during the musically rich and socially turbulent 1970s. Co-founders Lloyd 'Musclehead' Francis and Denis Rowe are of the first generation of black British youth to form sound systems in their local neighbourhoods, a natural progression for kids whose parents often threw bottle parties and shebeens at home.
As Musclehead explains, "We used to have a lot of house parties with my mum's friends and what I can remember, we used to have a Blue Spot 'gram what really sounded powerful. So playing records and all that, I inherited that from my mum and close family friends; that's where I started it from."
"When we was like, six or seven years old, Musclehead's mum used to keep parties and they would allow us to play on the Blue Spot," Denis Rowe confirms. "My uncle worked at the very first record pressing plant anywhere in the world [British Homophone], which was off Ilderton Road in New Cross, so most people used to come to my house to get records; them days, people used to press records for Jamaica over here and American music was printed here and sent to America. So I grew up around records, and started to buy records at a young age."
"His mum and my mum was good friends," adds Musclehead. "His dad had a shop in Malpas Road, Brockley, and in the shop they used to keep parties when we was young."
"After that, Musclehead's older brother Arthur had a sound and he used to just come upstairs and play records on his sound system in his bedroom; he would string up a little bit of the sound in the house," Denis continues. "Later, I was living in Forest Hill, Muscle was still living in Brockley and I was round some guys who had a sound called Rockabye. Then me and his brother and another guy called Billy built up a sound, and the first clash we done was as Imperial Rockers, where we clashed with a sound called Atra. We were still at school – we were like, 12, 13, them times there."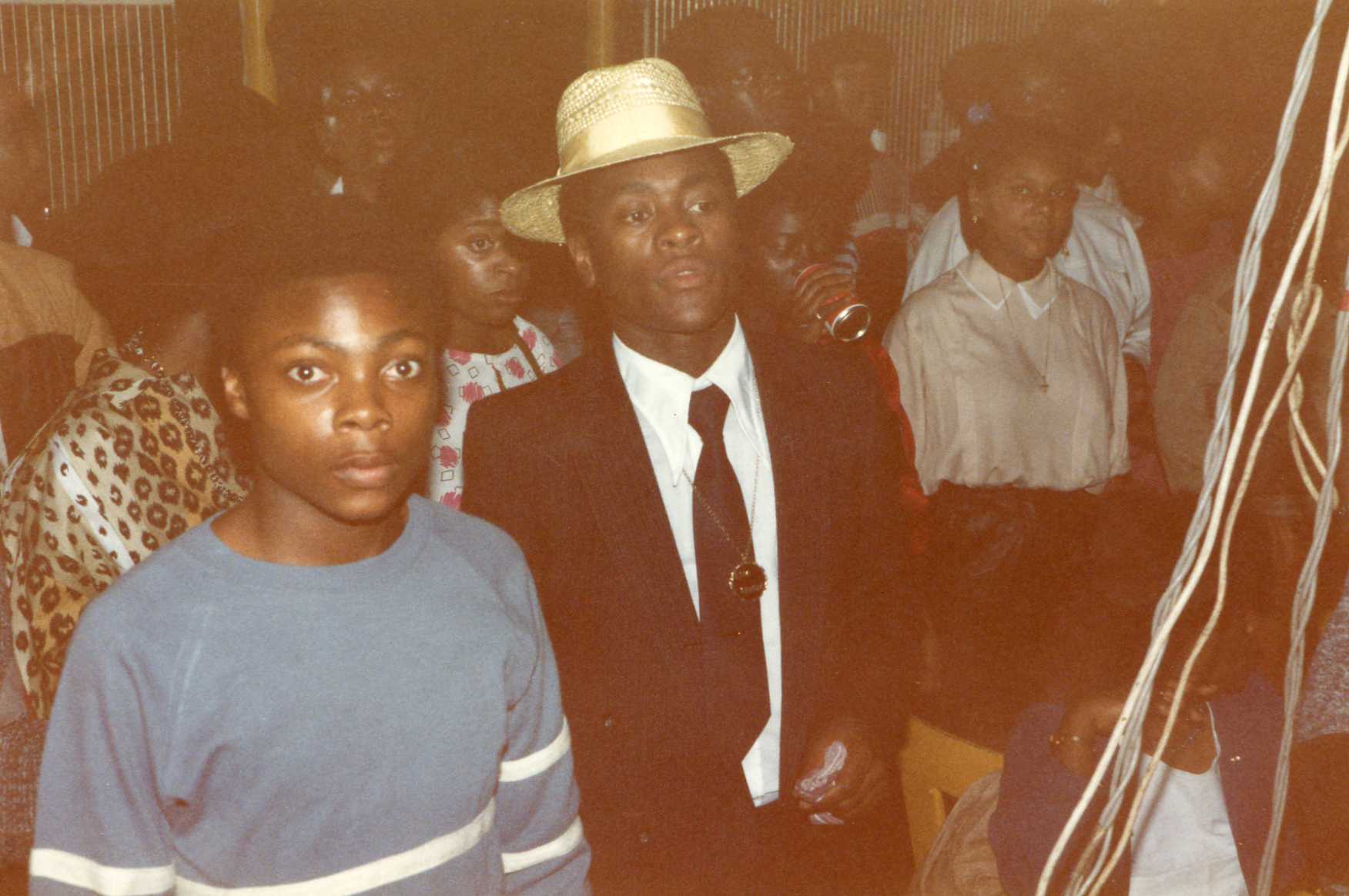 Roy (a follower of Saxon Sound System), with Papa Levi
Within a couple of years, the Imperial Rockers moniker was ditched and Saxon was officially inaugurated in 1976, the name chosen as a challenger to other local sets with historical titles, such as Caesar and Viking. And although Imperial Rockers played mostly roots reggae, Saxon was launched as a lover's rock sound, which follows a certain logic, since so much romantic reggae was being produced at nearby facilities like Eve Studios in Upper Brockley Road, where the term lover's rock is said to have been coined.
"The first place we played was a house party in Forest Hill and lover's rock was the biggest thing," recalls Musclehead. "Lover's rock was carrying the swing in England at that time, so we're playing Carroll Thompson, Janet Kay, Dennis Bovell, as well as Dennis Brown, Gregory Isaacs, Sugar Minott. After the lover's rock thing, we started to play a lot of Studio One."
"Saxon was a lover's rock sound from '76 till '79," confirms Denis. "Then it was a roots sound and then something happened and we just said, 'We're finished with sounds now,' and we gave all the boxes to Jah Shaka."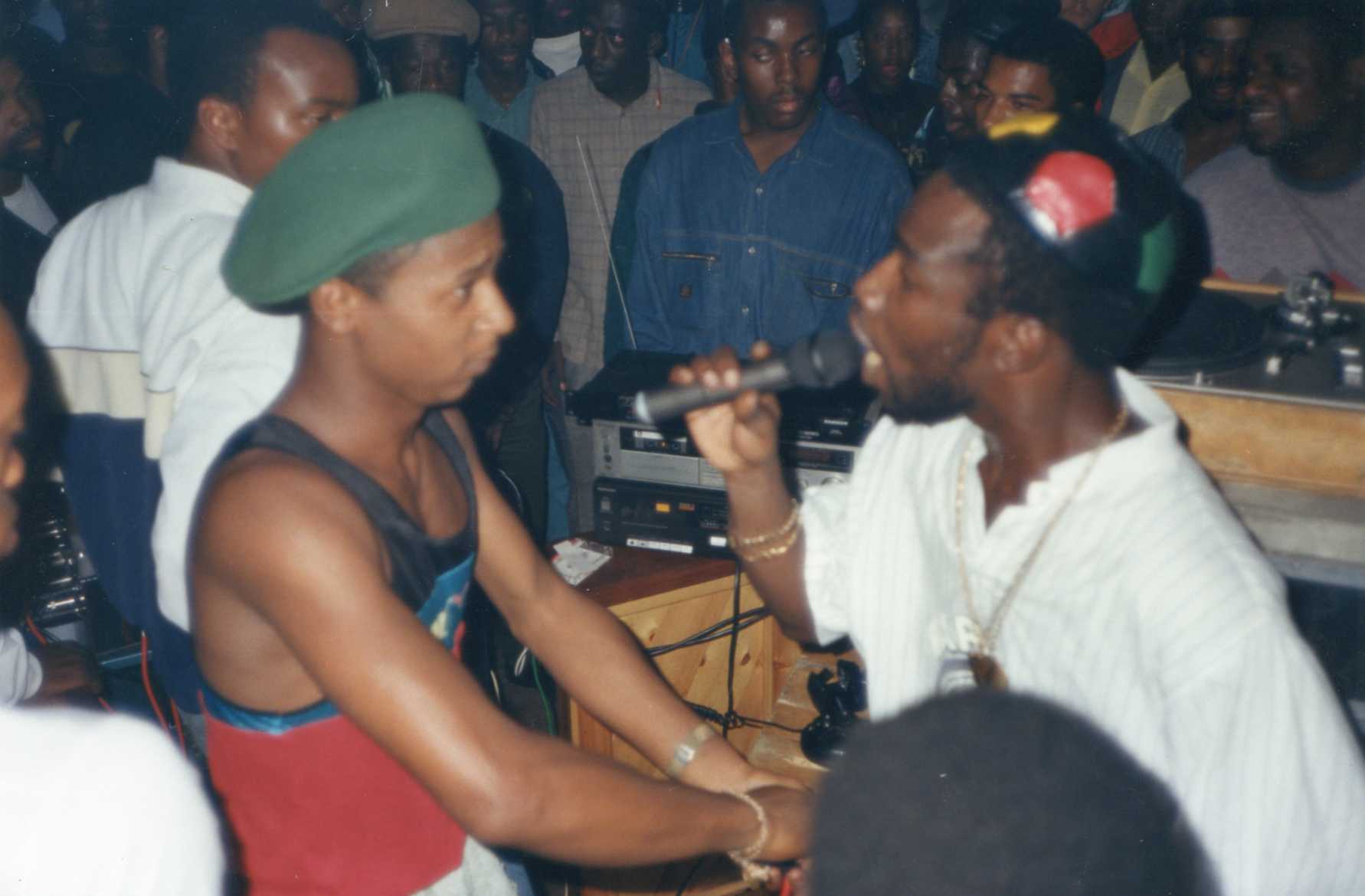 Mikey Boops and Daddy Colonel
According to Denis, Saxon's premature end was blocked by producer Robert Livingston — Shaggy's future manager — who convinced him to relaunch the sound. Despite the teething problems that resulted from initially mismatched audio equipment, the supply of exclusive dubplates Saxon obtained from Livingston and other sources rapidly elevated their status. The resident toasters and singers on the sound made the greatest impact of all, and included Maxi Priest, Peter King and Papa Levi in the early days.
"The first persons we had on the mic was Ranking Coley and Mellow," notes Musclehead. "Then we had Peter King, Maxi Priest, Philip Levi."
"When I started the sound, Maxi Priest was the one who built some of our boxes," he continues. "He started singing on the sound on the 27th of December, 1981, at about 3 o'clock in the morning," adds Denis.
"We had a lot of equipment, but nothing was ever balanced," he suggests. "So how we got through the door was by having a good microphone section." "We got bigger and bigger and bigger," Musclehead continues. "We just took our time to build our thing up."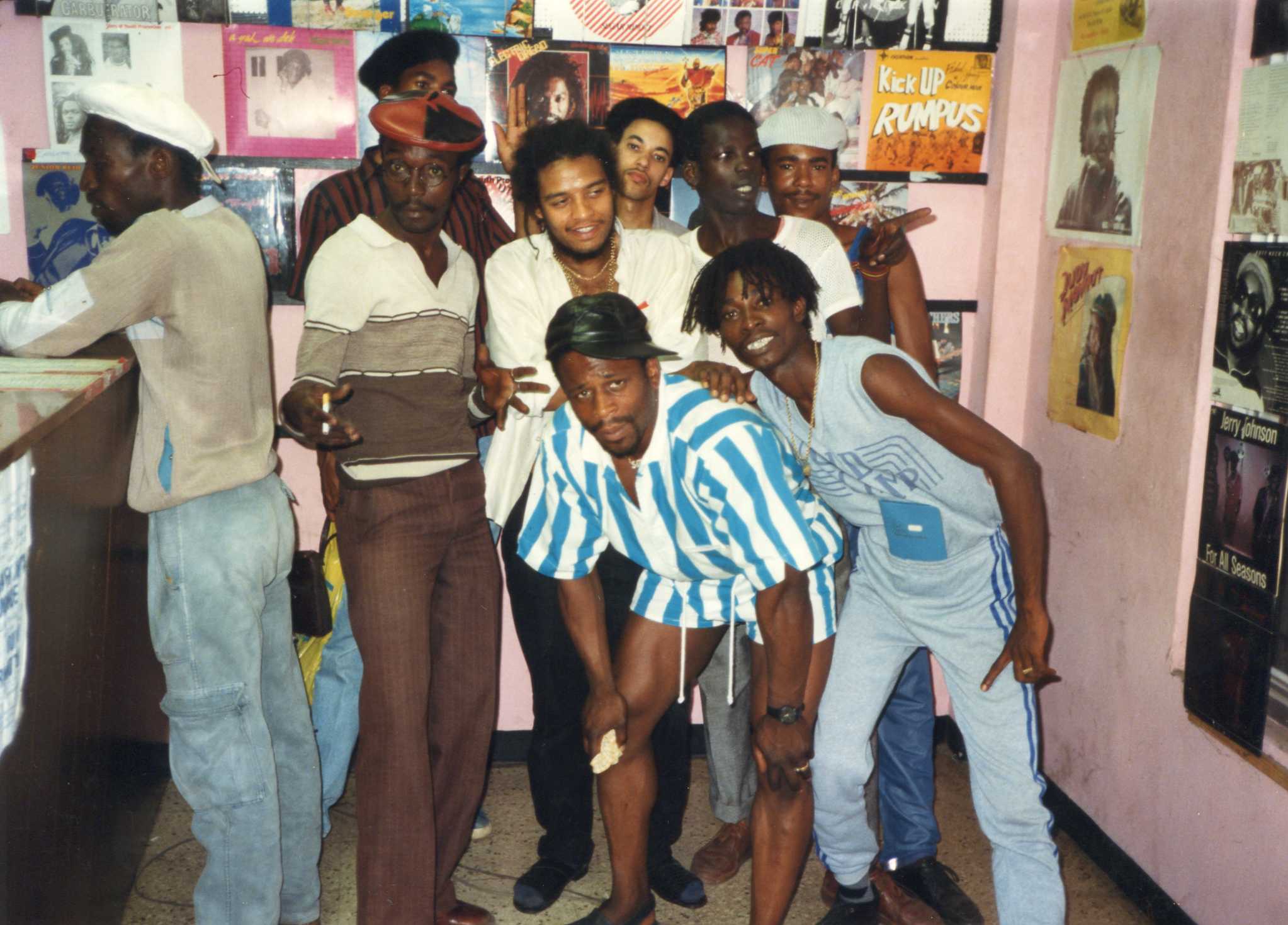 Featuring: Daddy Ants, Mafia and Fluxy, Maxi Priest, Musclehead, and Dana P.
During the early 1980s, Saxon's inexorable rise coincided with the musical shift towards the dancehall style. Maxi Priest was a major draw, along with fellow singer Roger Robin, and of the many MCs to rock the mic at a Saxon dance, Peter King and Papa Levi both made strong impacts with their 'fast chat' style; Miss Irie and Lady Di were female MCs associated with the sound. That lyrics reflected the experiences of black Britons was another outstanding difference.
"If something had gone on in the news and it was very relevant, a Saxon deejay would put pen to paper and write a report," says Musclehead's younger brother, Mini Muscle, who joined Saxon in the same era. "I would say the homegrown talent is what made Saxon outstanding. I used to listen the Yard tapes and I loved General Echo and Johnny Ringo, but the Saxon MCs were something else."
"Saxon was built as a clashing sound," continues Denis. "Half the time, you didn't know what would be on that turntable next. I could go to Musclehead's house and he's just collected some new dubs and he would hide them, because he's thinking I should hear them in the dance like everybody else."
"I really had a lot of passion in music," Musclehead confirms. "I used to go to Jamaica regularly to get music and any producer who used to come to England, they always come to Saxon. In them days, it was about music; it wasn't about specials, singing about your sound, it was about having exclusive tunes before they get released. So we had a reputation for playing exclusive tunes."
"And breaking them as well," suggests Denis. "We were breaking these tunes, not just playing exclusives; everybody would search for it the next day."
Soon Saxon's reputation was such that top Jamaican deejays were performing on the sound, including Virgin recording artist Ranking Trevor, plus Jah Thomas, Captain Sinbad and Ranking Toyan, along with hit-bound dancehall singer, Little John. As Musclehead recalls, "Anybody from Jamaica that used to come, they used to want to talk on Saxon, because we made such a big impact."
Then, Saxon personnel began scoring major chart hits, beginning with Maxi Priest's 'Strolling On' in 1983, swiftly followed by Papa Levi's "Mi God Mi King," an astounding example of fast-chat delivery that became a chart-topper in Jamaica too (after Rodigan used it as a trump card in his clash against JBC radio announcer Barry G), greatly influencing the island's deejay fraternity. Things stepped up another level when Greensleeves launch the UK Bubblers subsidiary in 1984, making Smiley Culture's 'Cockney Translator' a top-twenty hit, along with Tippa Irie's mismatched love saga, 'Hello Darling'.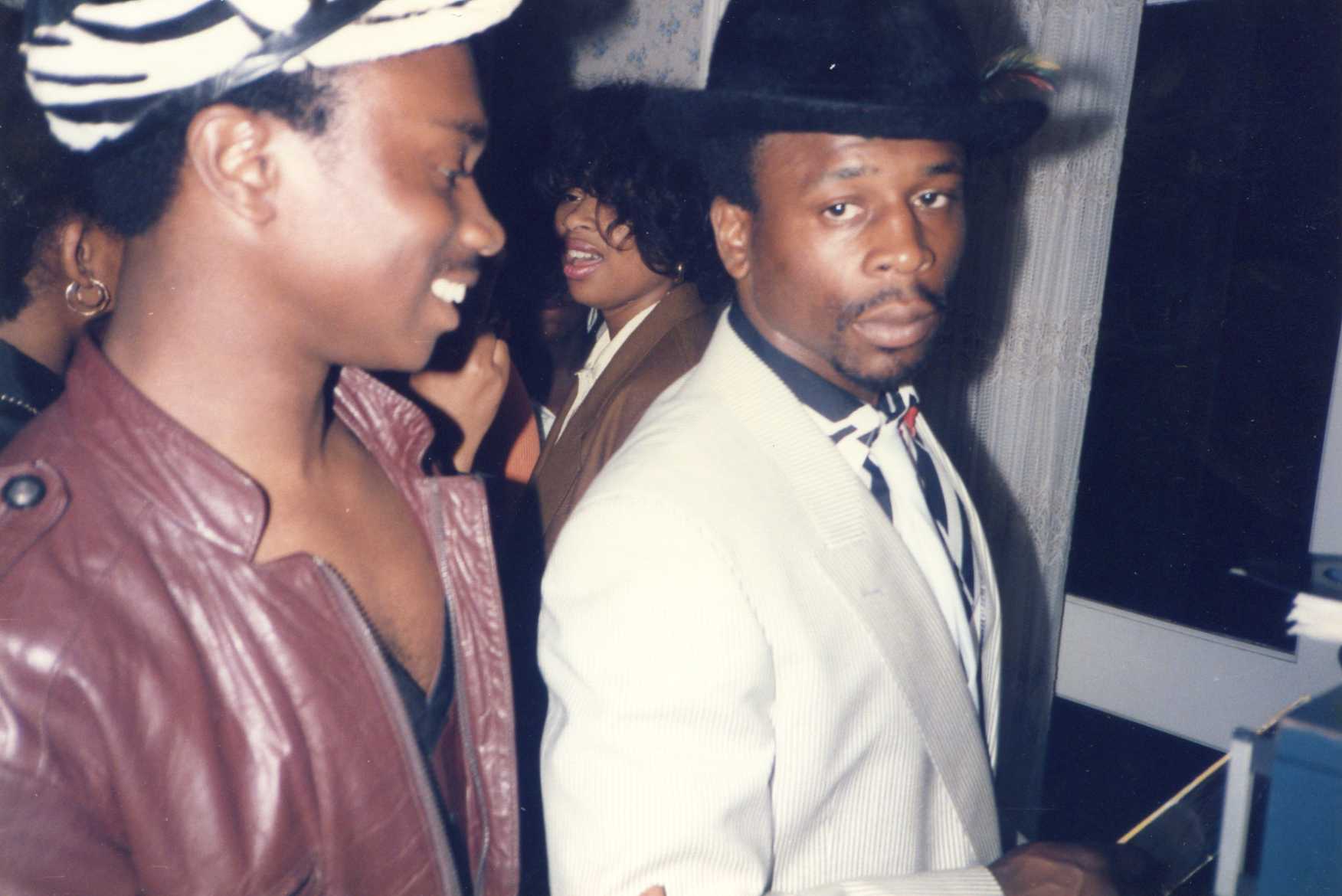 Mini Muscle and Musclehead
Aside from the audiences that physically attended their sound system events, Saxon's reputation spread internationally through cassette tapes of their dances, given underground mass-marketing through Denis' many duplication machines. The sound tapes helped Saxon reach New York for an infamous sound clash against Brooklyn's Third World, fortified by some of the best Jamaican deejays of the day, including Ranking Toyan, Johnny Ringo, Sassafras, Lee Van Cleef, Charlie Chaplin and Welton Irie; despite such formidable competition, and the presence of live firearms, Saxon reigned supreme.
"They cut a Tenor Saw tune, singing about us: You're coming with your old pan sound, you better go to the circus, go and entertain all the clowns," laughs Mini Muscle. "My head went cold. How is Saxon gonna come back from this?"
"Levi beat up a lot of people in that dance," says Denis, with a grin. "He licked over Sassafras, then he started on Charlie Chaplin… I don't know what happened, all I know is I saw a Crown 9mm on the stage and Muscle was crouching on the table, holding the dubs."
After emerging victorious from the dance, Saxon went on to tour Jamaica in 1988, an unprecedented feat for a British sound system. Armed with their own portable generator, they began by obliterating the mighty Jack Ruby on his home turf in Ocho Rios, and went on to slaughter Creation sound system with Papa San, Bunny General and Ricky Trooper, at the clash staged at the Gemini club in Kingston. At every sound system battle on the island, Saxon was unscathed, their impact so strong that Saxon's MCs found their styles being referenced by leading Jamaican deeays such as Yellowman.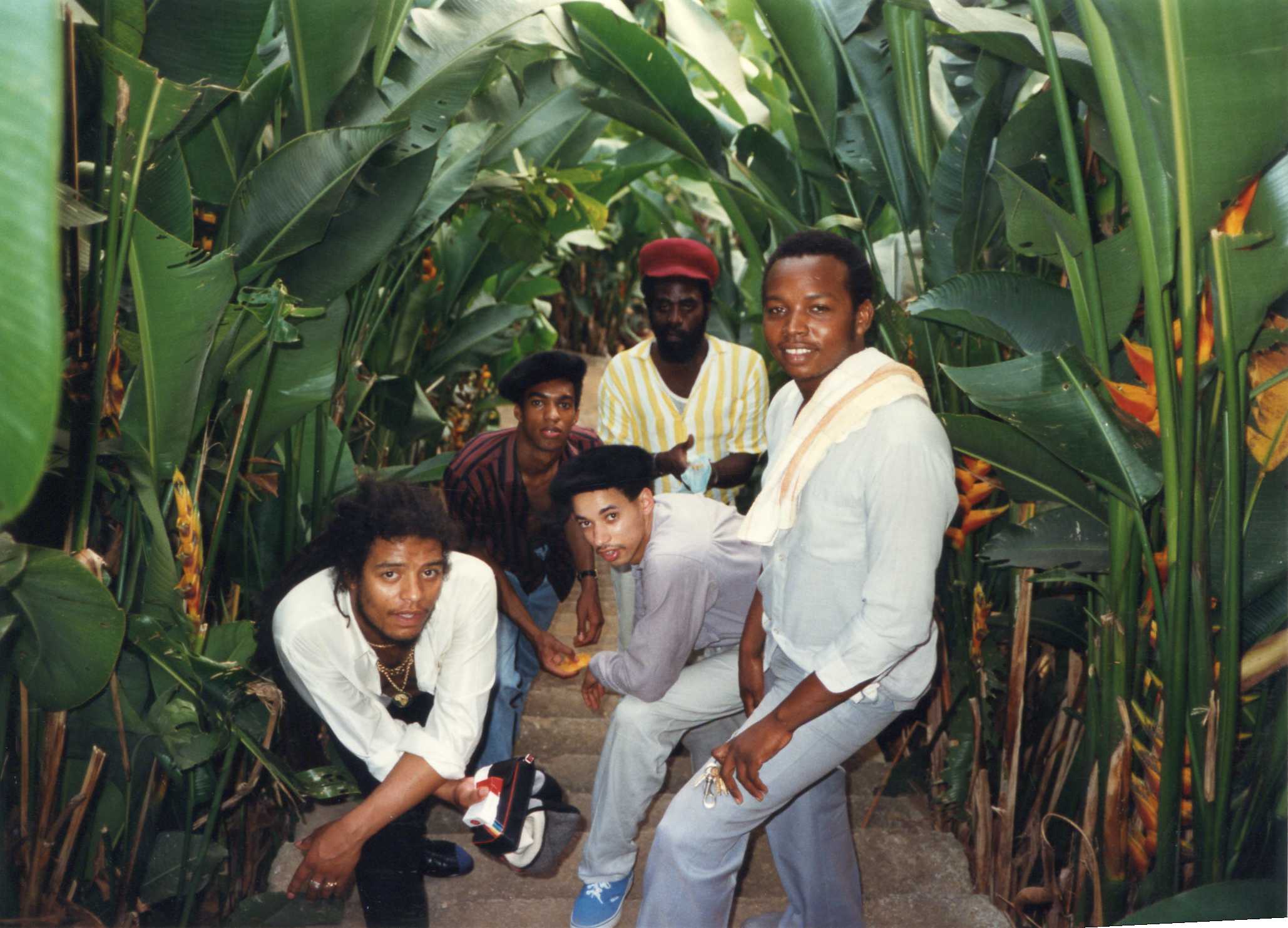 Featuring: Danny, Maxi Priest, and Mafia and Fluxy
Musclehead says being outsiders in Jamaica brought unexpected advantages where sound system was concerned. "Because of political differences, they couldn't go certain places, but when I came to Jamaica, I was going everywhere; I didn't give a toss about their politics. Jamaican sound systems had certain allegiances, like Unity would just play dub plates from Jammy because they are cousins, but I went everywhere and would cut everything."
"Certain artists wouldn't voice for Killamanjaro because they come from a certain area and certain artists wouldn't voice for Jammy because they come from that area," adds Mini Muscle. "So we had the advantage, because we had more variety."
Back in England, as their aggressive approach at the microphone and use of special effects began influencing acid house and jungle productions, Saxon launched a record label of its own, yielding records by Tippa Irie, Papa Levi and Tenor Fly, as well as Jamaican performers such as Luciano, Frankie Paul and Dennis Brown. Saxon won the UK Cup Clash of 1992 and the World Cup Clash in 1994, but the emergence of the 'juggling' format, in which songs were shifted from one to another mid-way through, began an unexpected decline.
"They changed the style because we were too dominant," suggests Musclehead. "They brought in this juggling thing where they didn't really want too much deejaying."
"This was the new era, with just the turntables, music talking and no MCs," says Victor Victorious, who joined Saxon in the mid-1980s. "The juggling style was very prominent, with the art of nonstop mixing the new way to play."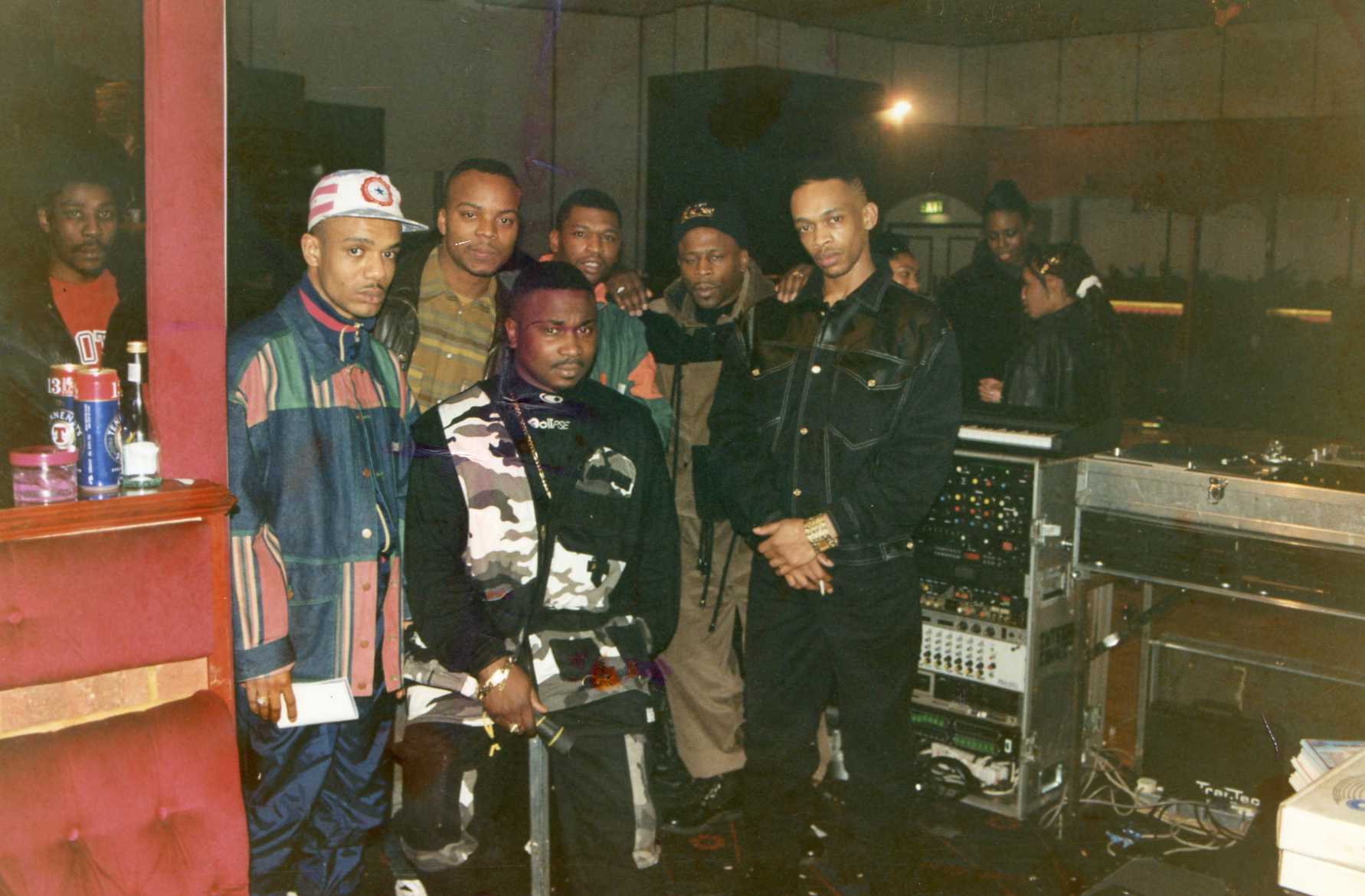 Mini Muscle, Junior Sandy, Prento, Trevor Sax, Musclehead, and Senior Sandy
Although juggling ultimately brought Saxon down a peg, their star continues to shine brightly in the present. Saxon is a reliable headliner at festival stages internationally and remains in-demand all over Britain, from grassroots venues to the posh Boisdale in Canary Wharf, where Saxon has enjoyed summer residencies for the last two years. Reflecting on the long history of innovation, Musclehead stresses the overall continuity, pointing to a bright future as well.
"Whatever field you put us in, we adapt," he emphasises. "We've been all over Europe back in the days, playing reggae music, and right now, it's just exploded; I specialise in vinyl, but I've got other DJs like Victor, Alan Brando and my brother, they've got the laptops and CDs for the younger crowd, plus my son, Saxon Motion, he's coming as well. We're doing a different thing for a different audience now, so whatever's going on, we'll be there."