Published on
August 7, 2019
Category
Features
From modular explorations to custom sound systems, VF's Gabriela Helfet highlights her favourite moments from the weekend in Amsterdam Bos.
At Dekmantel, it's virtually impossible to catch everything you want to see. Case in point: the first day saw Jeff Mills, Ben UFO b2b Blawan, Dr. Rubinstein, Donato Dozzy and Roza Terenzi all playing during the same two-hour window.
What is most rewarding is abandoning your hit list, and trusting that at virtually any given time there are artists to suit every taste, echoing out across each stage from top-tier speaker set-ups. What also makes Dekmantel special is the crowd, who is by all accounts lovely, friendly and respectful. Even at stages that were sardine-packed in capacity at times, almost everyone I encountered was polite and mindful of each other. (As a woman, the importance of this cannot be overstated, nor can the ability to leave your pals and go anywhere as you please if you want to catch someone different, without fearing you'll be a victim of a sneak, or not so sneak, attack grind from behind.)
What follows are the tracks and sets that shaped this year's festival for me, mindful that many were missed out. (With even more still that aren't on Spotify.)
During the two days of pre-festival opening concerts scattered around Amsterdam, you're just as spoiled for choice as you are at the festival, which means selecting between artists like Gerald Donald and his Arpanet project or Suzanne Ciani delivering a live performance.
This time around, on Thursday I ventured to see Suzanne Ciani and her synth musings, set in the cinematic Muziekgebow theatre that overlooks the IJ river adjacent to Amsterdam Centraal. Here, she built electronic compositions shrouded amidst linear, multi-coloured lights recessed in the venue's wooden beams. Ciani's modular synthesizer work was also projected on a huge screen behind her, a window into her singular visions.
Trotting across the city lead to a basement descent to see Deena Abdelwahed breath her album Khonnar to life, framed by a halo of deeply-hued geometric shapes. Looping her live vocals with samples from the record, Abdelwahed wove an otherworldly rumble of bass, acid-hued Tunisian instrumentals and voice – as heavy and hypnotically rhythmic as any set during the weekend.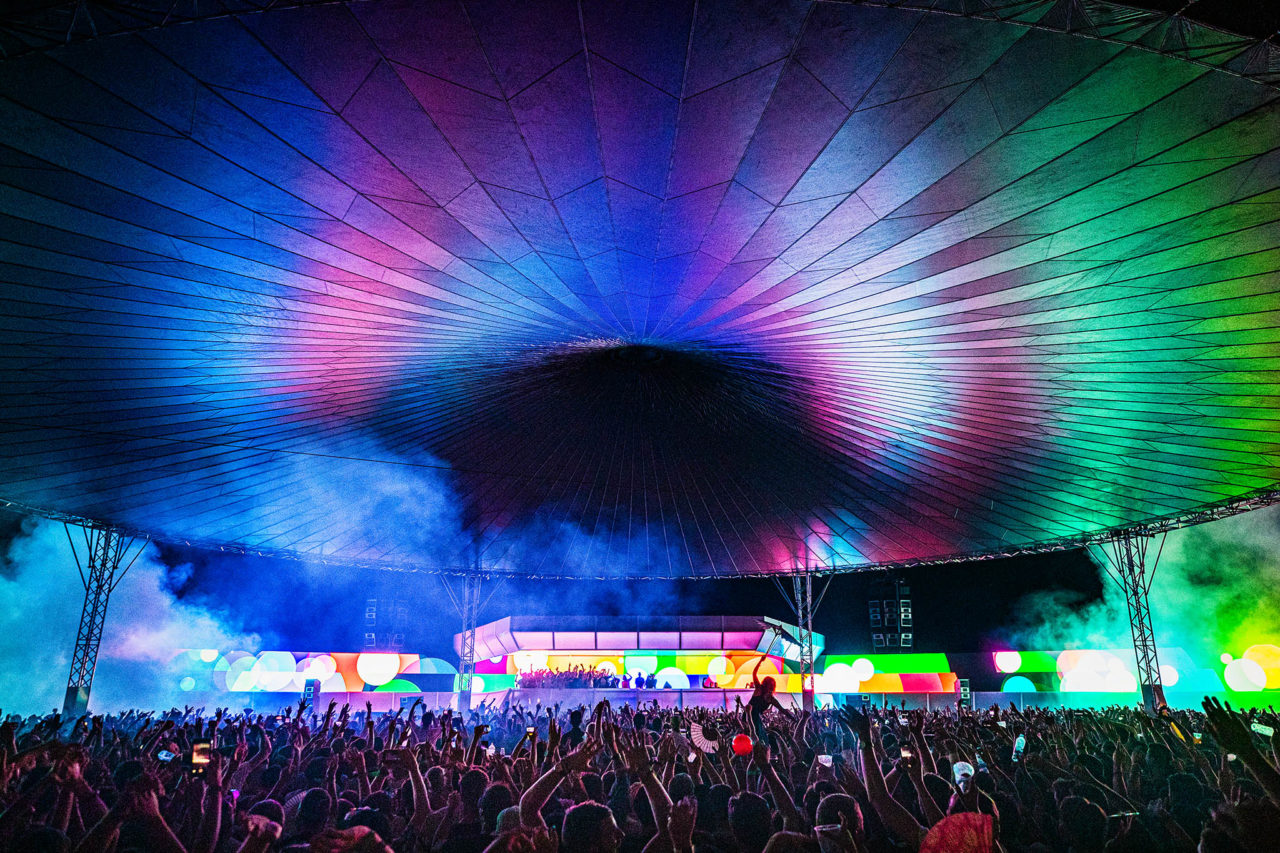 Even though it wasn't my first time at the festival, there's a special kind of glee that comes when you walk into the Amsterdam Bos site's main arena, and clap eyes on the light installation and giant bell tent, senses soon to be met by crystalline sound dancing out from the massive speaker stacks.
Some of the most intimate moments came via the main stage each day, thanks to DJs whose vibrant and effusive joy could be felt across its surrounds, oscillating through all in attendance. No small feat given the size of the space.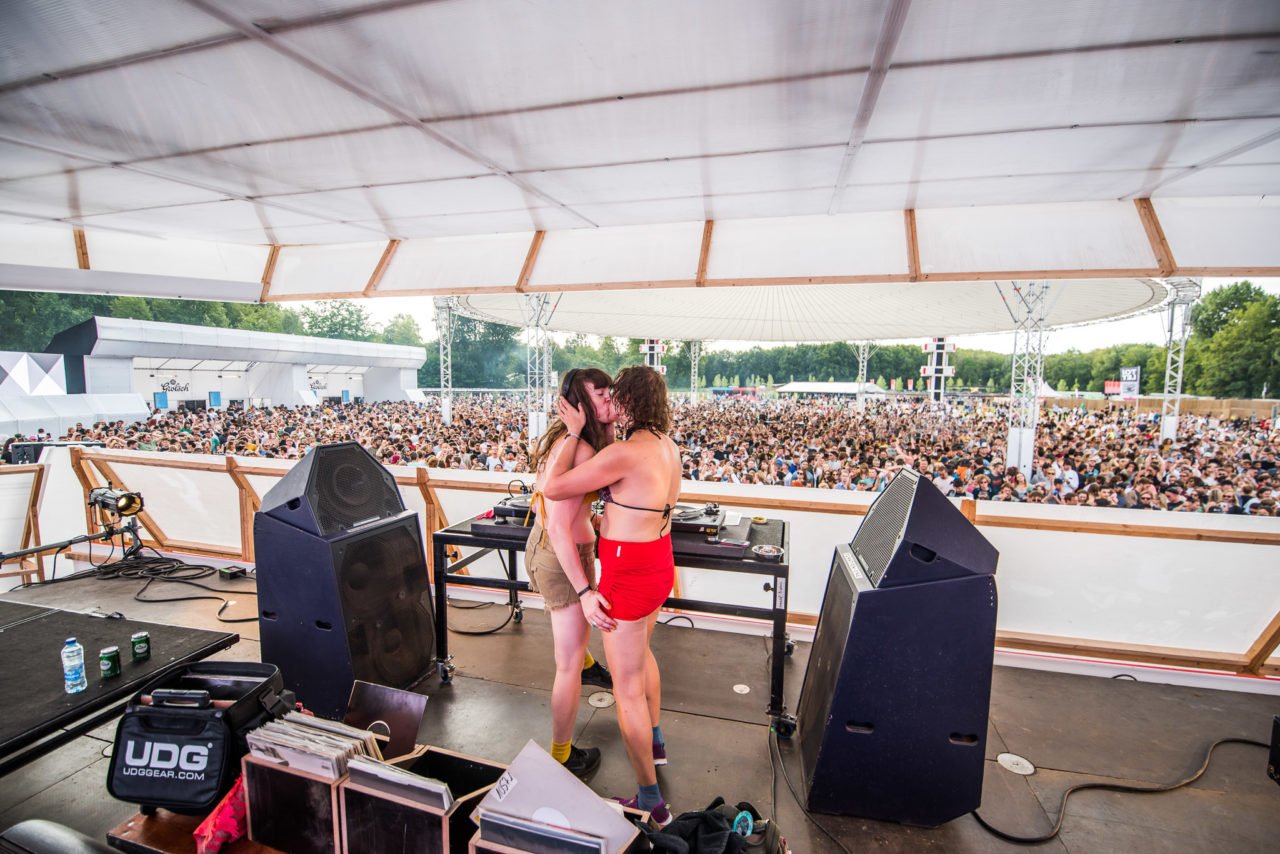 On the first day, Dr. Rubinstein brought her signature, effusive, acid-laced selects. Identifiable highlights amongst them were the rolling loops of The Source Experience's 'Point Zero' and Thomas Heckmann's remix of Acid Junkies' 'Zurig'.
Saturday saw the pure and unadulterated happiness of Eris Drew and Octo Octa's dance set take centre stage. Over two hours, they threw down vocal-heavy tunes like DJ Edge's 'S.F. Acid Mix' and DJ 'Icey We Do It Like This' to the total adoration of the crowd.
The tunes were on such a level that people going to and from the bars didn't walk there, they conga-lined their way across. Much to my dismay, many of my favourites tunes are (as yet to be) unidentified.
On the final day, Carista claimed the main arena, with her family alongside her echoing what we were feeling in the crowd. Here she traversed from tracks like Bugz In The Attic's Co-Operative Mix of 4Hero's 'Hold It Down' to Floating Points' 'Coorabell'. At one point, her mum whipped her jumper over her head in euphoria.
Elsewhere, Surgeon delivered a masterclass in razor-sharp, percussive wizardry, mixing his own productions with tracks of others. Though a bottleneck of bodies and stiffling heat always happens at the UFO stage entrance, those who mosey on over to the left side of the vast hanger are met with a cool breeze thanks to large fans, as well as an abundance of space. The stage is a netherworld for techno lovers at any hour of the festival.
Perhaps one of the most endearing moments came during Blawan and Ben UFO's b2b at the same venue, when Ben, arriving 30 minutes late because of cancelled flights, finally stepped on stage, much to the elation of Blawan who greeted him with pure delight. They then proceeded to set the giant space alight with a blistering techno tête-à-tête.
Electro-wise, Exaltics stole the show in my spiritual home – the techno bunker known as UFO II – with his live set. Over sixty minutes, he served-up roboto rhythms swirling with acid, all of which whipped the packed tunnel into a sweat-drenched frenzy of excitement. At the end of the set, two balaclava-clad homebros were so hyped they leapt over the barrier – not to mount the stage, but to rile up even more energy from all who were crammed into the space.
And on the Boiler Room stage, Bruce shimmied his way through everything from the electro-punk of Scalping's 'Chamber' and System 7's 'Desir' to Nirvana and an as yet to be ID'ed Inner City 'Good Life' edit.
Meanwhile, Slikback stripped-back club rhythms into fiendishly freaky realms there on the closing day, one of two sets he played at the festival that evening.
Like Selectors, and oftentimes Greenhouse and UFO II stage as well, that area was so crowded that you likely had a better view from home, or across the water from in between the trees, watching everything sway with a bit of breathing room. Unless slithering against hundreds of others in a sweat shack is your thing, in which case proceed that way.
Overcrowding issues were a minor though, given the abundance of styles and sounds both familiar and unknown across a shimmering weekend.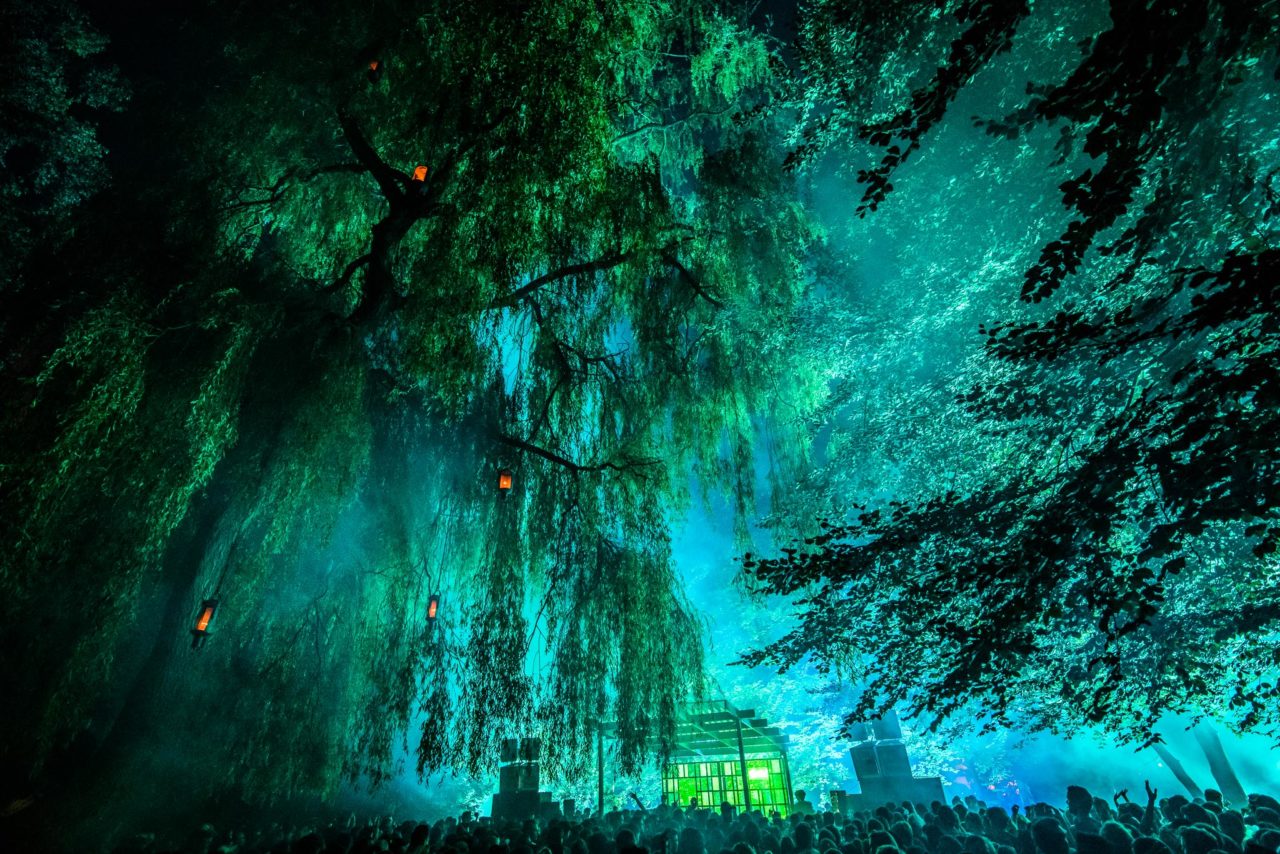 Banner photo by Bart Heemskerk.