Published on
October 14, 2014
Category
Features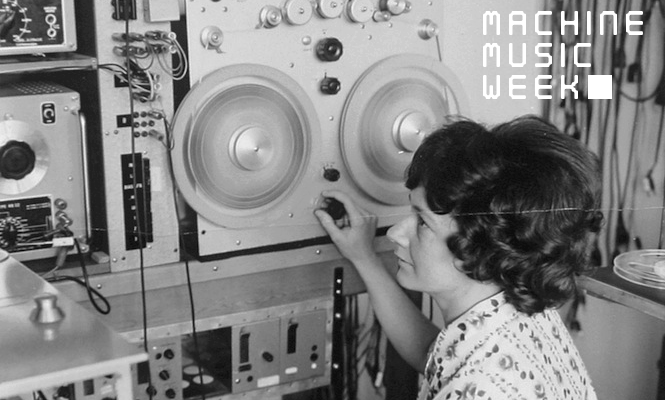 Starting with Ada Lovelace and finishing with The ADA project, we've charted the visionary women whose experimentations with machines have defined and redefined the boundaries of the music.
Scroll and click through to explore our interactive timeline above. To accompany the timeline we've picked out a few records to get you started from across the eras by way of an introduction. Some of the music was barely released commercially at the time it was made and is therefore best heard on retrospective compilations.
Recommended listening:
Clara Rockmore – Clara Rockmore's Lost Theremin Album (Bridge Records, 2006) Buy
Louis & Bebe Barron – Forbidden Planet (Planet Records, 1976) Buy
Else Marie Pade – Et Glasperlespi (Decapo Records, 2001) Buy
Daphne Oram – Oramics (Paradigm Records, 2007) Buy
Delia Derbyshire – The Delian Mode (Silva Screen, 2014) Buy
Pauline Oliveros – Accordion & Voice (Lovely Music, 1082) Buy
Wendy Carlos – Switched On Bach (Columbia, 1968) Buy
Annette Peacock – I'm The One (RCA Victor, 1972) Buy
Suzanne Ciani – Seven Waves (Finnadar records, 1982) Buy
Various Artists – New Music For Electronic & Recorded Media (1750 Arch Records, 1977) Buy
Laurie Spiegel – The Expanding Universe (Filo, 1980) Buy
Laurie Anderson – Big Science (Warner Bros, 1982) Buy
Björk – Biophilia (One Little Indian, 2011) Buy
As complimentary reading to the timeline, we asked German techno queen and Ada Lovelace devotee Ada to pick her 10 favourite techno records from a wealth of female producers. Click HERE to read in full.
More from Machine Music Week:
Watch our short film on the first ever computer music compilation Cybernetic Serendipity Music
Listen to a Conrad Shawcross podcast on music and machines for his dancing robot installation The Ada Project
It's a woman's world: Ada's top 10 techno records
Listen to the sound of the internet
Computer World: Why Cybernetic Serendipity Music is the most important and neglected compilation in electronic music
The synth that made the music: 10 artists whose sound was defined by the EMS VCS3